Date walked: 12/10/2016
Time taken: 5 hours
Distance: 20km
Ascent: 654m
To cut a couple of tar-mac kilometers we drove up past the Bracklinn falls car park and parked beneath a bundle of shoes hanging from the telephone.
The starting line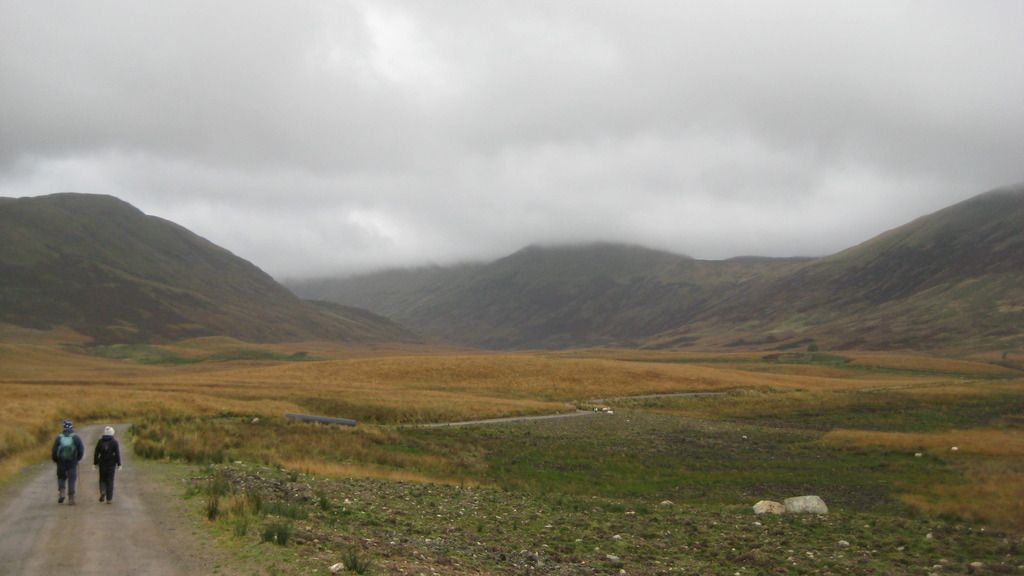 As the road turned to track we headed through the Affric-esque orange grasses towards Aruvichardich.
An abandoned building in the sea of orange
The reservoir at Aruvichardich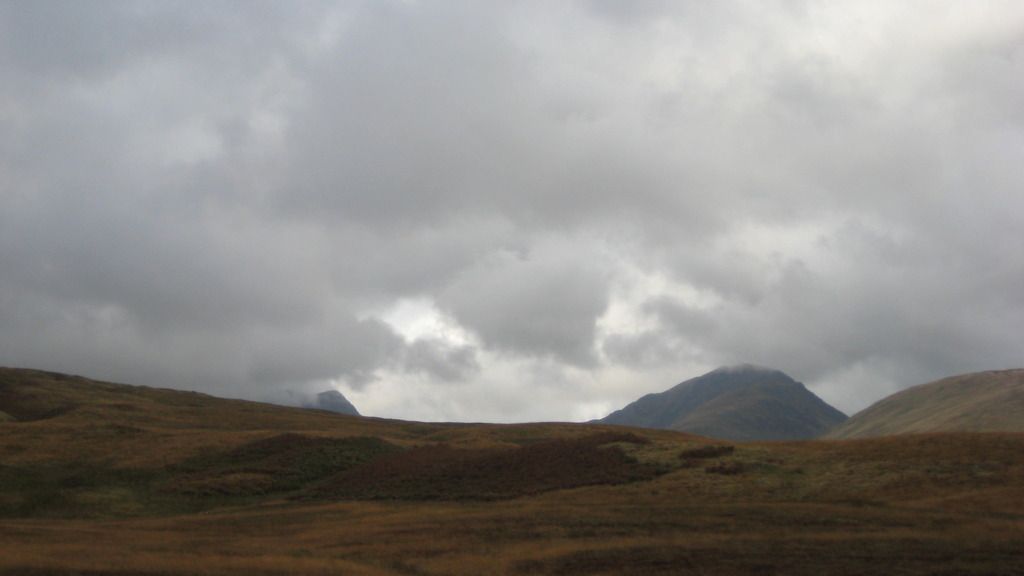 A glimpse of Ben Vorlich and Stuc a' Chroin
At Aruvichardich we followed the main track into Glen Artney and towards Comrie. At the bridge over the Allt an Dubh Chorein, we stoppped and enjoyed the grandeur of Ben Vorlich, we were reassured that we were half-way at least.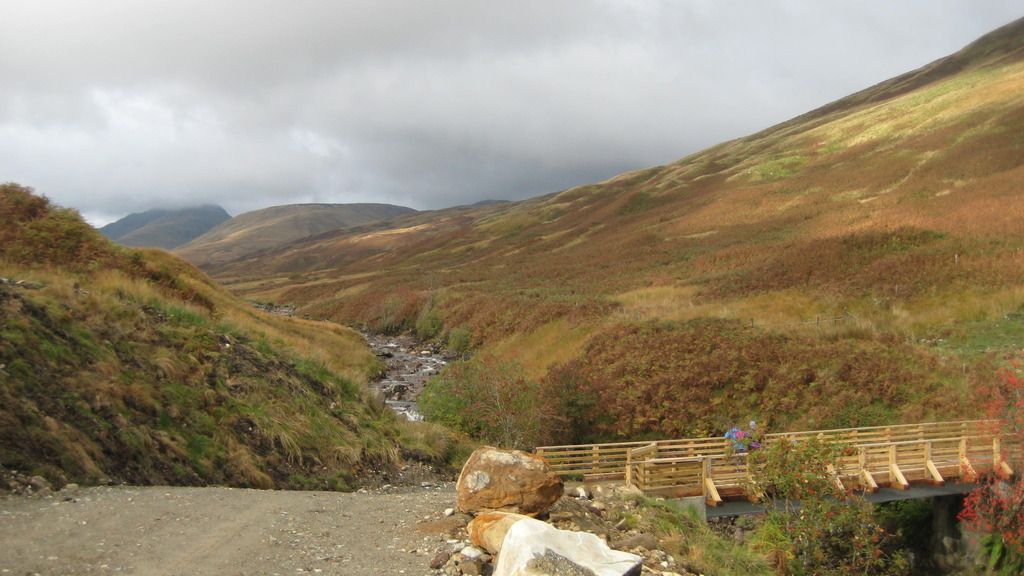 The bridge over Allt an Dubh Chorein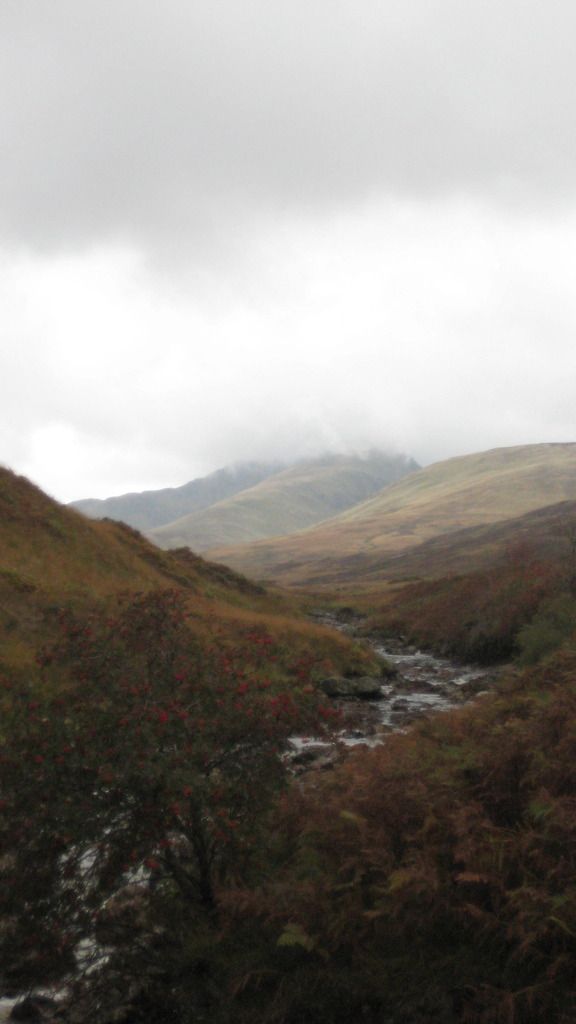 Looking up the burn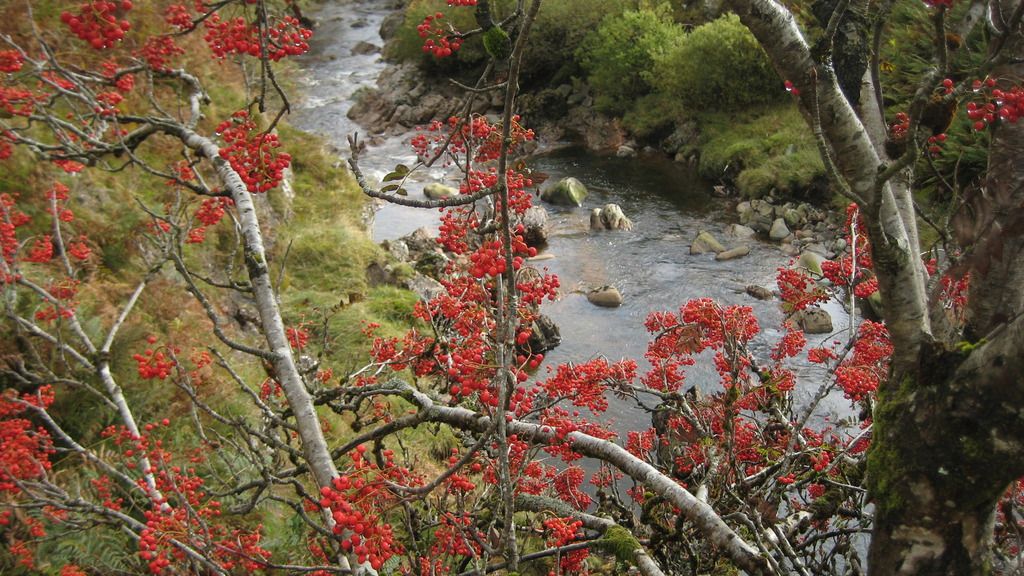 A red red rowan at the bridge
An initially promising path follows the burn towards Ben Vorlich but the further we walked the more each foot squelched in the bog - this is worth noting as we have had a particularly dry-spell the last few weeks (it was hard to believe that today though). There is clearly no lack of rainfall around here as the burn has carved out a terrific gorge and a few brilliant pools. The yellow leaves of a well-placed tree gave us a break from the bog-slog we, along with ordnance survey, were calling a path.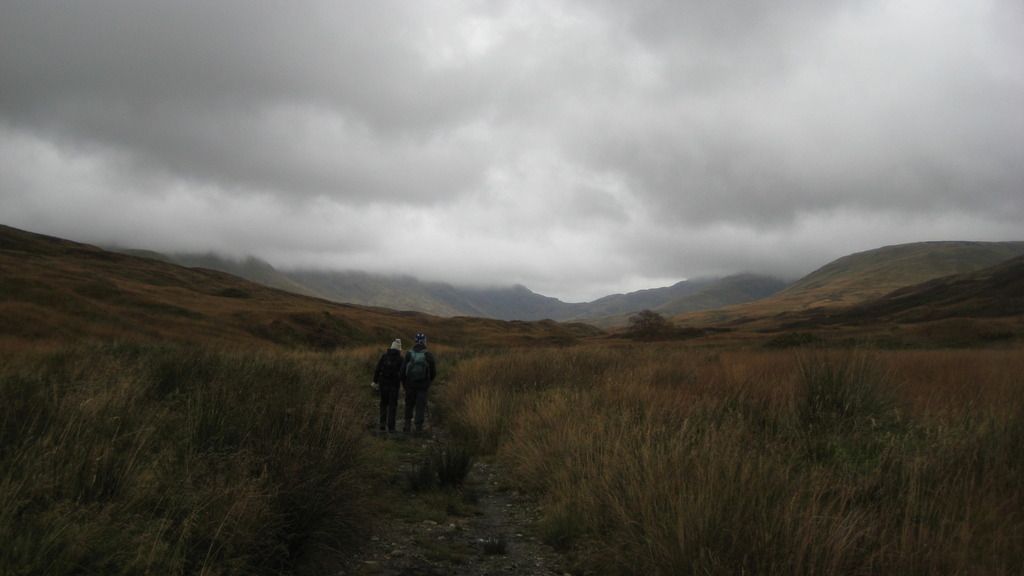 A firm track at first...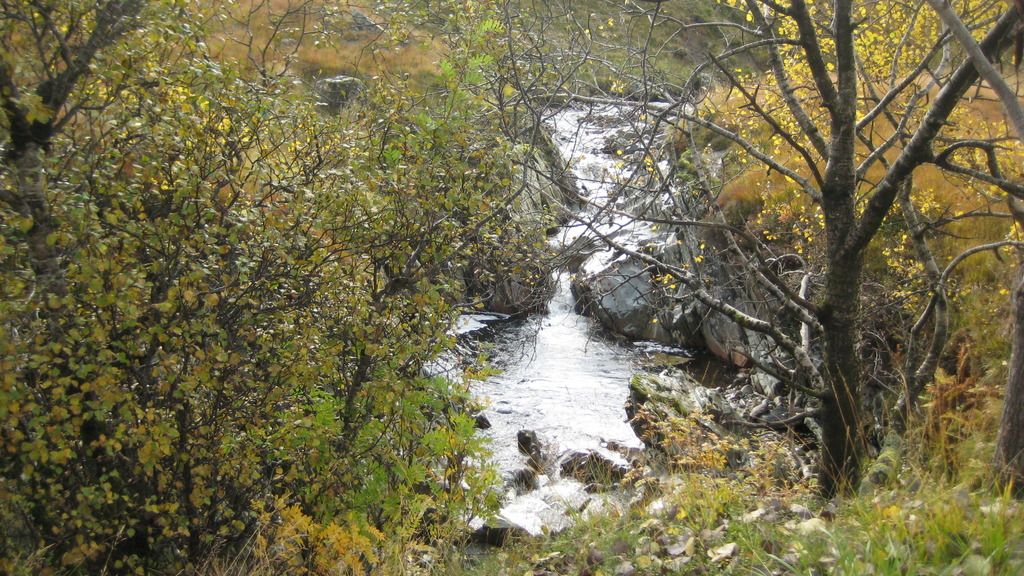 Allt an Dubh Chorein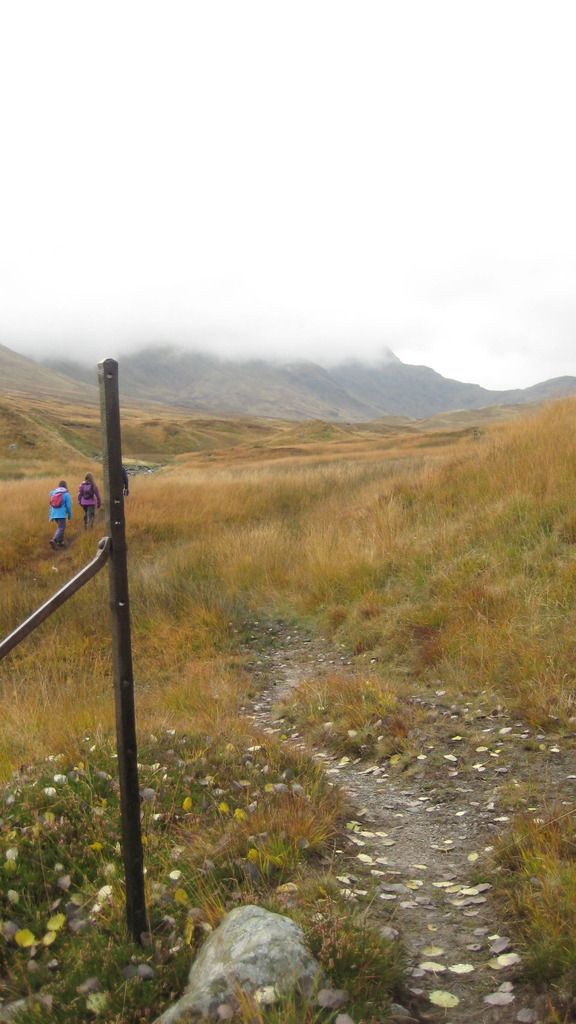 The yellow leaf path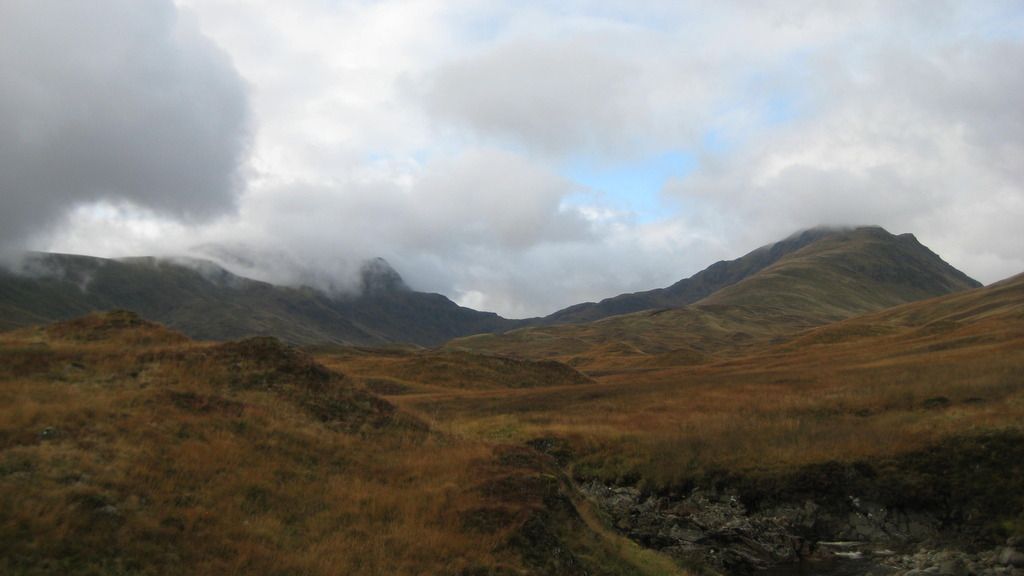 Ben Vorlich and Stuc a' Chroin sneaking up on us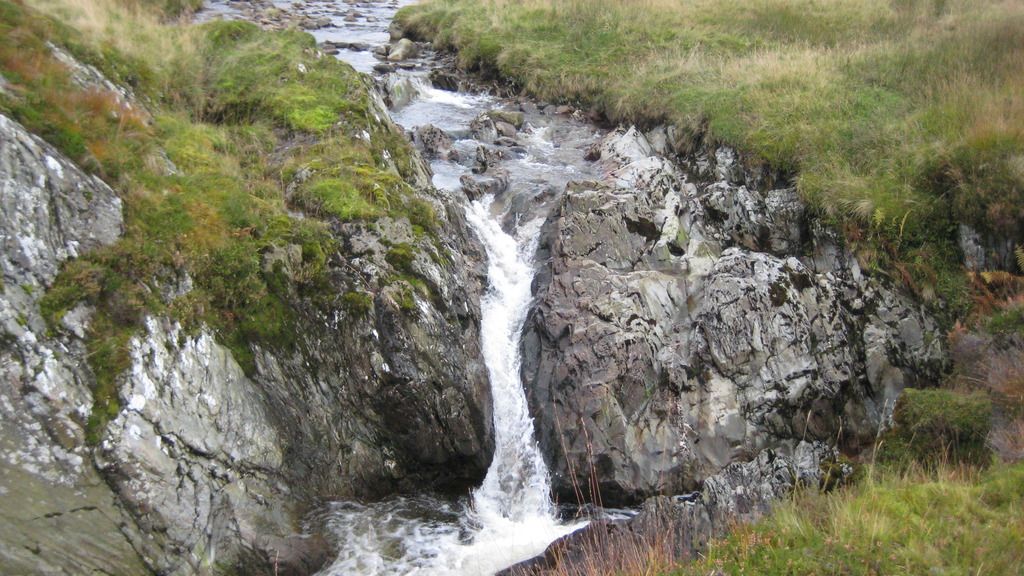 Allt an Dubh Chorein - a stunning wee burn
The little of a path we had we lost when we crossed the burn at the second ruin of Dubh Chorein. The main path continues through Glen Vorlich to Loch Earn - one for another day - but we were taking the 'path' through a gap in the hills back to Aruvichardich and the reservoir. With a little help from the map, we regained the path and made steady progress up the hill - even saw a grouse. Soon we were looking south to the Fintry hills from the highest point of the day at just under 600m. From here you could probably follow the hill up to the summit of Stuc a' Chroin and round to Ben Vorlich.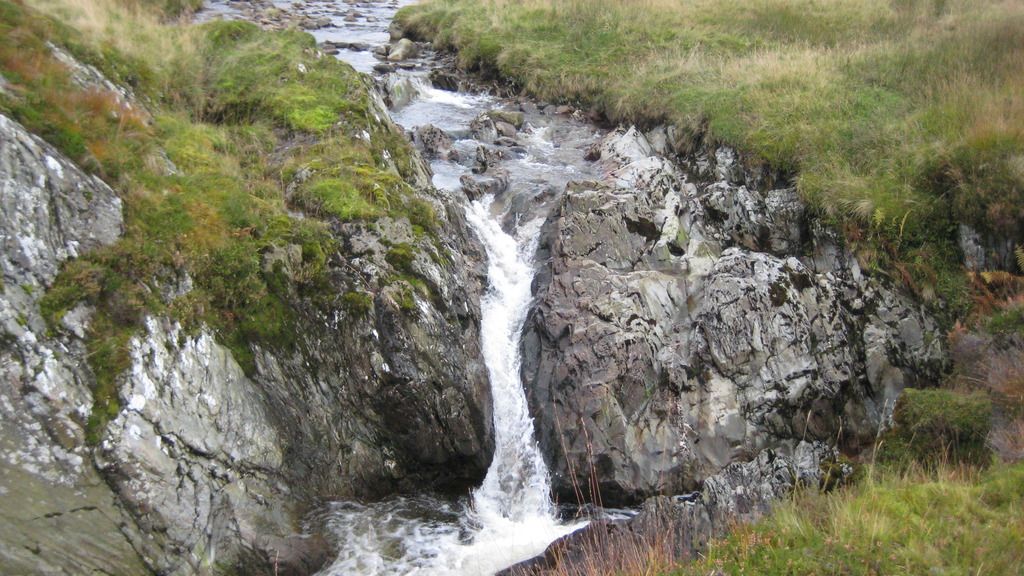 Cross at the second ruin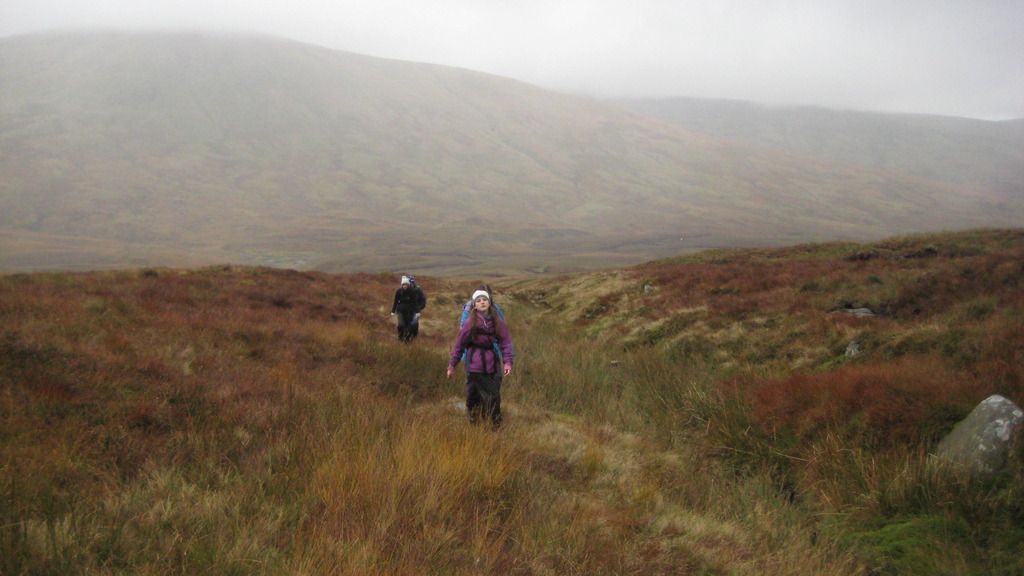 Going up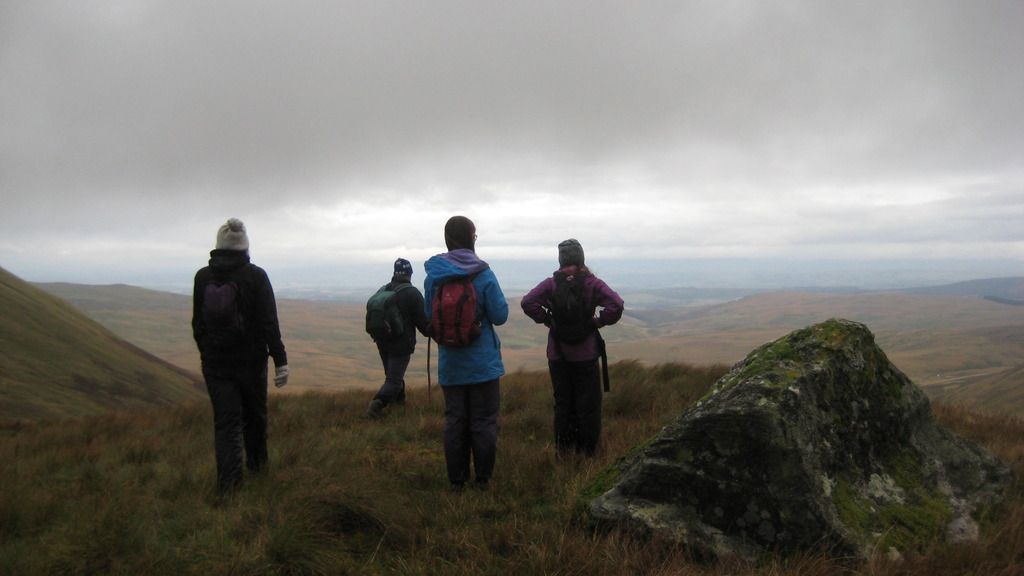 It's all downhill from here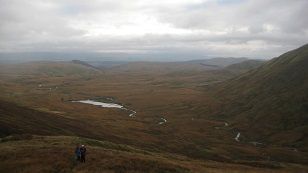 The reservoir and Fintry hills
The downhill was in no way glorious but the bellowing of the deer in rut compensated for the sore feet. The openness and quiet of this wilderness only a walk away from where I go to school left me in awe of the world. Back to the car. Fish n chips in Callander.
Click to mark this as a great report. Register or Login
free to be able to rate and comment on reports (as well as access 1:25000 mapping).
---
Sub 2000s:
Binnean nan Gobhar
Date walked: 17/09/2016
Distance: 8km
Views: 298
---
Date walked: 27/07/2016
Distance: 10km
Ascent: 200m
Views: 265
---
Date walked: 26/07/2016
Distance: 21km
Views: 167
---
This post is not published on the Walkhighlands forum
Munros:
Ben Lomond
Date walked: 20/07/2016
Distance: 13km
Views: 64
---
Sub 2000s:
Beinn Dubh
Date walked: 08/05/2016
Comments: 1
Views: 615
---
This post is not published on the Walkhighlands forum
Date walked: 27/02/2016
Distance: 8.5km
Views: 80
---
This post is not published on the Walkhighlands forum
Date walked: 22/02/2016
Distance: 4km
Views: 125
---
This post is not published on the Walkhighlands forum
Date walked: 13/02/2016
Distance: 24.2km
Views: 136
---
Date walked: 10/02/2016
Distance: 22.2km
Comments: 1
Views: 683
---
Location: Kinlochard


Munros: 2
Corbetts: 2
Grahams: 1
Sub 2000: 2











Statistics

Trips: 10
Distance: 130.9 km
Ascent: 854m
Munros: 1
Sub2000s: 2



Joined: Nov 22, 2015
Last visited: Mar 20, 2018
Total posts: 13 | Search posts