Date walked: 02/06/2021
Time taken: 8 hours
Distance: 10.9km
Ascent: 904m
Surviving Armageddon - Fionn Loch to A'Mhaighdean
Portaging and paddling canoes to the foot of the remotest Munro in the Highlands - and climbing it. Tobey (13) and Ben's (9) first Munro.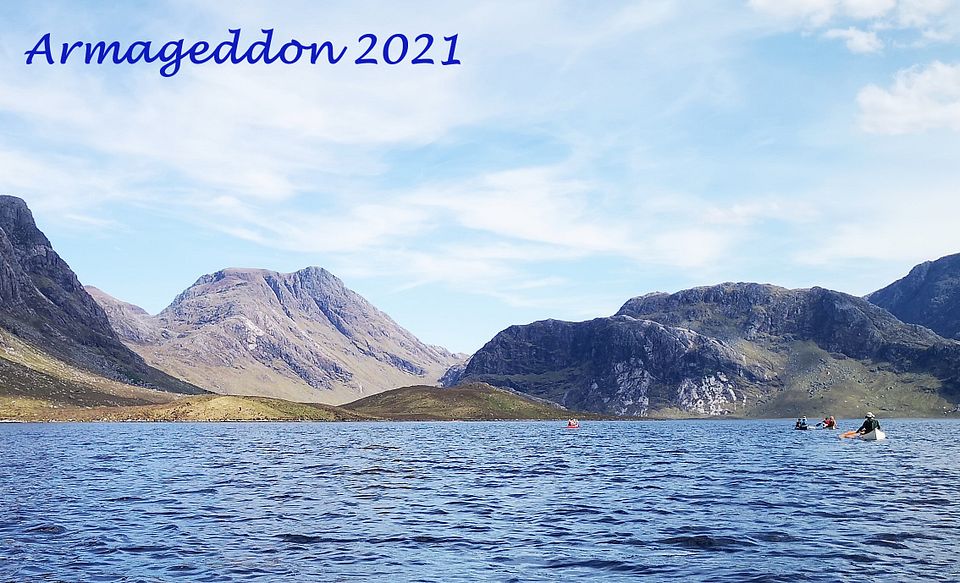 This is our second attempt to paddle Fionn Loch. It's been five years since our failed canoe venture from Loch Maree to Fionn Loch due to a trolley wheel exploding. We have been planning our return ever since and plotted a route to take us into the most beautiful and remote part of the Northwest Highlands – the Fisherfield Forest. We were aiming for the beach at the end of Dubh Loch, set amidst some of the most rugged and majestic mountains with astounding loch views and a feeling of wilderness. We hoped to bag (what is widely reported to be) the remotest Munro of them all, A'Mhaighdean.
To us, it will always be known as Armageddon.
Day 1 - Drumchork to Loch a' Bhaid-luachraich
Weather sunny, seas calm.
Tobey's route to Dubh Loch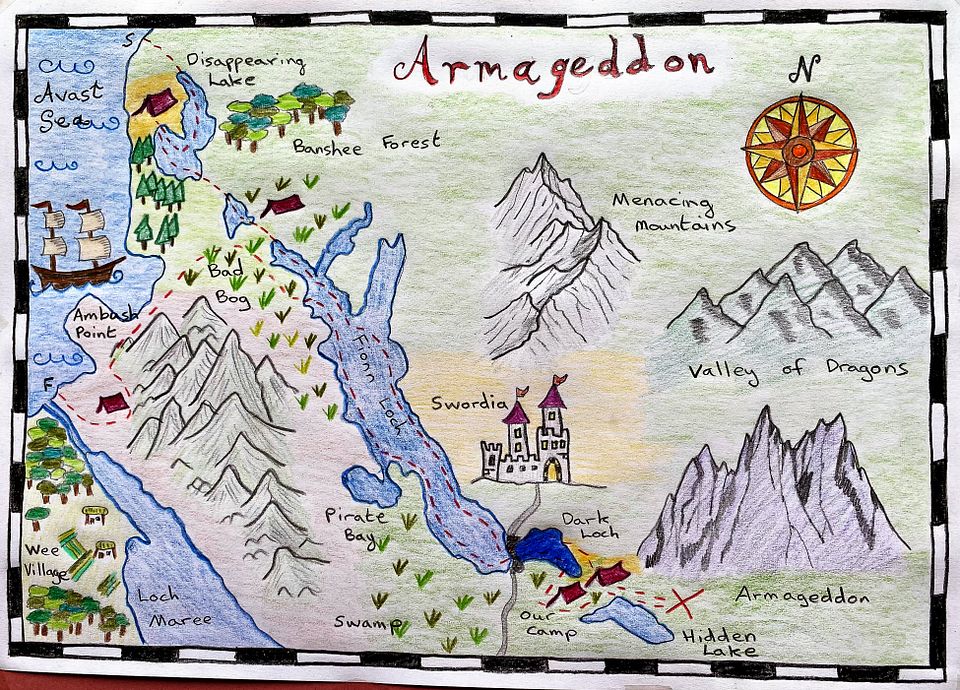 Our route up A'Mhaighdean
During lockdown, we had been pouring over maps to find a route, preferably with some lochs that we could link up, to lead us out into the wilds and some rarely paddled water. We wanted a wilderness adventure with the chance to climb a Munro. Tobey plotted a route involving a portage named the Lost German Portage, by Moosehead. After some calculations we realised that the planned portage to Loch Maree, at our normal pace, would take no less than 36 hours!! A rethink was in order. After lots of discussions, we eventually agreed on the route – a series of lochs that would lead us to Fionn Loch, Dubh Loch and a portage to Loch Maree.
We left a car at Poolewe to get us back to the start at the Loch Ewe Distillery in Drumchork, where we had kindly been given permission to leave the rest of the cars. The day is Saturday 29 May and it is very warm and sunny, something that we are not used to on our Scottish trips.
The first portage wasn't bad at all. Passing the oil storage depot, on a trolleyable track of less than a km, we braved a herd of cows, with the bull looking on, to reach Loch a' Bhaid-luachraich.
Tobey's friend, Josh, joined us on this trip. It seemed to take us yonks to get on the water. After stepping into the shallows, my foot sunk into the muck. I tried to pull my foot out as the mud slurped and suctioned my unsuitable footwear right off my foot! I was able to pull my foot out with assistance, after everyone had finished laughing and taking pictures, and even dug down and retrieved my croc. A few minutes later I managed to the same thing again, only this time no one noticed as they were all paddling happily away.
At last, we were on the water and set off paddling, all for about 3 seconds. My paddle had barely touched the water and we were stuck fast on a boat-eating submerged boulder! Luckily for us, Pete and Nick must have realised we were missing and headed back to help Darren heave us off the rock.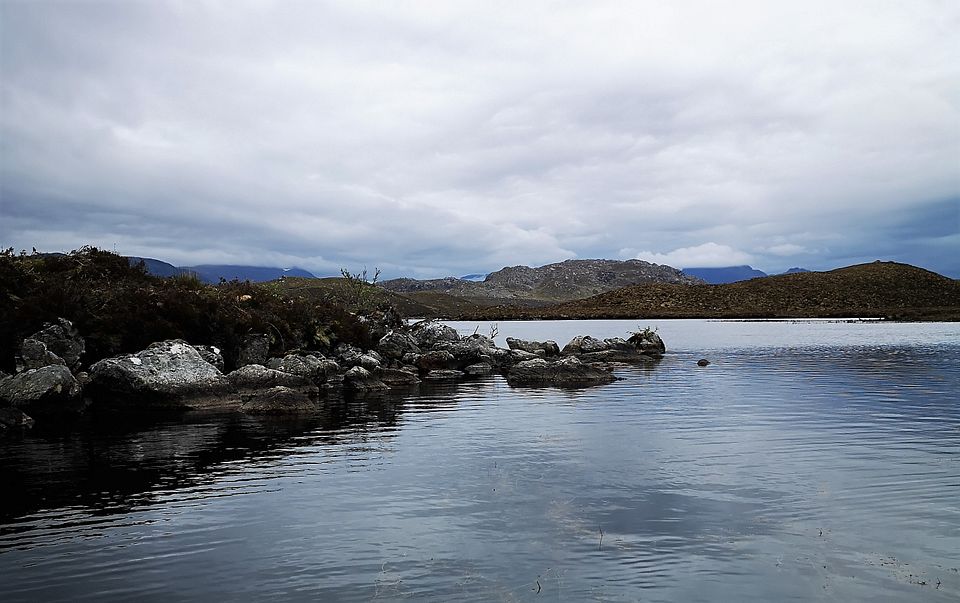 My rock lookouts hadn't proved very reliable so far. We stuck close to the back of Pete's canoe and paddled on without incident. I was now starting to enjoy myself. A calm loch, sunshine and the promise of a sandy, sheltered beach to camp on with Mal's Chinese chicken for tea. Yes, we had too much gear in the boat and yes, we would probably be eaten alive by midges and ticks but it felt so good to be back.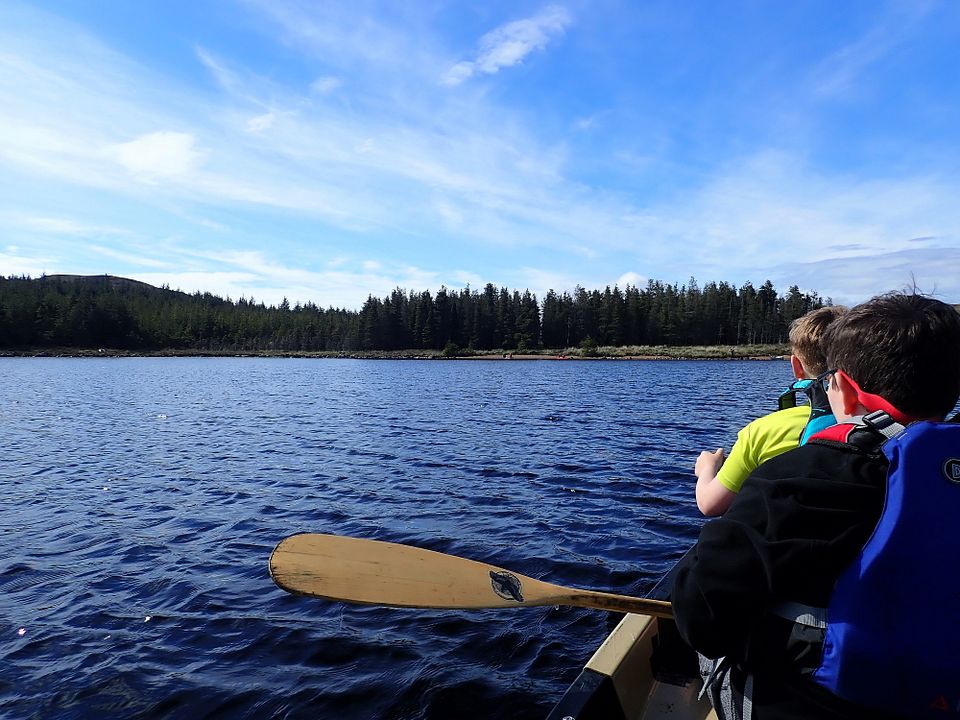 We weren't disappointed with our first camping spot by the trees. This is Beach Camp on a lovely wee loch. The kids enjoyed a swim whilst the adults enjoyed a glass or two of wine before an excellent tea. Midges were just about bearable and it was great to enjoy our surroundings, watching the sun go down and listening to the cuckoos calling. It never really went dark.
Day 2 – Beach Camp to Loch Mhic'ille Riabhaich
Distance 2.9 miles (1.6 miles paddling, 1 mile portaging), weather sunny, seas calm.
We awoke to another beautiful day with the sound of the cuckoos calling again. A leisurely breakfast was cooked on the Shield of Power, before packing up camp. We enjoyed a leisurely paddle and headed to the far end of the loch to get as close as we could to the portage track. Climbing up a steep slope to the path we crossed some lumpy, bumpy ground. By now, the day was getting hot and water sources were scarce.
Each of us had different ways of getting our canoes and gear up the slope.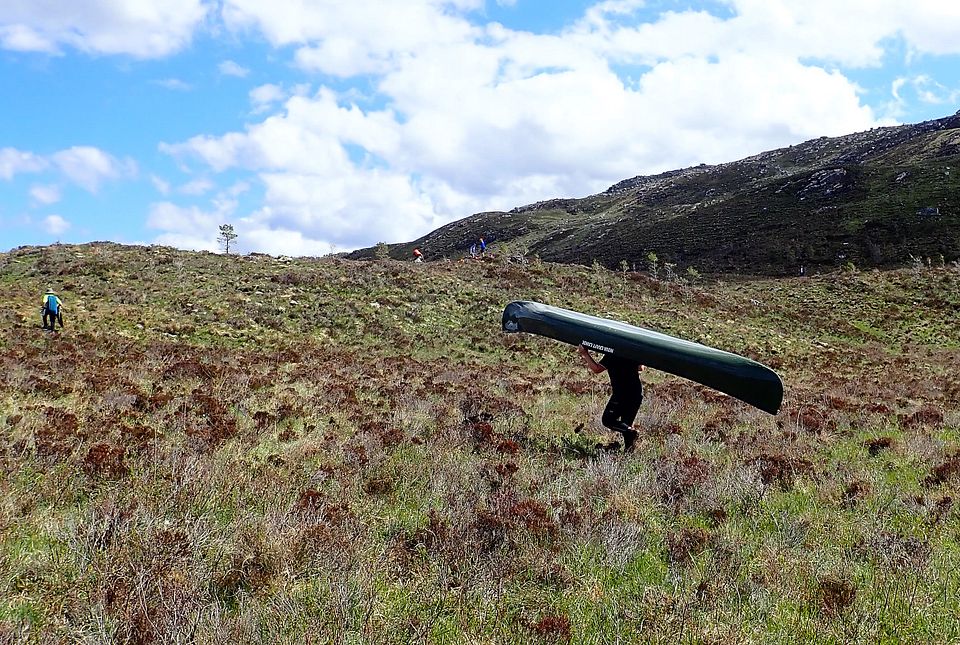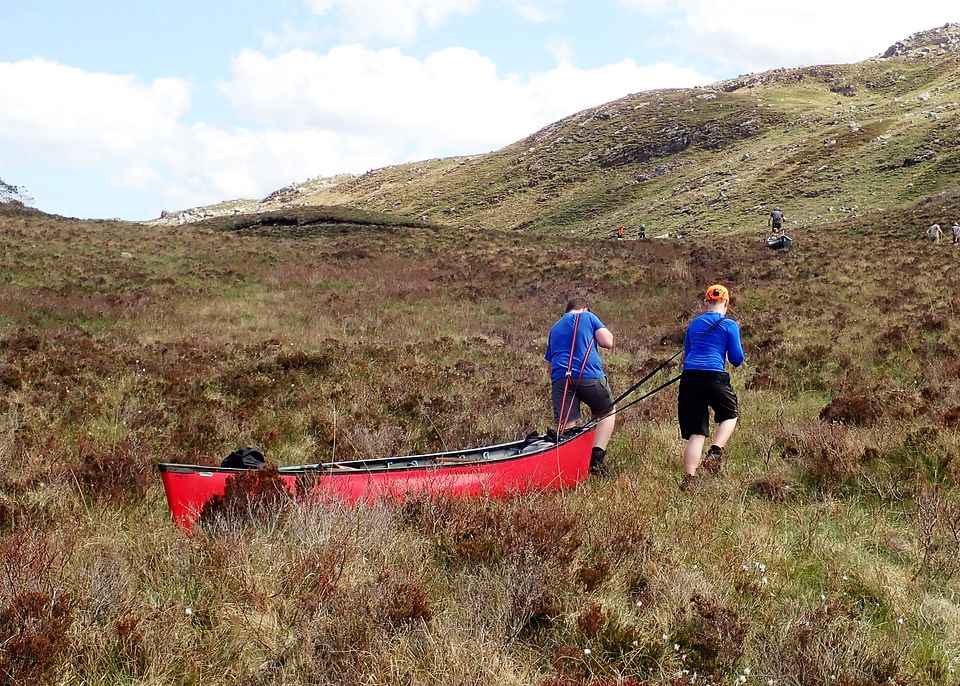 Some say this path is not trolleyable. Well, it is - kind of. Every so often the wheels got in the way, and we needed 4 or 5 people per canoe to lift over mud, bog and rocks.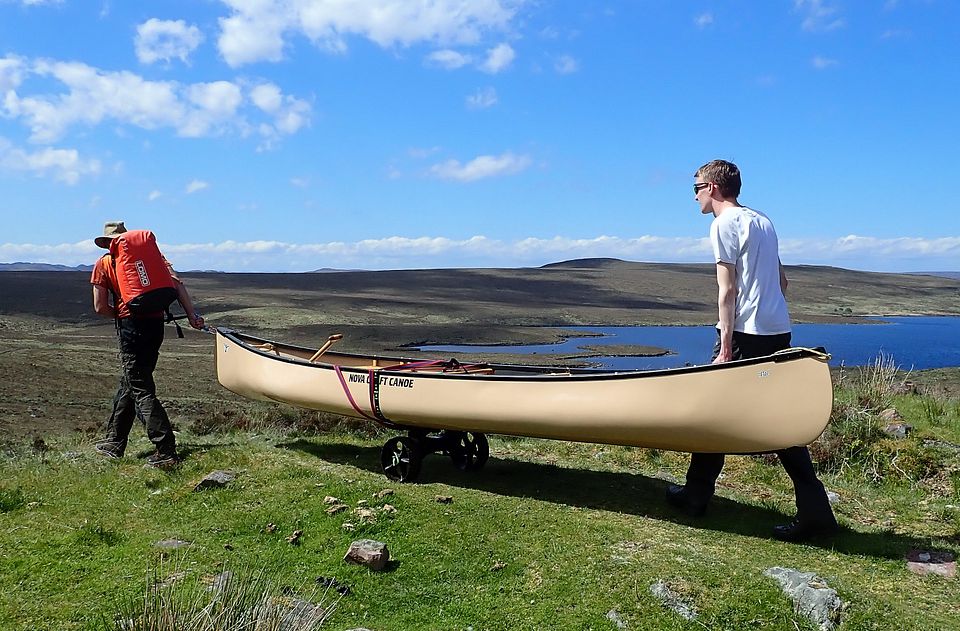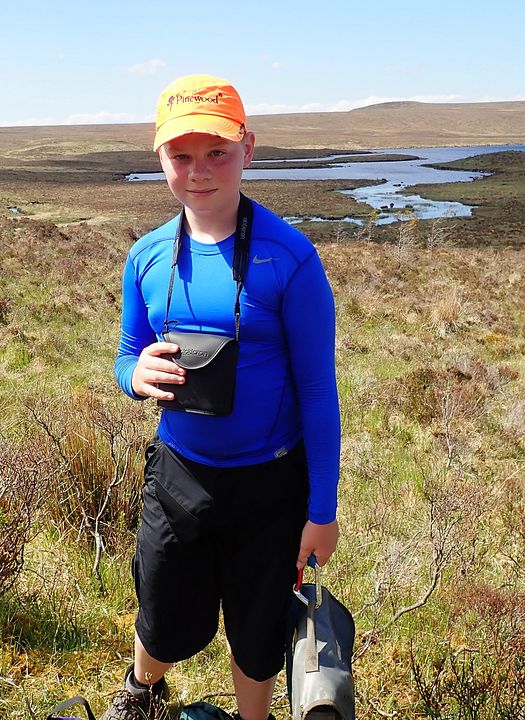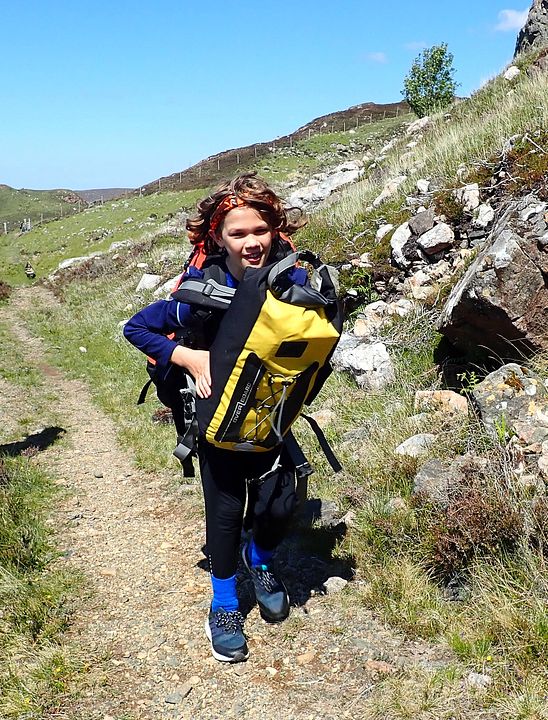 We worked as a team with lots of giggles and lots of journeys with bags and logs and red wine. The kids and teenagers were fabulous, as they always are. Amazing that they just get on with it as if it is completely normal to travel across land with canoes on wheels.
It was so hot that eventually, we had to send all the kids ahead to the loch to refill our water bottles.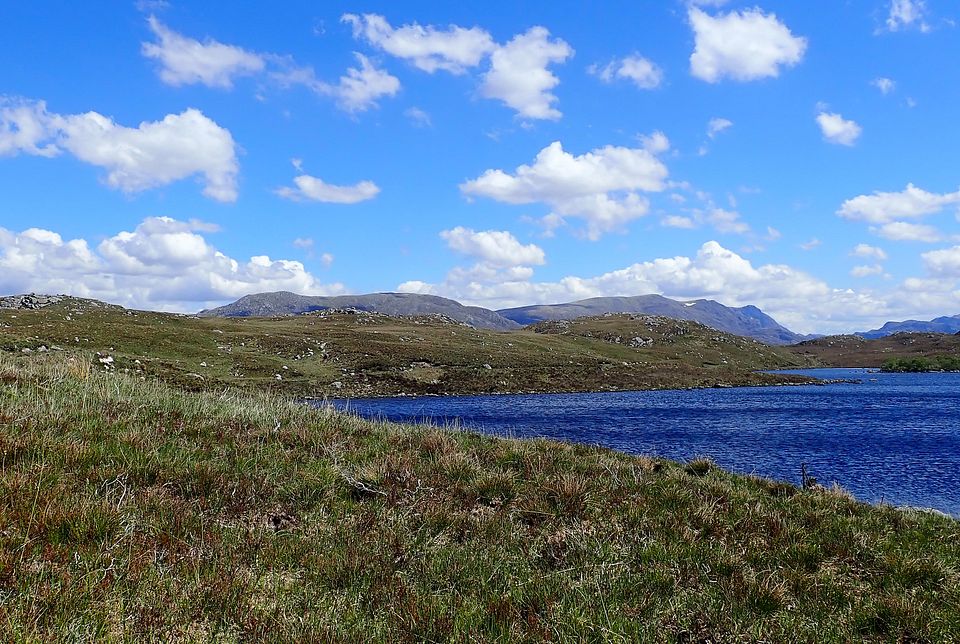 This was slow going, just because it was so warm and underfoot was rough ground at times. Lots of frogs and lizards here. Soon enough, we could see the glistening blue waters of Loch Mhic'ille Riabhaich and our spirits were lifted.
Tobey and Josh were sent ahead on foot to scout a place to camp. This gave me and Wren the chance of a short solo paddle which I enjoyed immensely. The location is stunning and the further we go, the more rugged and beautiful the mountains become.
The kids and Wren enjoyed a dip in the loch to cool off. We set up the tents on ground that was only a bit boggy and very nearly flat – Rough Camp.
With camp set up, it was time to enjoy a gin and tonic in the sun before I prepared tonight's tea of spicy sausage pasta with parmesan. How Mal laughed when he found out that my white dry bag contained a bottle of Hendricks and 24 cans of fever tree tonic. And a bottle of Laphroaig. It was never far from my side!!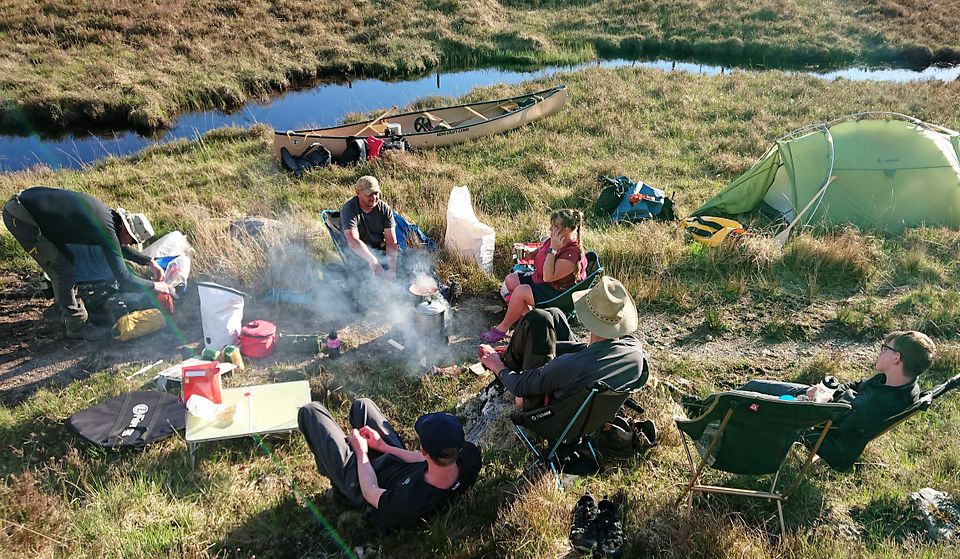 We enjoyed a lovely sunset and no midges.
Day 3 – into the mountains and the Dark Loch
Distance 7.6 miles (6.8 miles paddling, 0.8 miles portaging) – weather sunny, seas mostly calm.
We awoke to a beautiful sunny morning and the sound of the cuckoo calling again. After a breakfast of haggis, bacon, sausage, black pudding and cheese wraps we were ready for the next portage to Loch na Moine Buige and then Fionn Loch.
My food bag was feeling lighter as we set off to the next loch, only a short distance away which led directly into Fionn Loch.
It was tough going in the heat with several trips to each part of the portage with canoe, back for bags and back again for logs. We were all looking forward to paddling on Fionn Loch.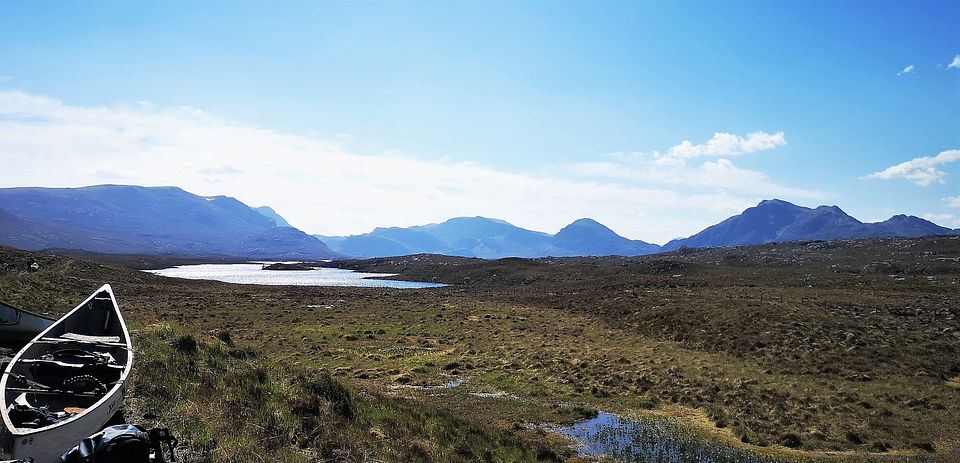 We soon reached Loch na Moine Buige and paddled just over a km to find that our get out was guarded by masses of large boulders. Taking care not to slip into the deep crevasses, we managed to get one canoe out at a time. It seemed a lovely spot for dinner.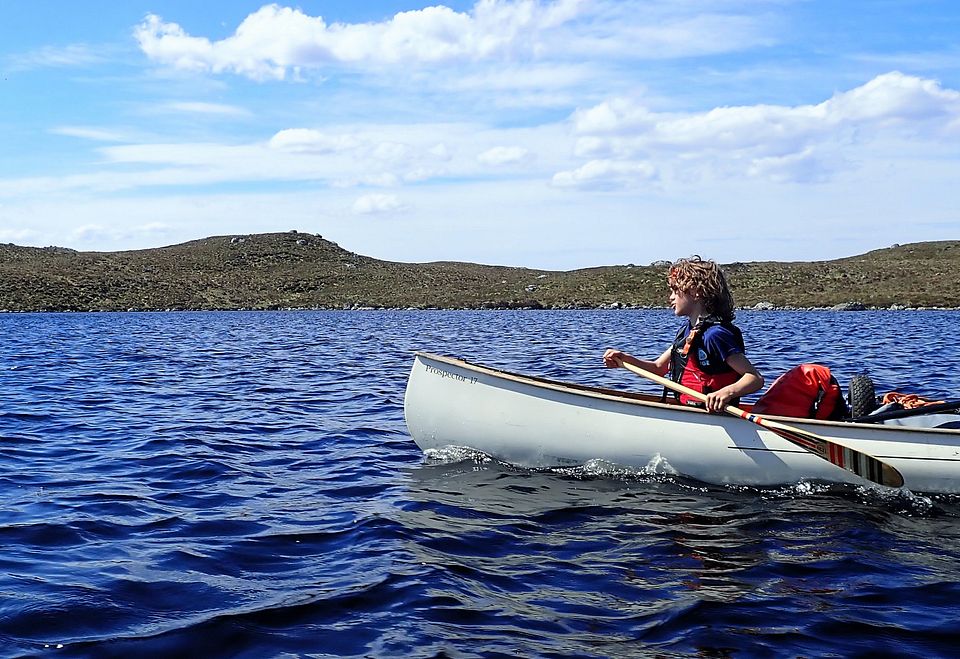 At last, after two days of portaging, we managed to find a way through the boulders and we were paddling on the beautiful waters of Fionn Loch. Although there is a breeze, the water is mostly calm.
What an awesome place. We are surrounded by magnificent scenery, and it really does feel like we are paddling into the heart of the remotest place in the UK.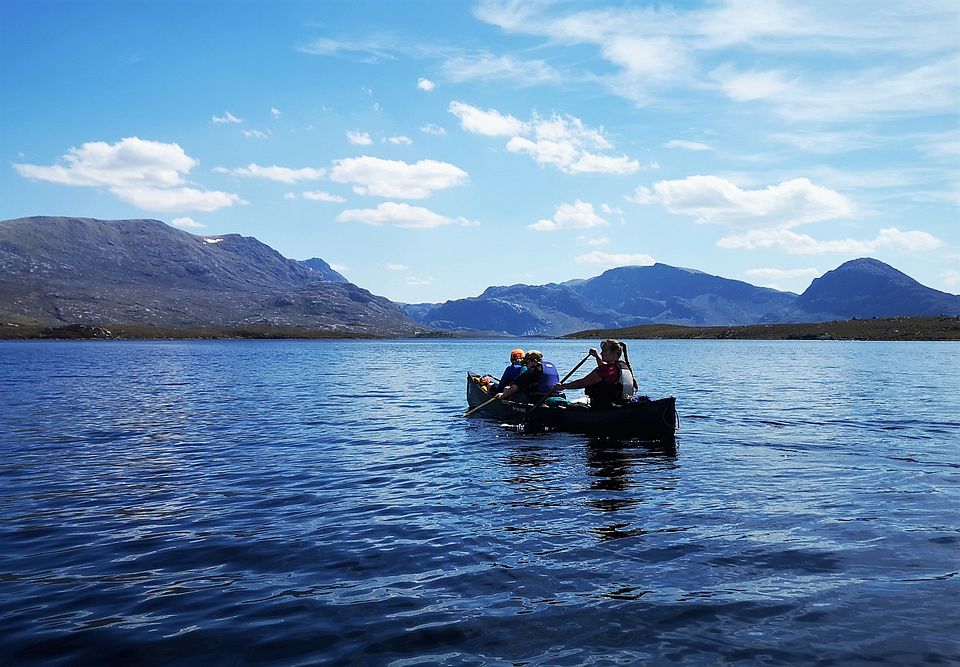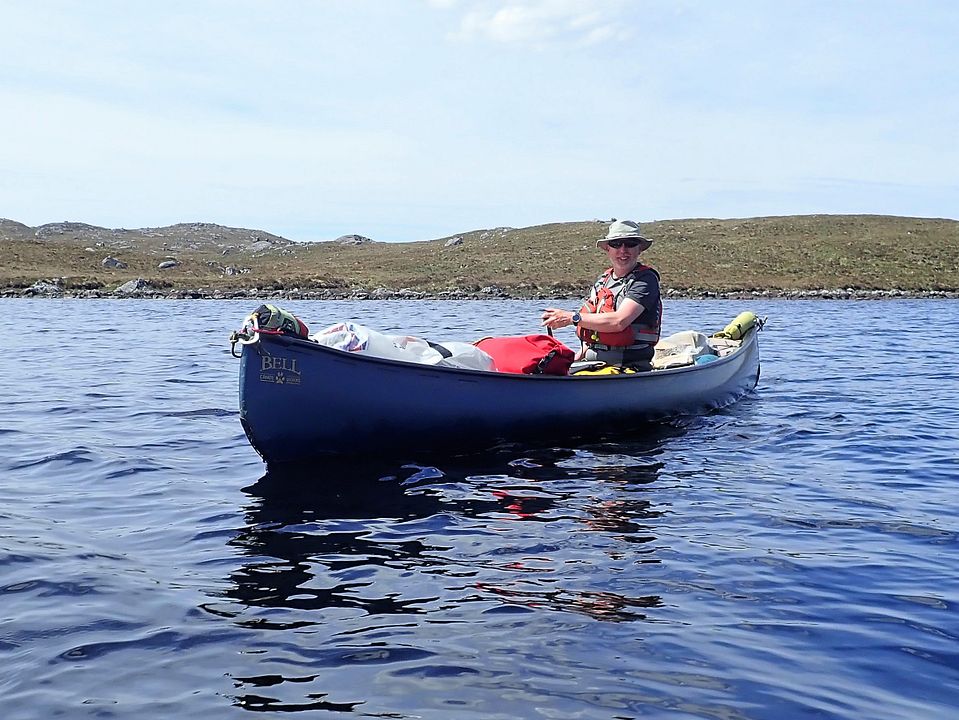 The closer we get to the end, the huge sprawling mass of rocky outcrops and high crags gets bigger, and we feel puny in our canoes against the mountainous landscape.
The call of the cuckoo was ever present. We also saw black throated divers and a white-tailed sea eagle soaring high above.
We spotted a lovely sandy beach where we stopped for a rest and more snacks.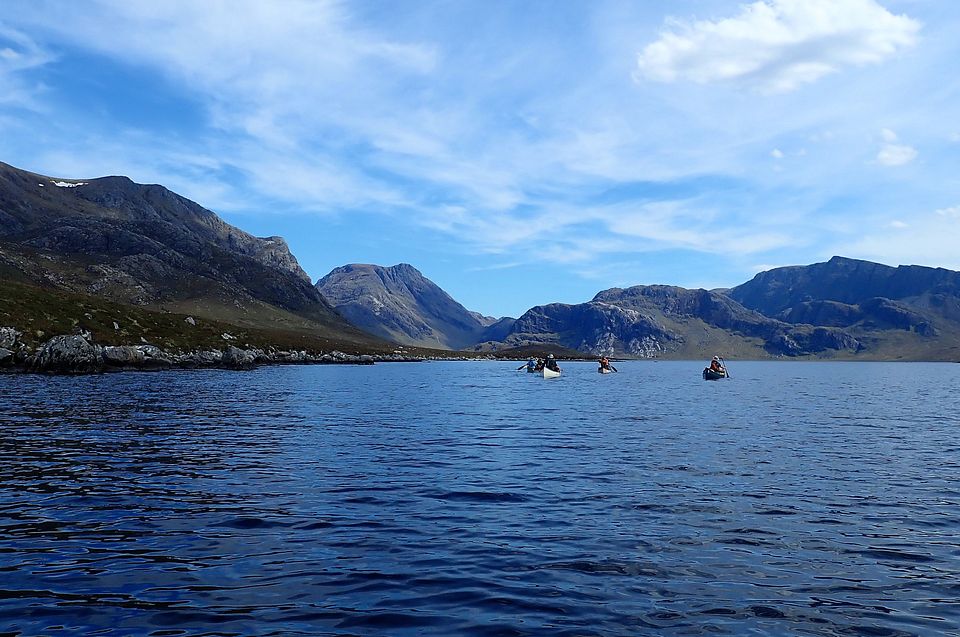 The breeze got up a bit as we neared the causeway with more rocks to find our way through. Josh was disappointed to find another portage was needed and asked why we couldn't just lift the canoes over as there were.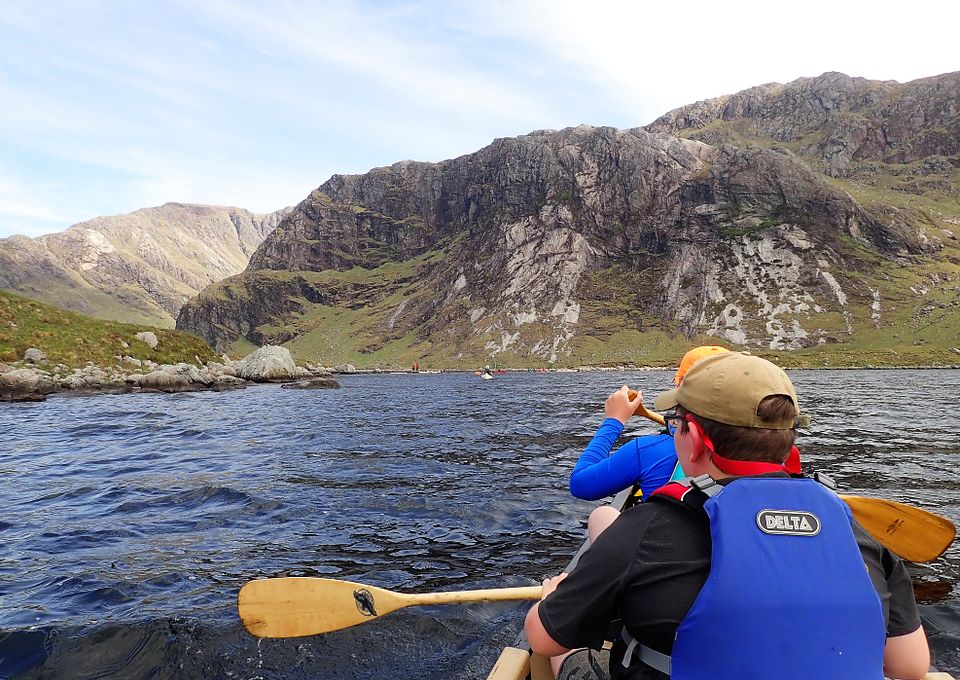 In no time at all, we were heading across the atmospheric Dubh (dark) Loch. This is an astonishing place with Armageddon looming over the head of the loch.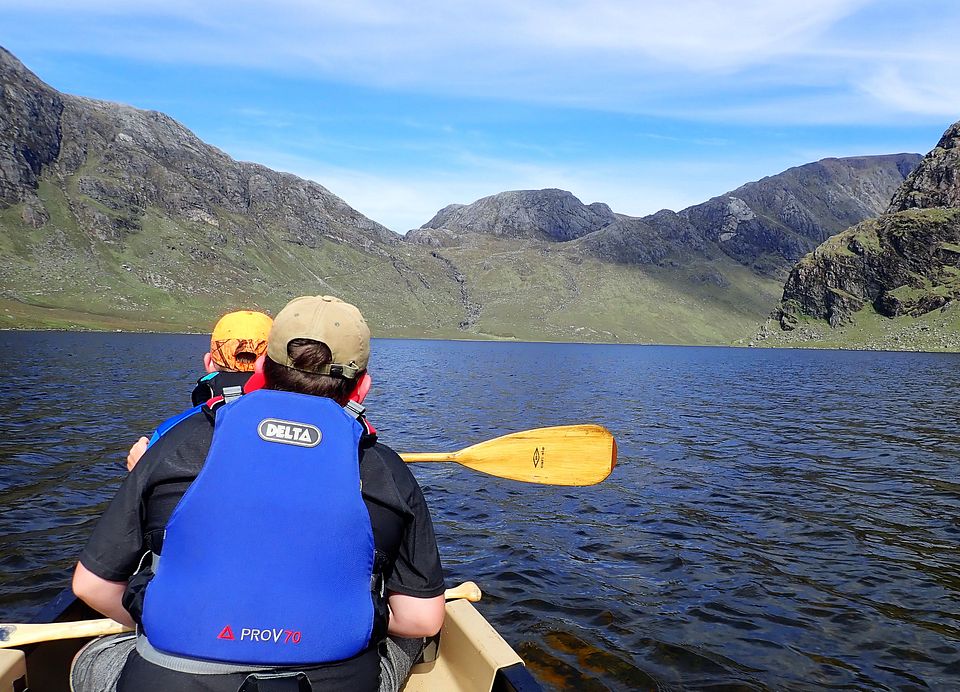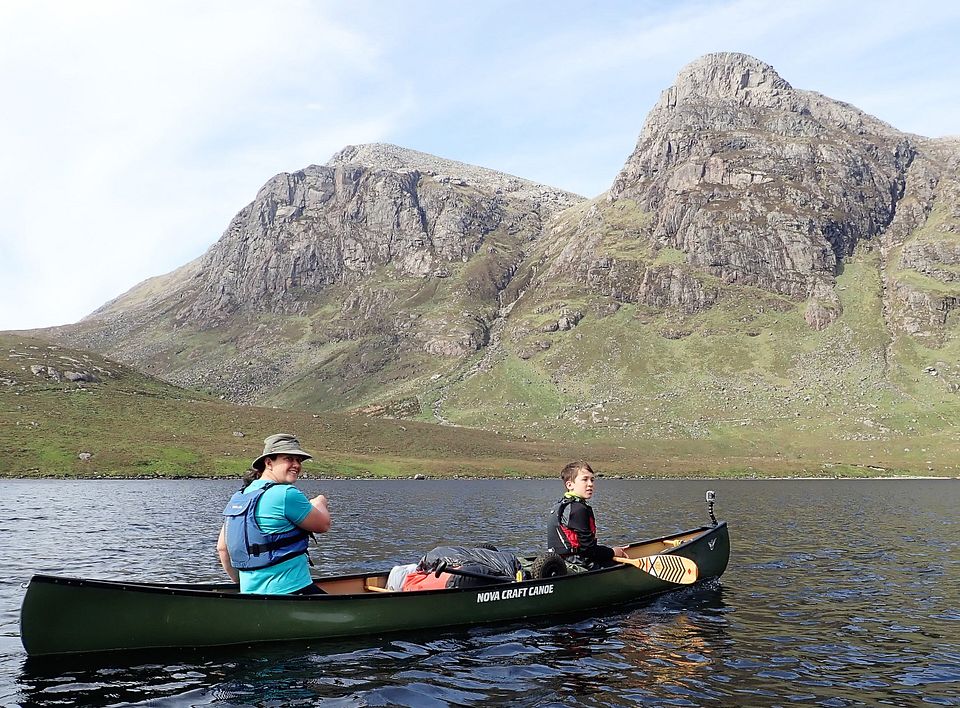 It felt incredible to reach our perfect beach with flat grassy plains, complete with crystal clear stream with deep pools.
For so long I have missed that feeling of space and solitude, that silence to hear yourself think. The effort of three days portaging and paddling to get here is all but forgotten when you arrive among surroundings so utterly beautiful that you feel totally revived. I will struggle to find a more spectacular, wilderness setting in the whole of Scotland. We have got the next three nights to soak up the scenery. I know that I will not want to leave!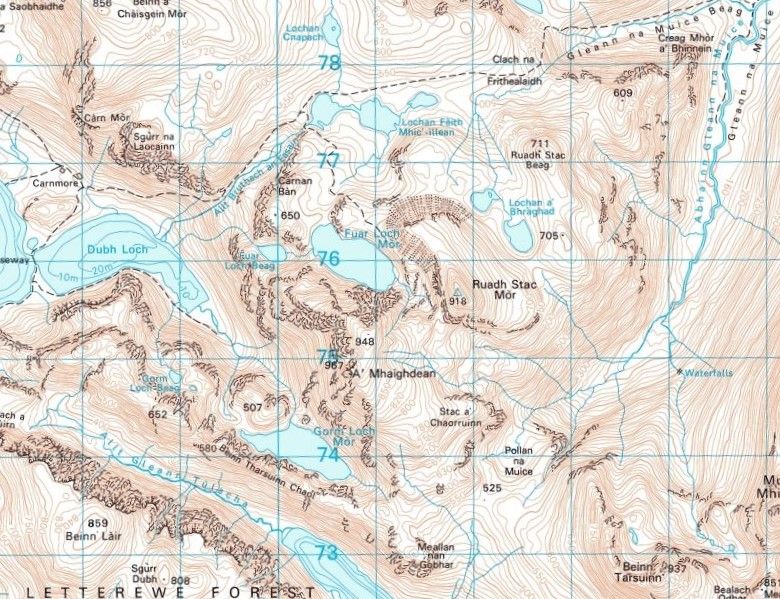 Tobey, Alex, Josh and Ben marked out their camp on one side of the beach. This was to be their expedition and no adults were allowed to cross the line they had drawn in the sand. Alex declared it Camp Armageddon.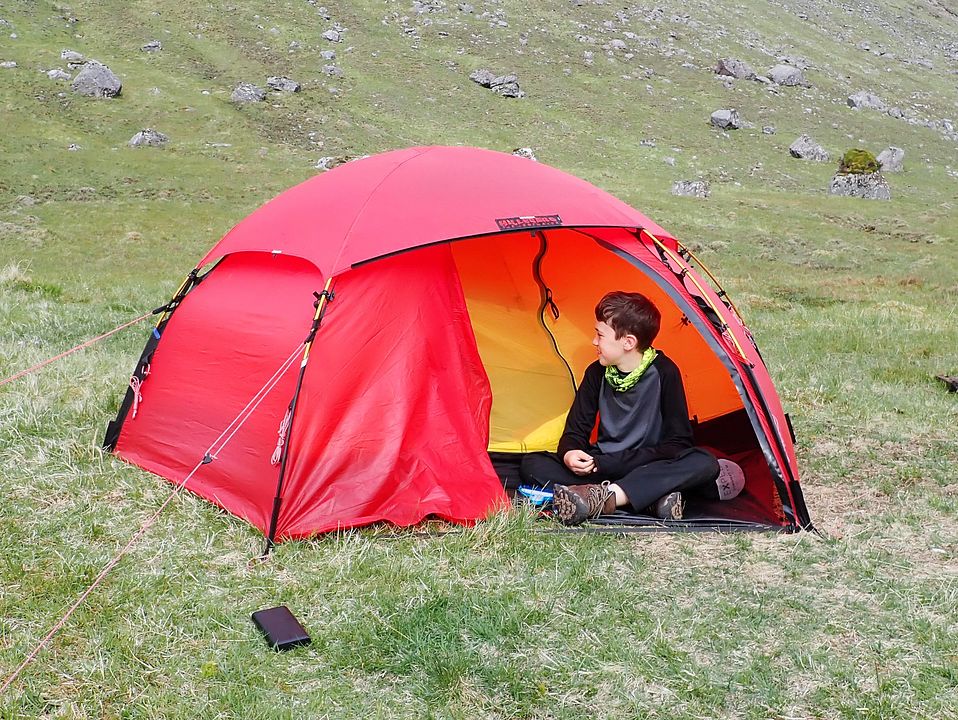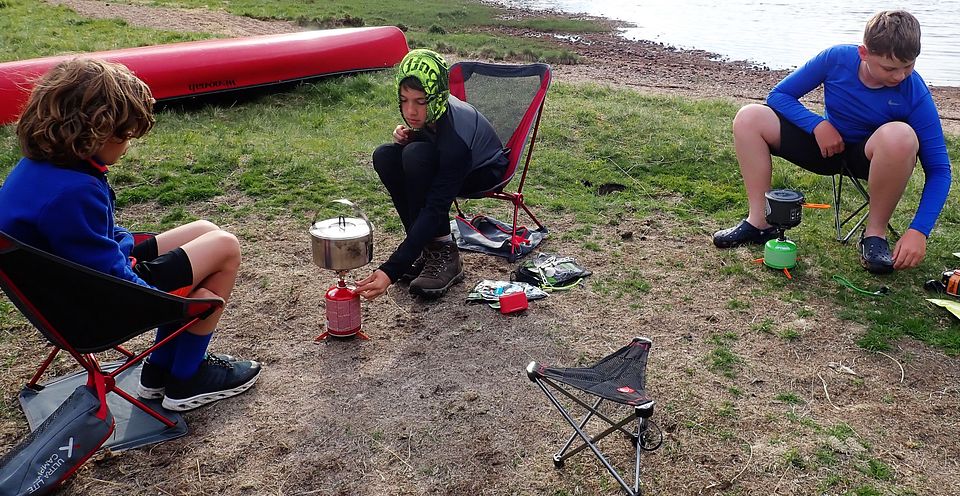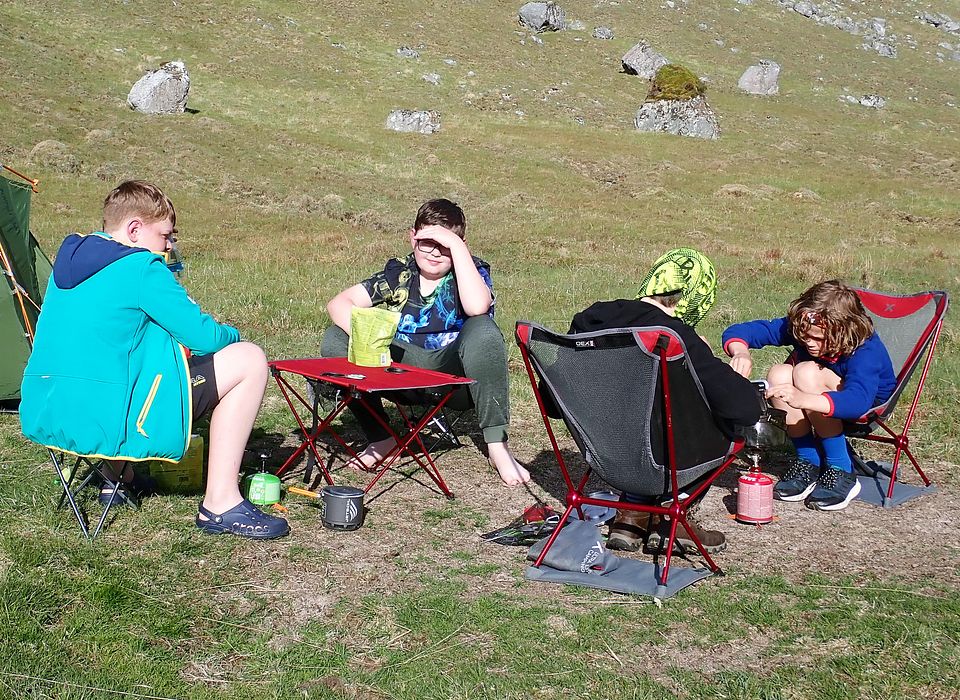 We chose a lush piece of flat grass next to the burn.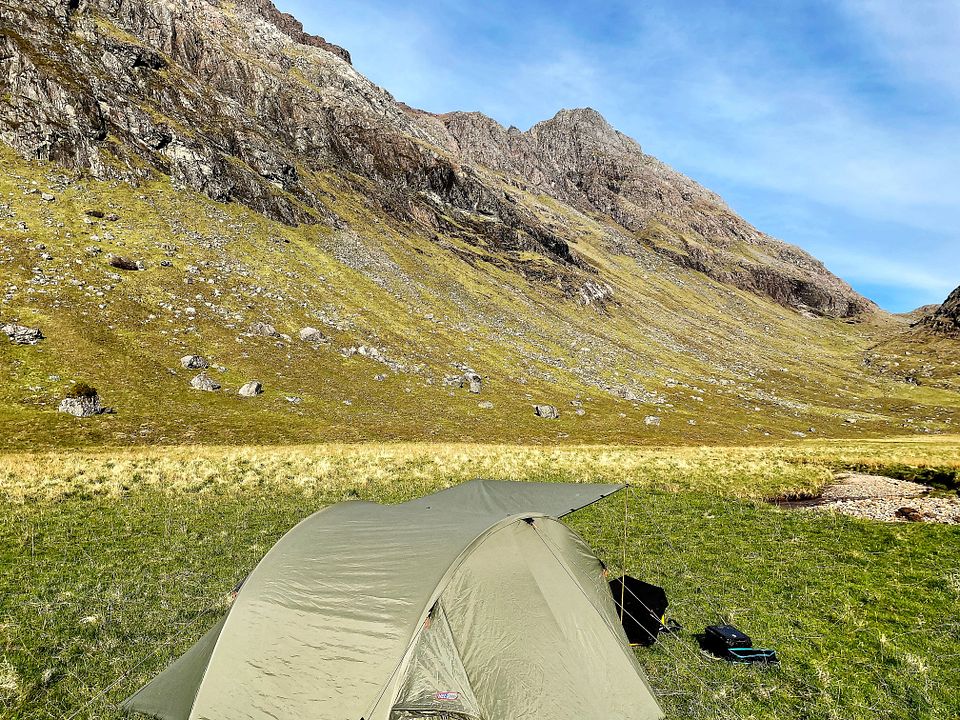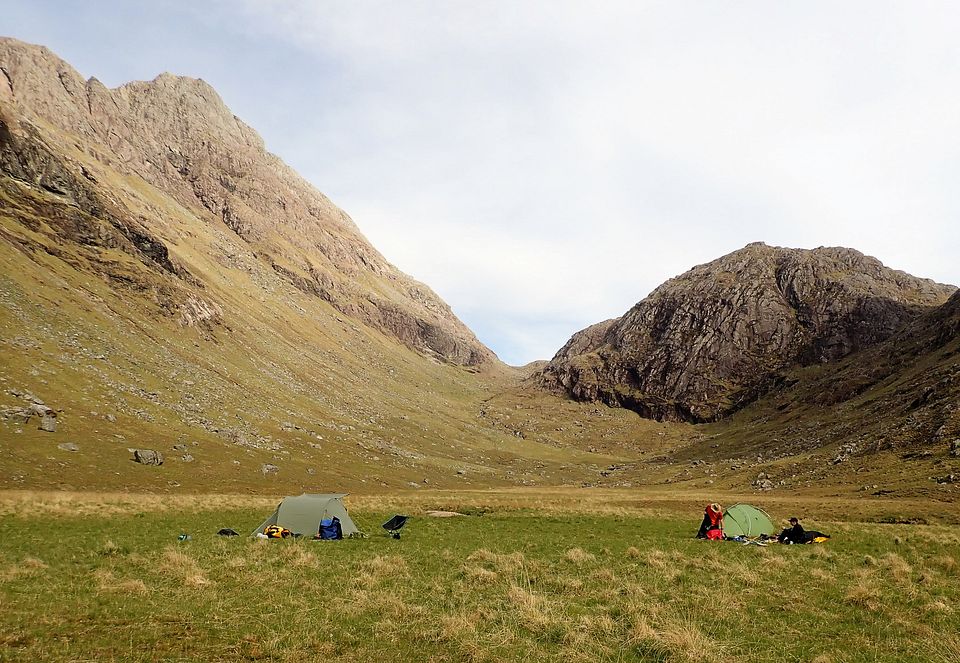 Everywhere we looked there were huge boulders strewn across the landscape.
Camp Armageddon from above.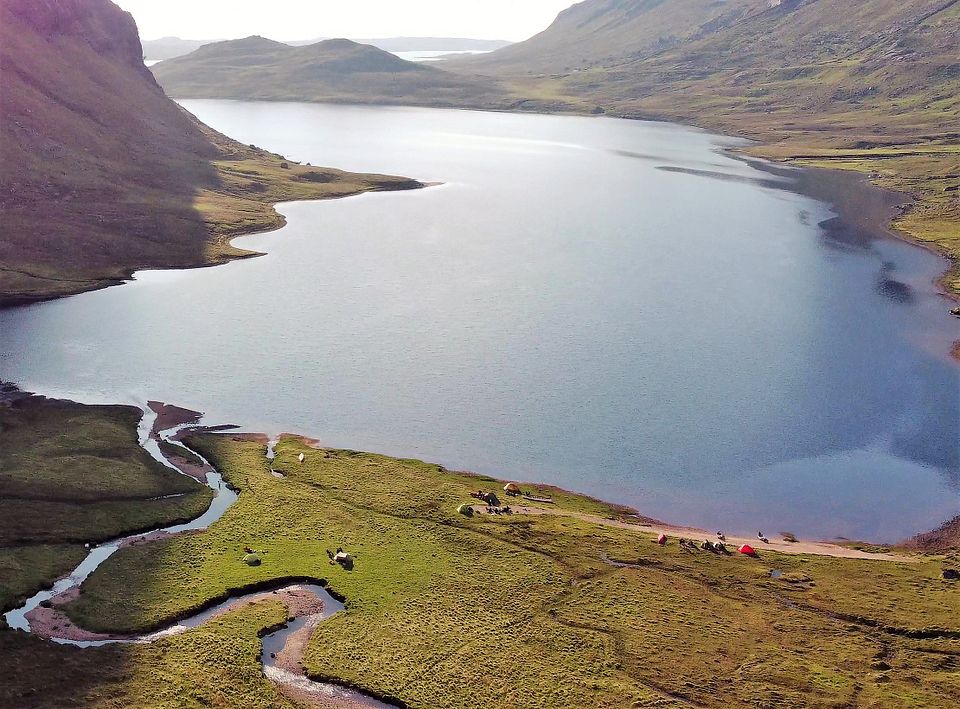 Enjoying a dip.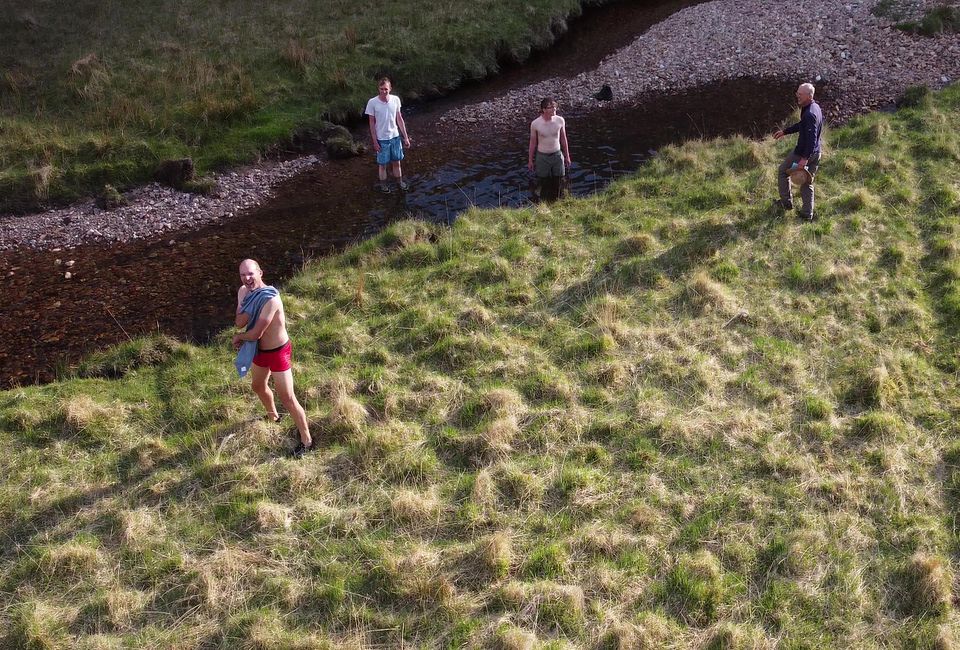 We enjoyed a relaxing evening in this almost magical scenery, soaking up the views and watching the sunset. Alex enjoyed a solo paddle in stunning conditions.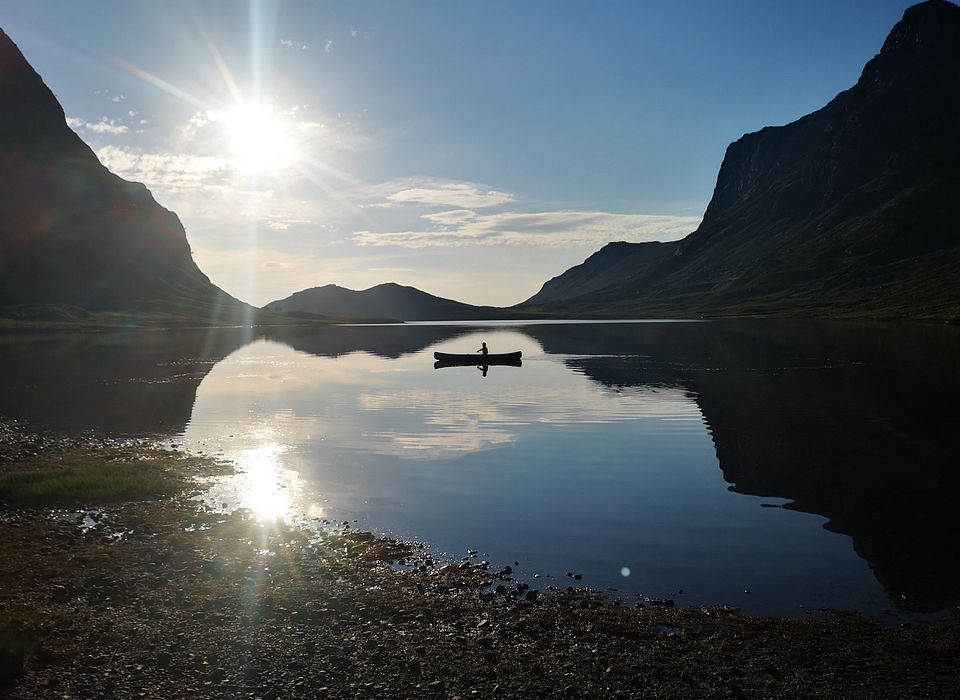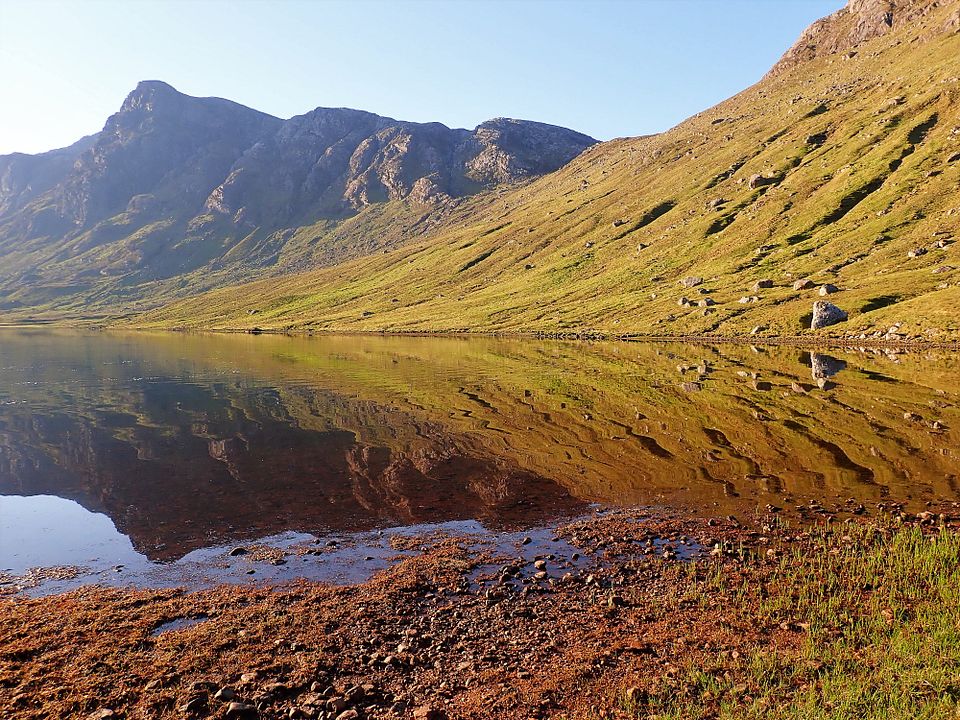 Tobey and I had picked up the odd tick. So far, wearing shorts and Smidge seemed to be working OK for me. Poor Chris had to remove about 3 million ticks!!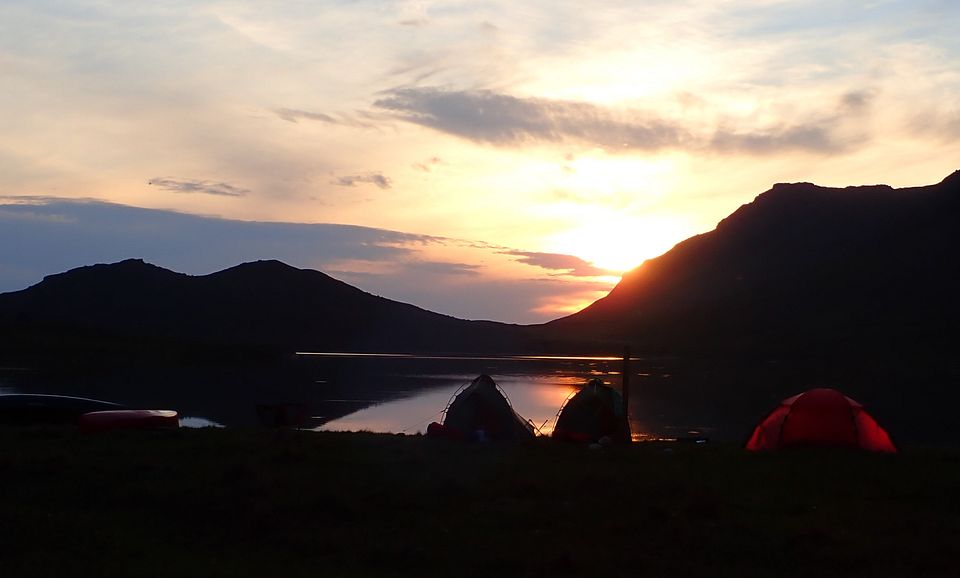 Day 4 – Camp Armageddon and Gorm Loch Mor
As the skies were a bit grey, we decide to have a rest day and save the mountain climbing for the day after. I admit that I am quite happy to spend the day sitting around drinking tea and enjoying the scenery. We have perfected the art of being busy doing nothing on these trips!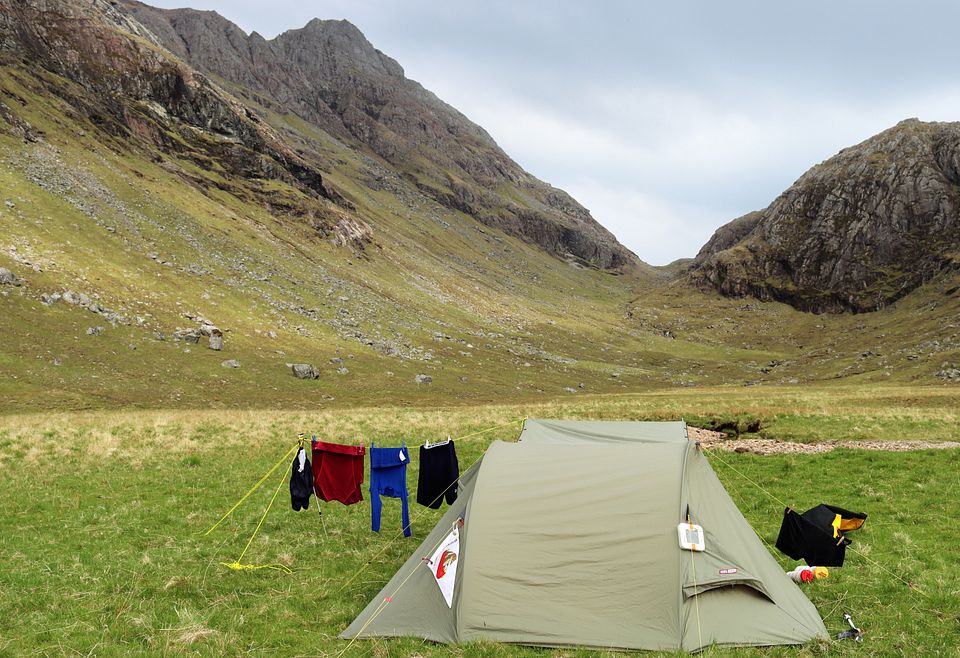 My very own plunge pool behind my tent.
Some of us set off up the rough slopes into the hills in search of the hidden loch, Gorm Loch Mor. The rocky walls of Armageddon towered above us. We reached the loch with fabulous views down to camp. We found a lovely spot for dinner, looking down into the dark waters of Gorm Loch Mor and up to the towering summits all around us. The loch itself is walled by steep rocky crags.
Gorm Loch Mor,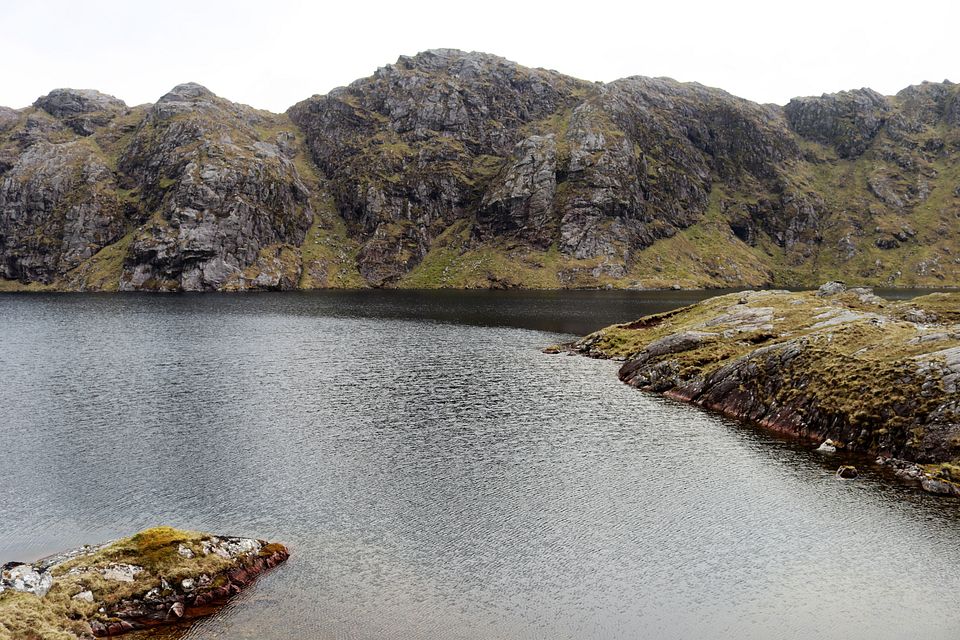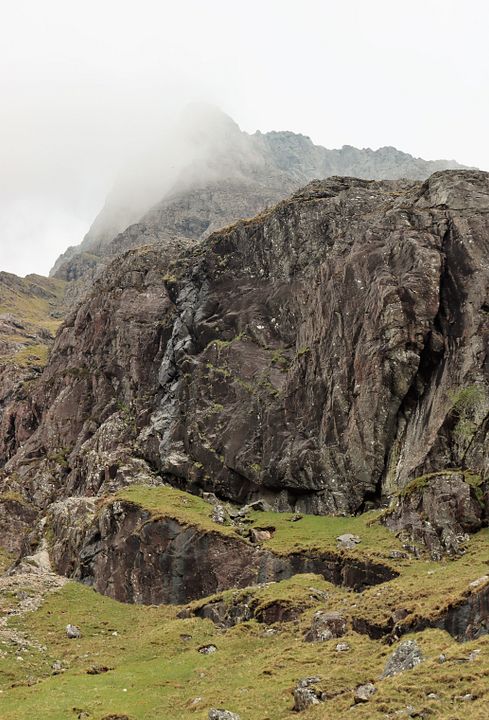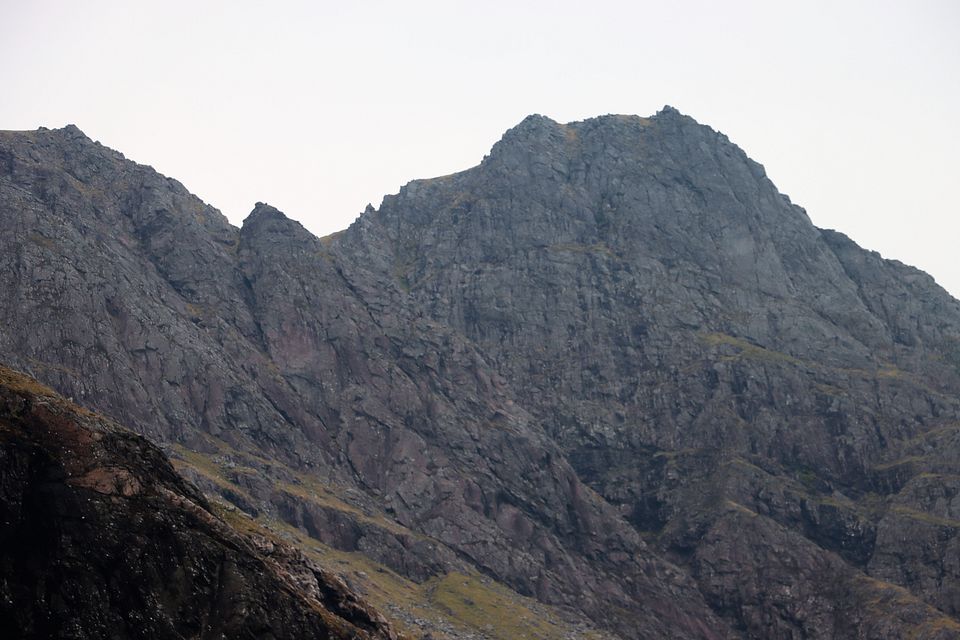 We returned to camp to find Tobey and Josh had been swimming in the loch and the river.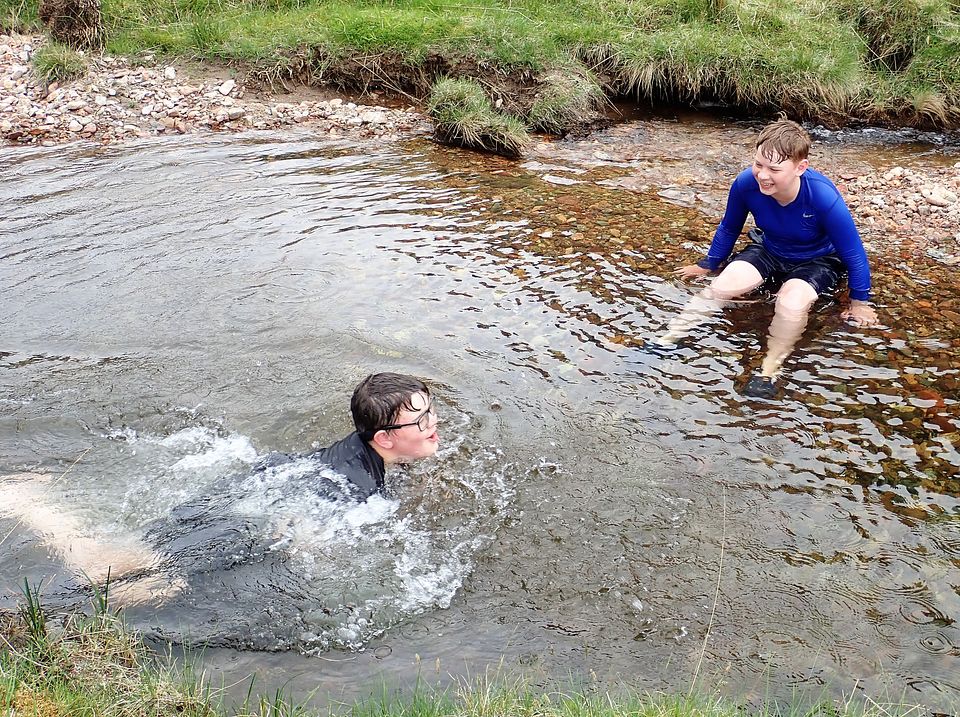 Tea tonight was superb. Nick and Pete produced a delicious curry with mango and naans. Just what was needed.
Day 5 – Climbing Armageddon
Distance 6.77 miles, total ascent 904.6m, highest point 967m, time taken 8 hours.
This was the day Tobey and I had been looking forward to. We are deep in the heart of 'the Great Wilderness' and eight of us were going to try and climb the remotest mountain in Scotland – the mighty Armageddon, or A'Mhaighdean. This is a huge challenge for Tobey and Ben as their first Munro, and for me with my dodgy knees!
We had plotted a route that set off steeply from our camp, around the rocky outcrops and up to a hidden loch, through the crags and along the crest of the northwest ridge and its pinnacles, to the summit.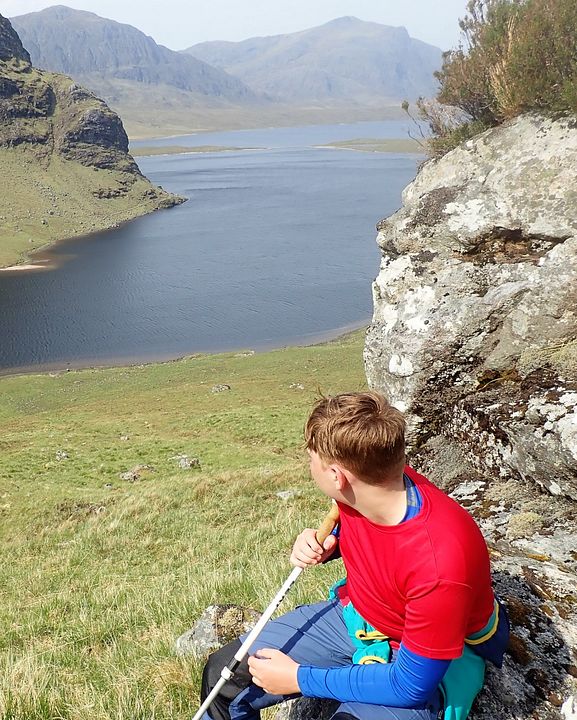 The first climb up the grassy slope was tough but the views were already spectacular. The sun was beating down and we were all drinking plenty of water and refilling in mountain streams, as the path got even more steep.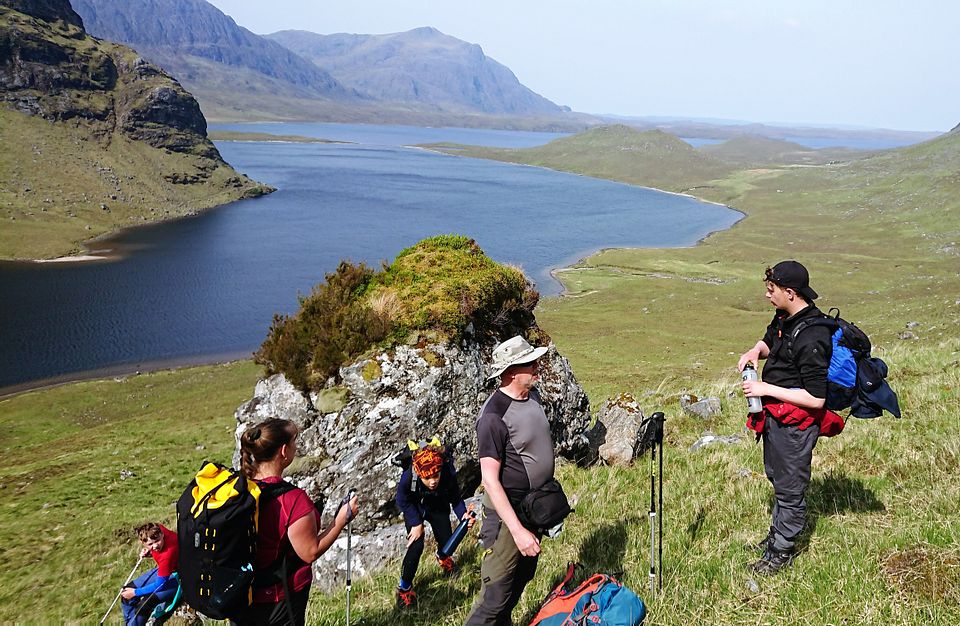 Tobey and I were glad to leave the grassy slopes behind and enjoyed clambering over the rockier terrain. We reached Fuar Loch Beag, a glorious lochan sat in a hidden corrie surrounded by steep crags with boulders scattered all over the place. Absolutely beautiful and a place to linger for a while.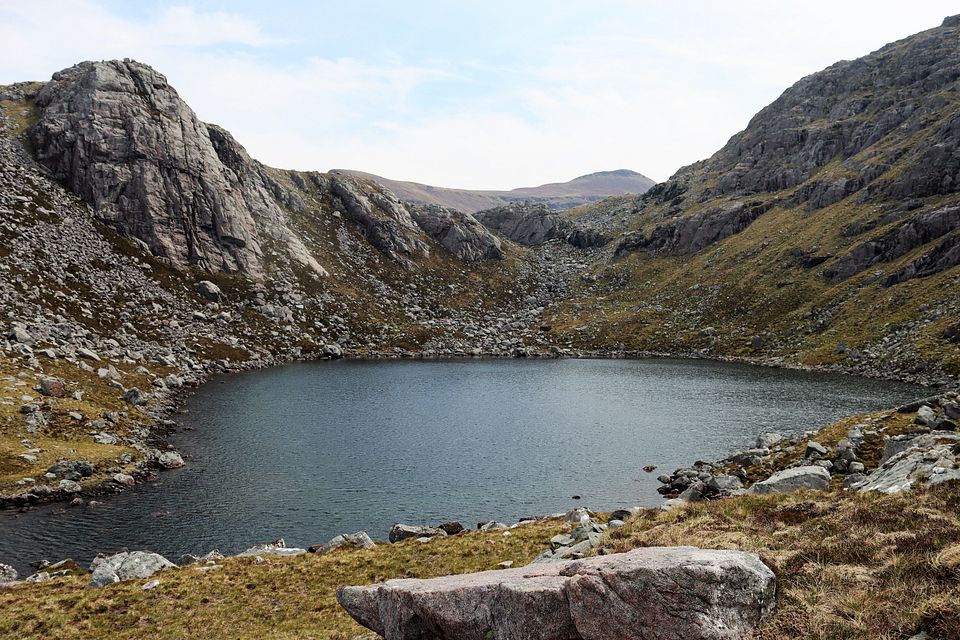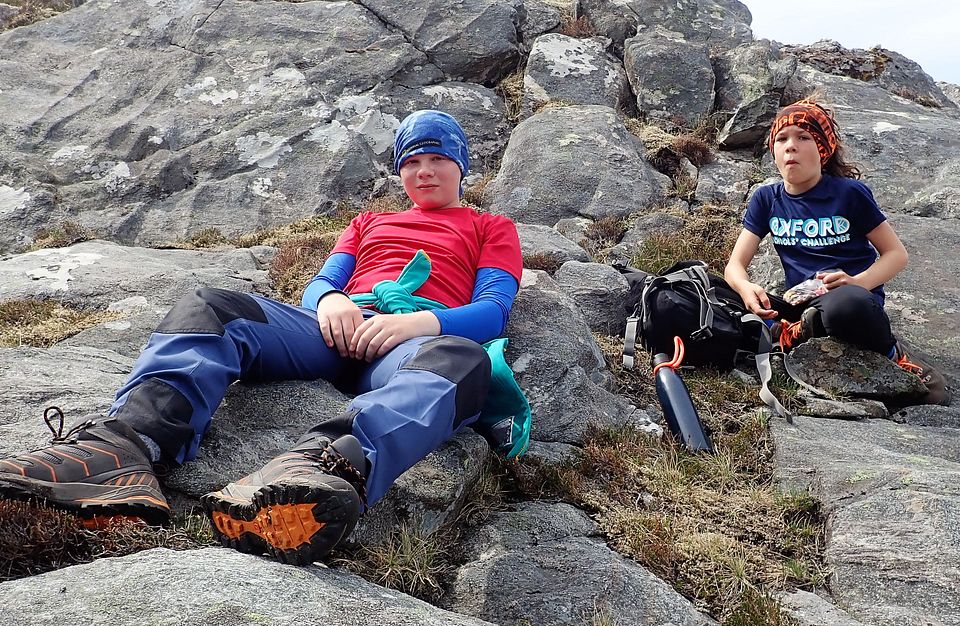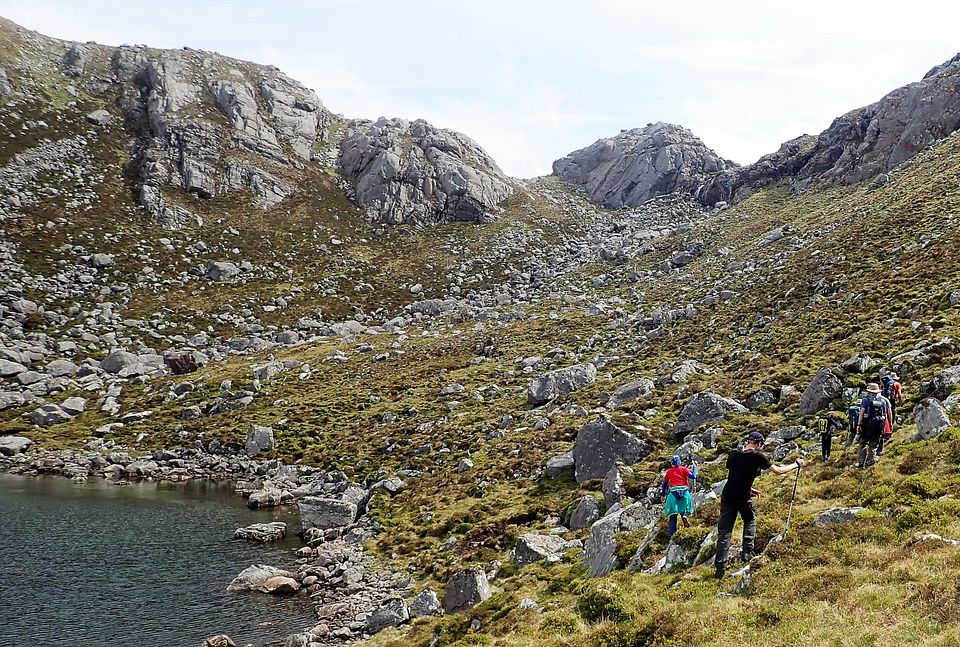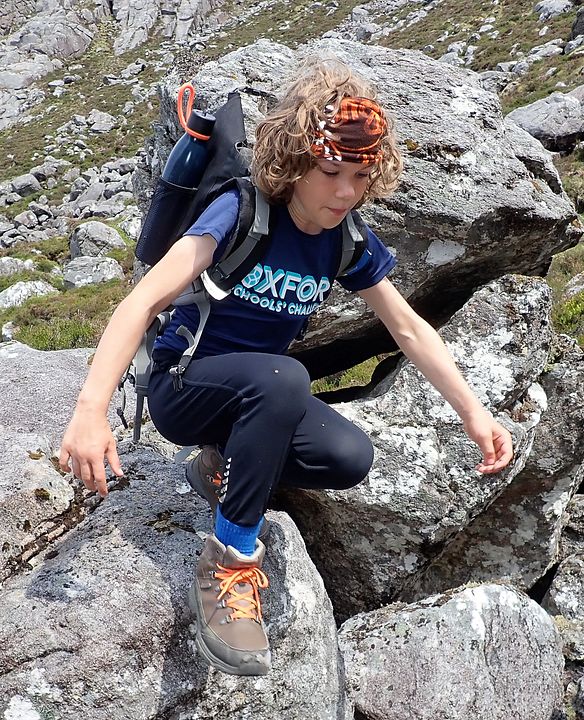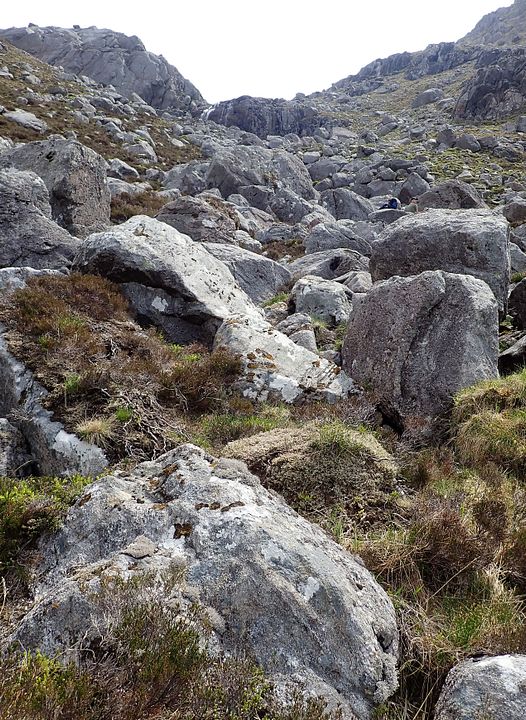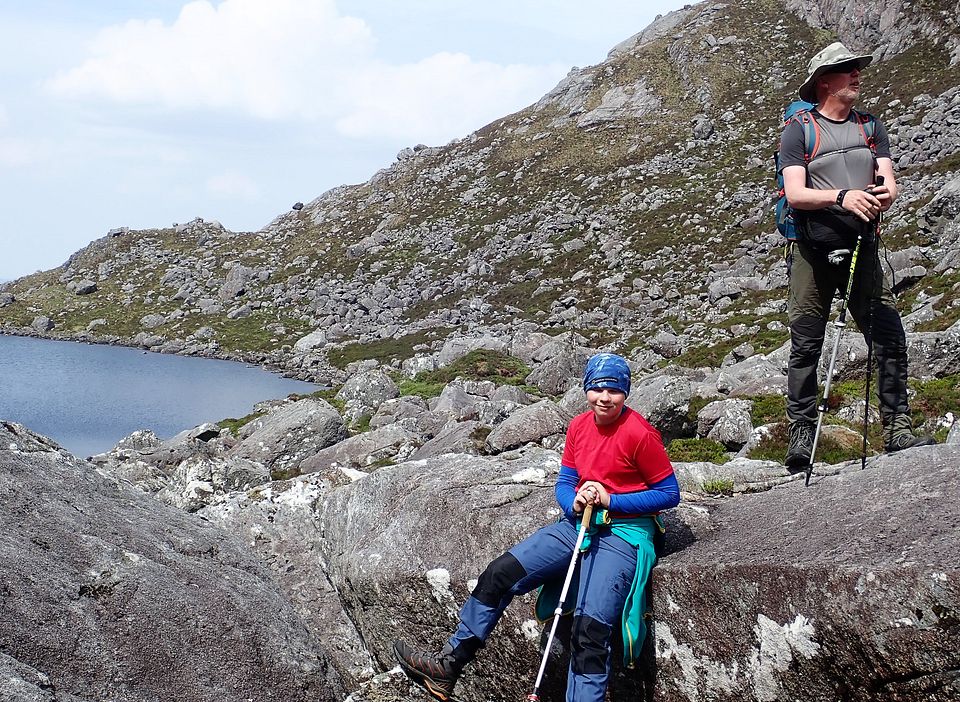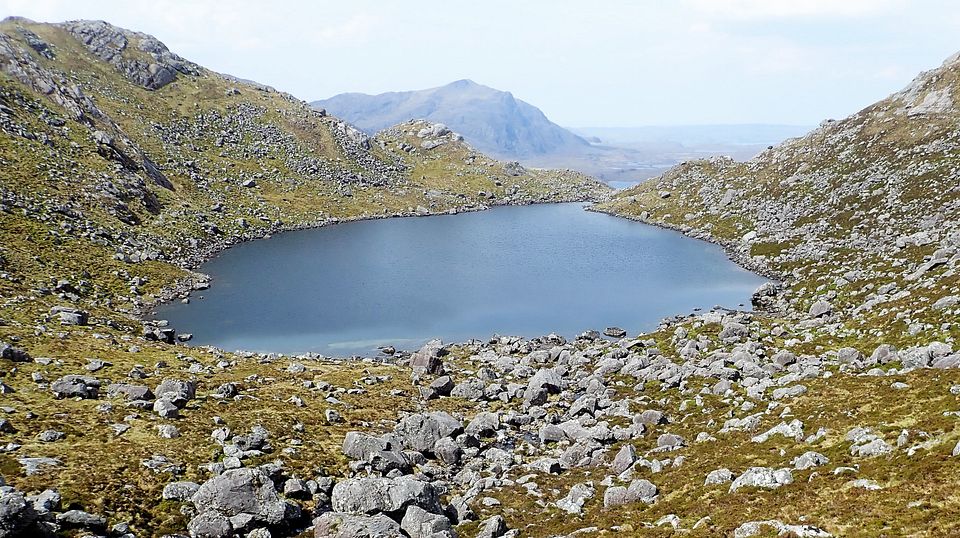 We followed the edge of the loch and the stream to the top of the corrie. We were now on Armageddon and time for the real climb! It looked very steep and very rocky. Below us was Fuar Loch Mor with an awesome backdrop of mountains. I could sense that we were all looking at the lochans in the distance and plotting possible portage routes in our head!!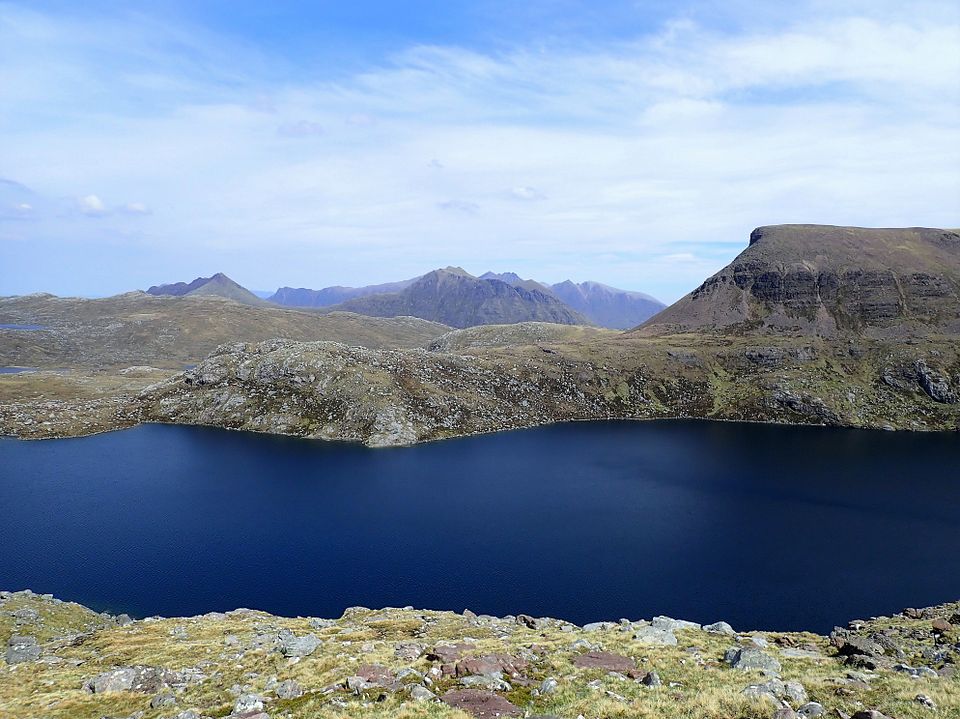 Stopping for dinner just before the ridge gave us chance to enjoy this magnificent landscape and for me to sit in the shade as the sun was burning hot.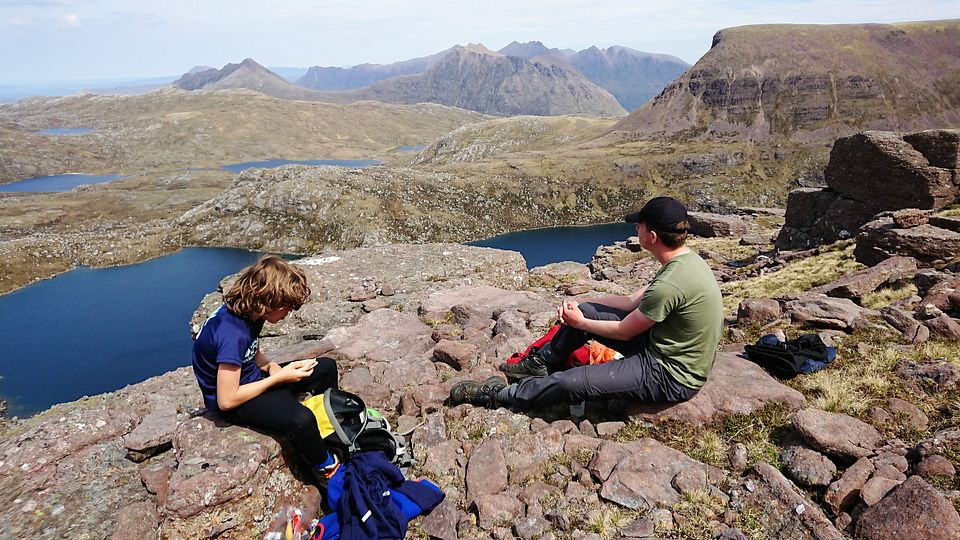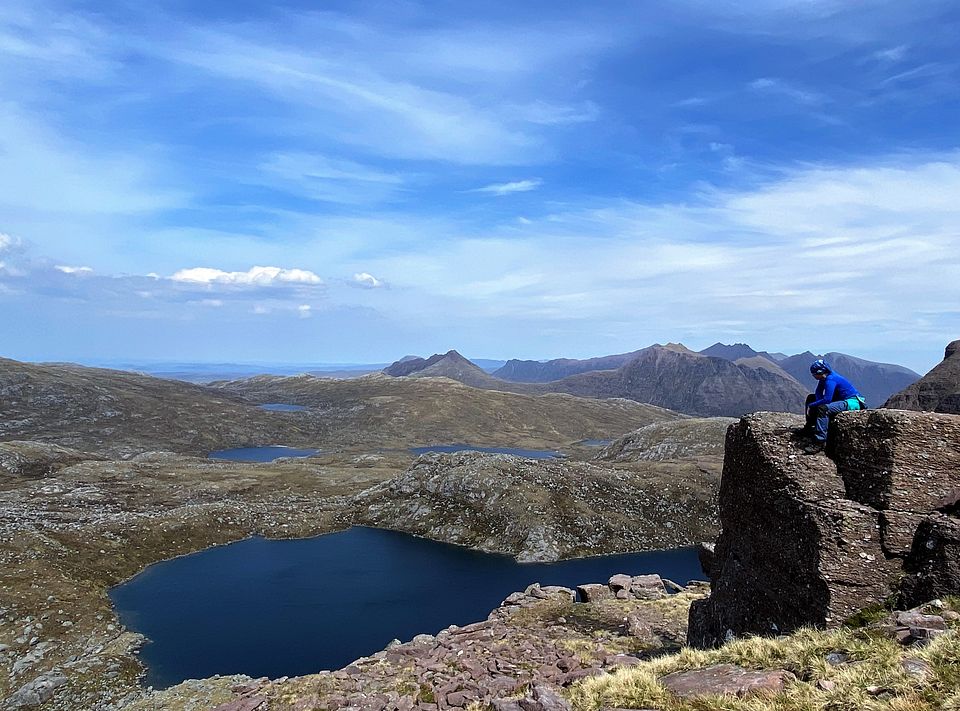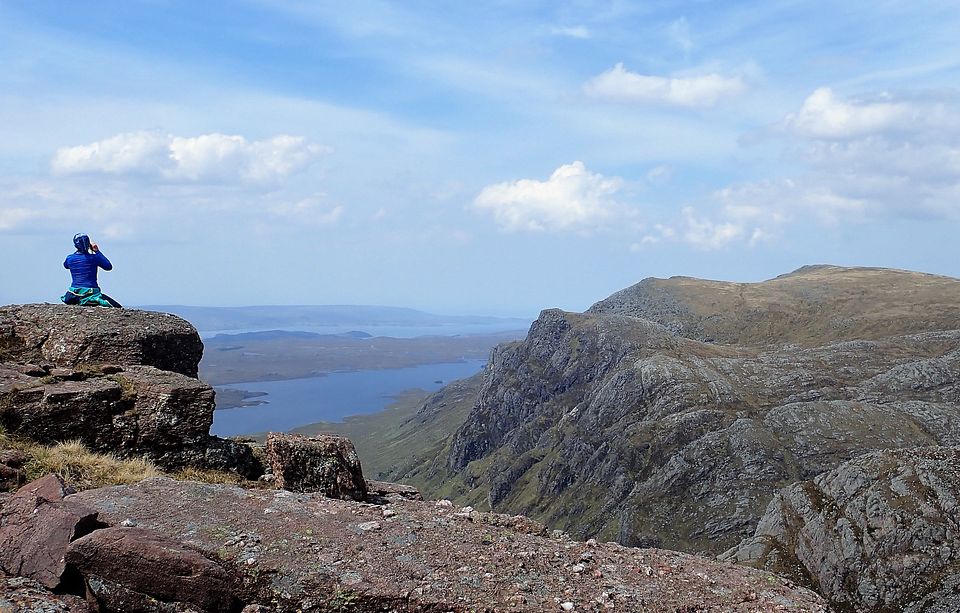 The views just kept getting better and at last we reached the crest. I would say that this approach to the summit is the best one. The wonderful red sandstone layer on the crest has shelves and towers and the whole upper ridge is just a massive cliff face. You can see some of the wildest and most beautiful mountains in the whole of Scotland.
Our way seemed blocked by the sandstone towers. The drop is a bit loose but easy enough to navigate. Care was needed as the short drop ended in a very steep gulley. Some scrambling was needed but we managed to find a route through the rocks. Once below the cliffs we were zig-zagging round the towers and dropping down under each one until eventually we climbed back up to the ridge. Tobey and I really enjoyed this route, not difficult but we were always aware that this is a very remote location.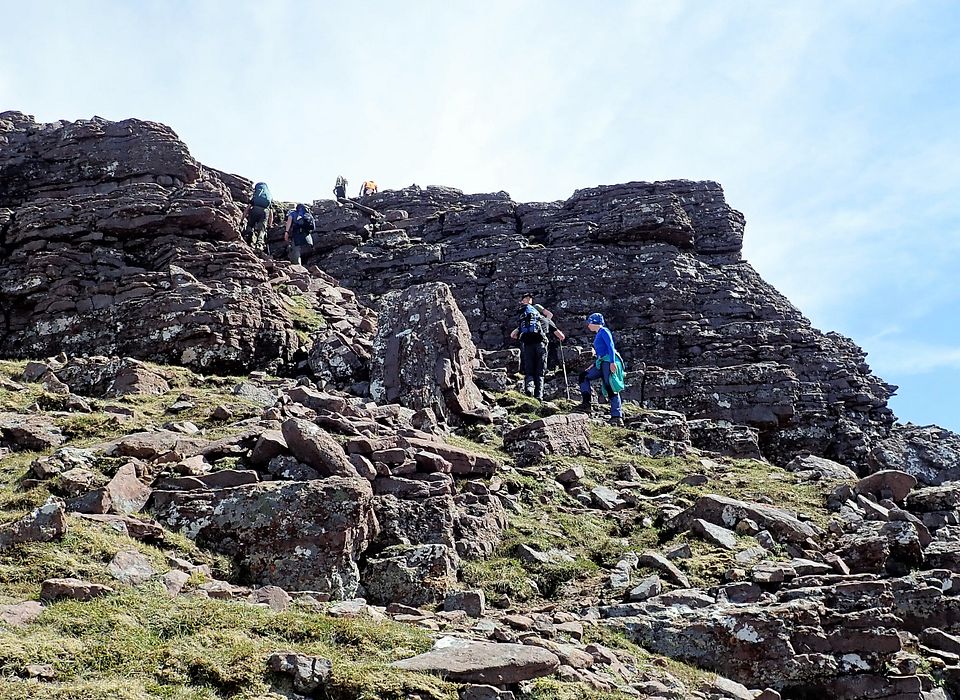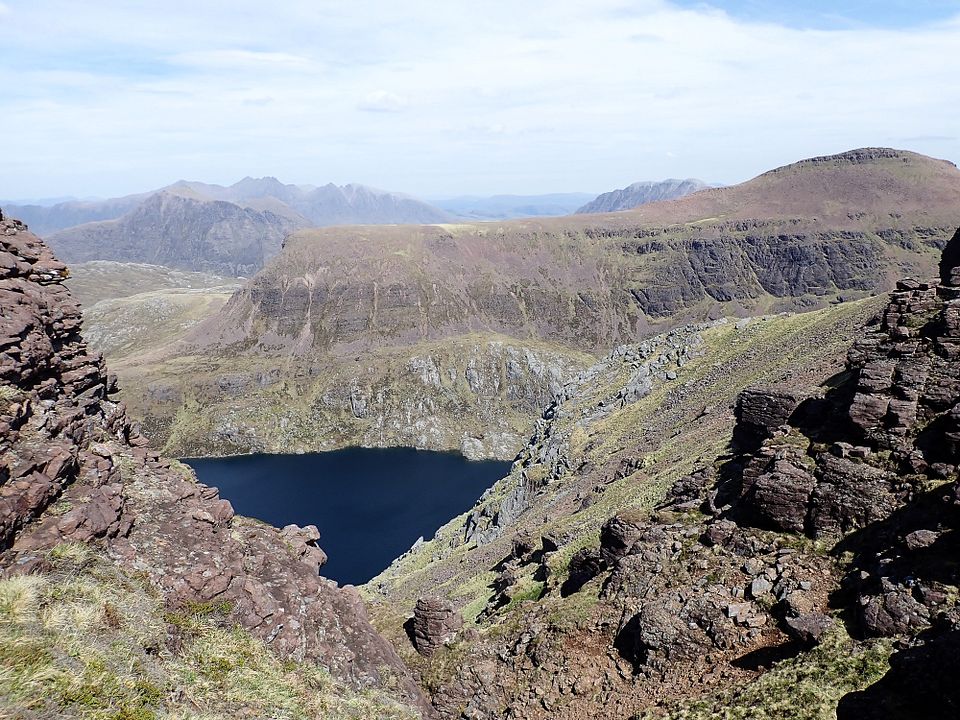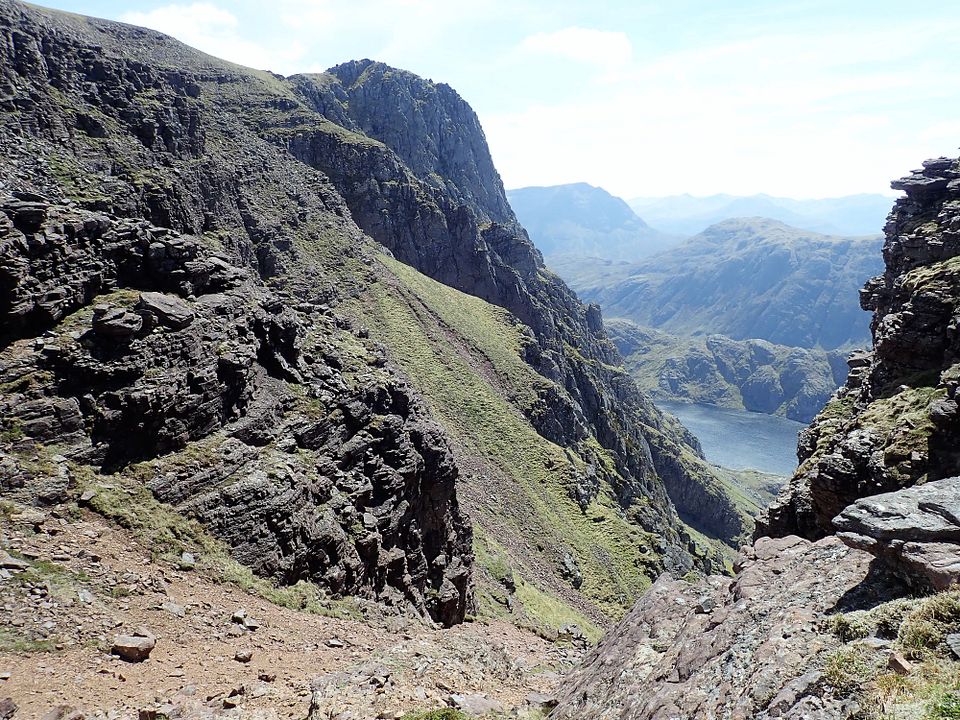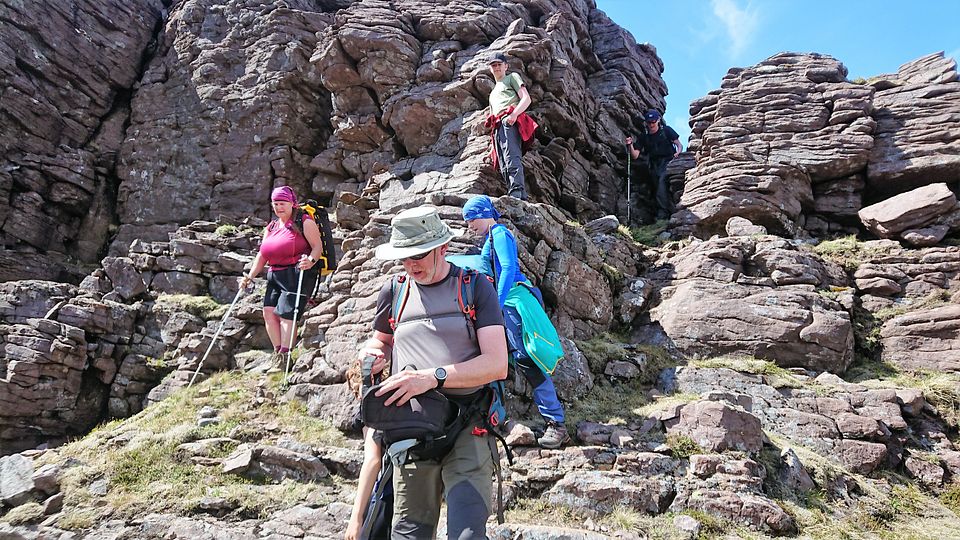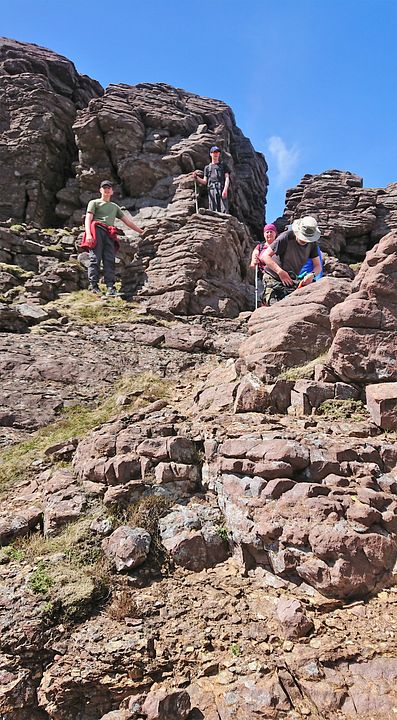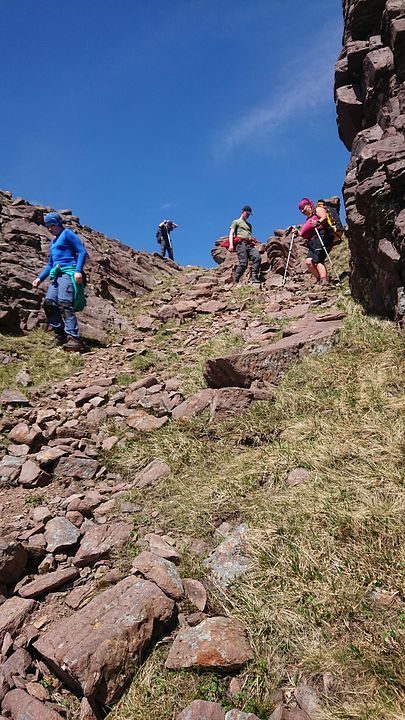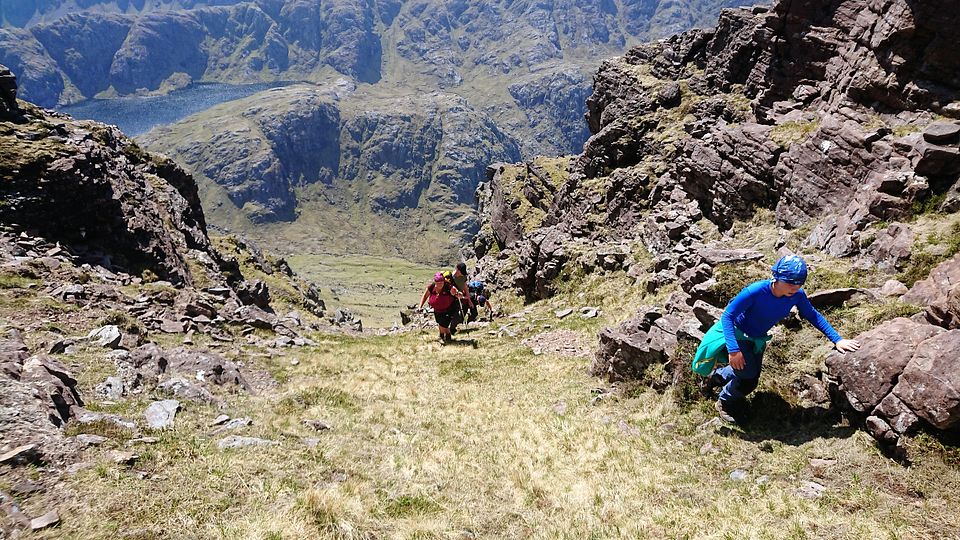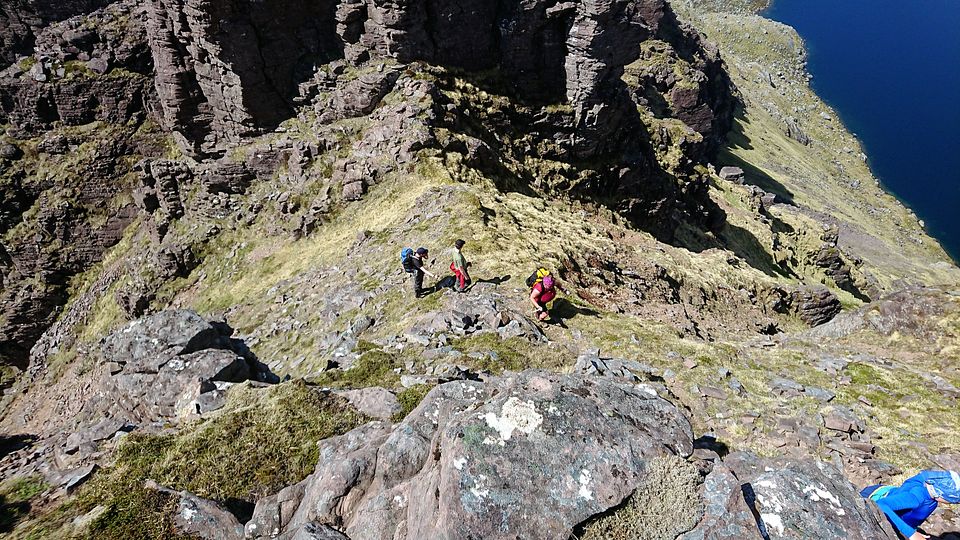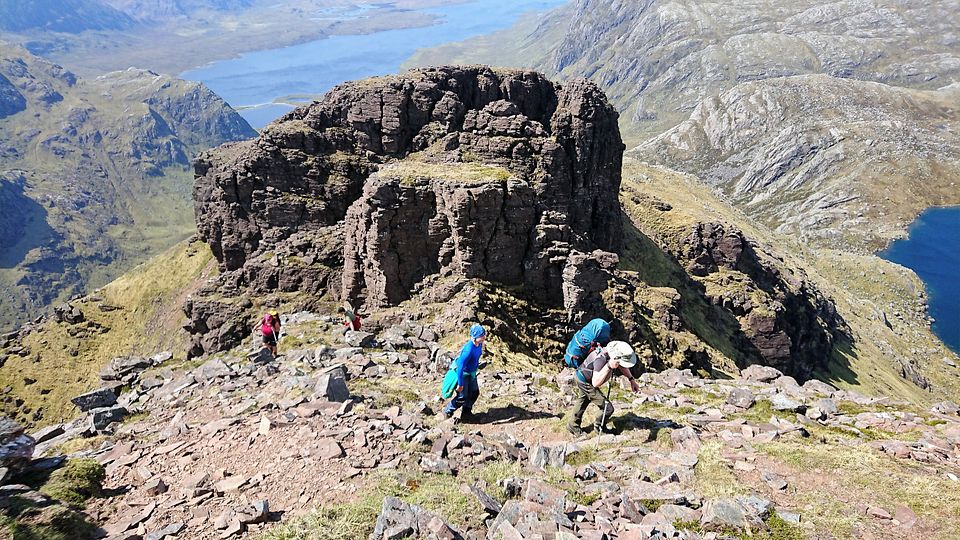 We emerged onto a wide, rounded grassy top. There aren't any words to describe the views all around us – just astounding.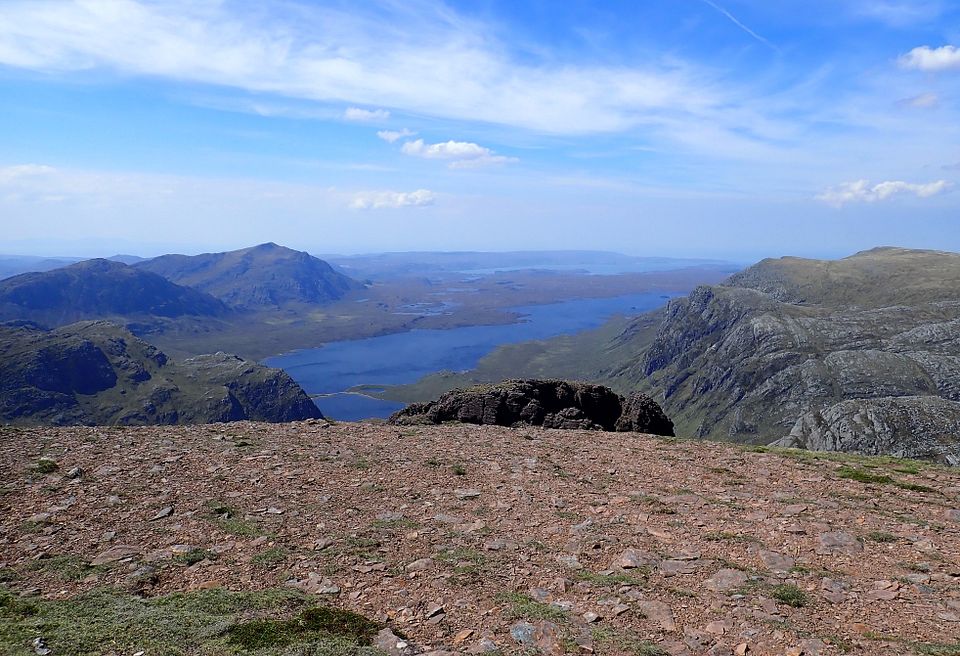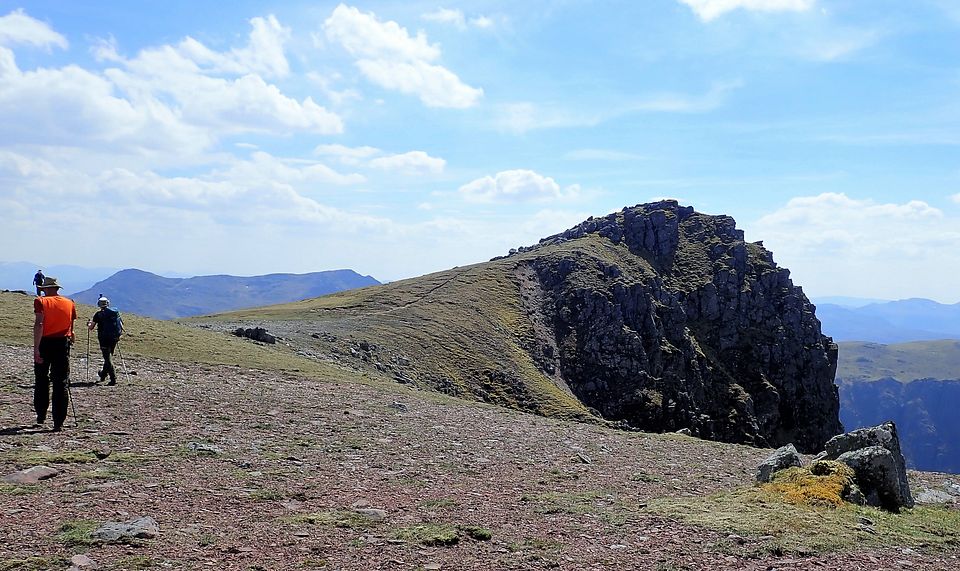 From there we picked up the only path of the ascent and completed the easy walk to the summit. We could see a big drop that led straight to our camp below.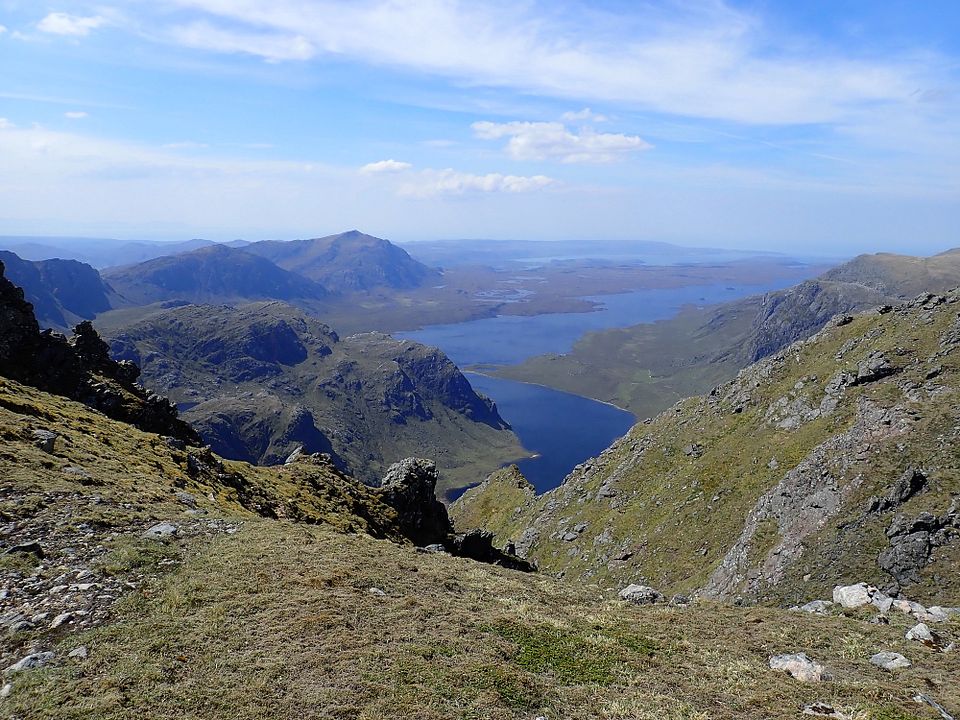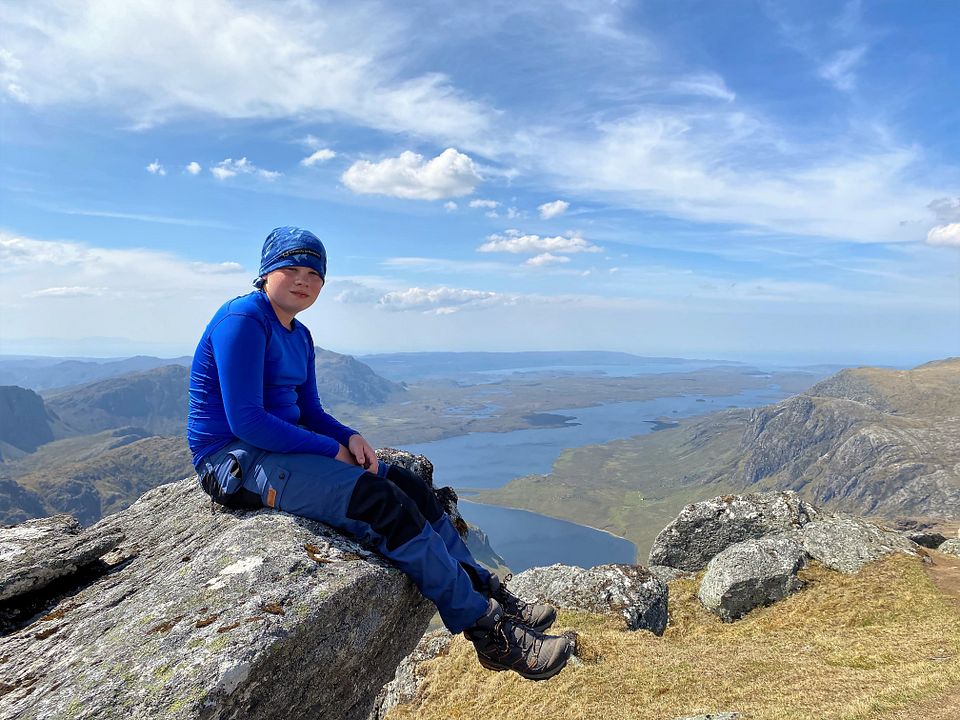 Then, we all took our turn on the rock that is the summit. We had conquered the mighty Armageddon, also known as A'Mhaighdean. We could see our whole route through the landscape from the coast and our camp far below.
I cannot begin to tell you the sheer joy I felt in reaching the summit of A'Mhaighdean. It really is the finest viewpoint in Britain. Paddling and portaging in and following the northwest ridge to the summit, I know this is the best mountain I have ever climbed. What a privilege to be here and to share the views with my son Tobey.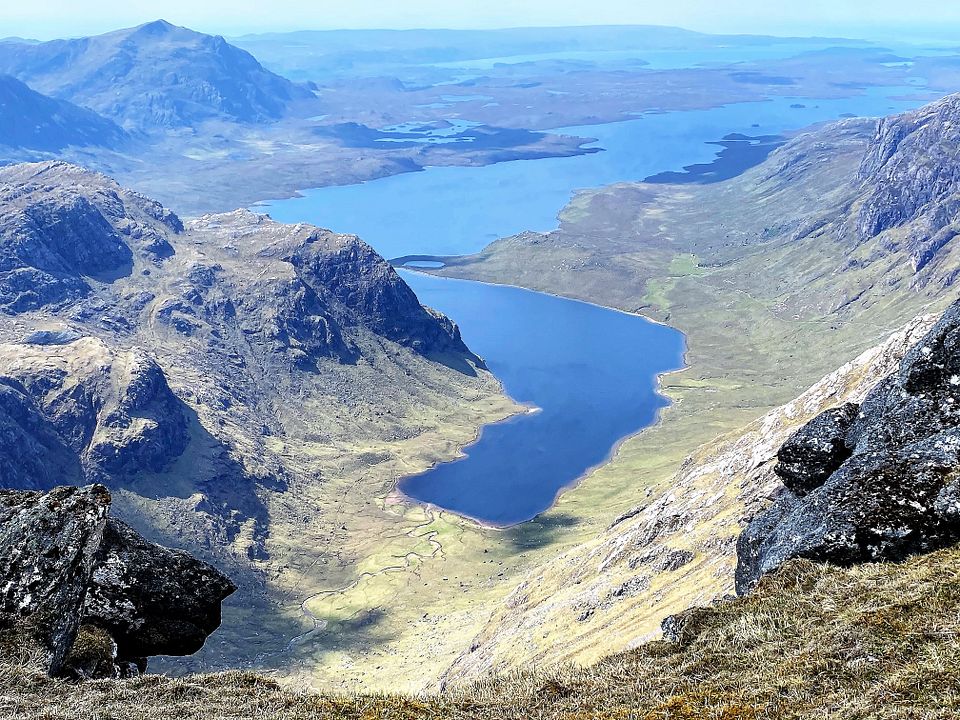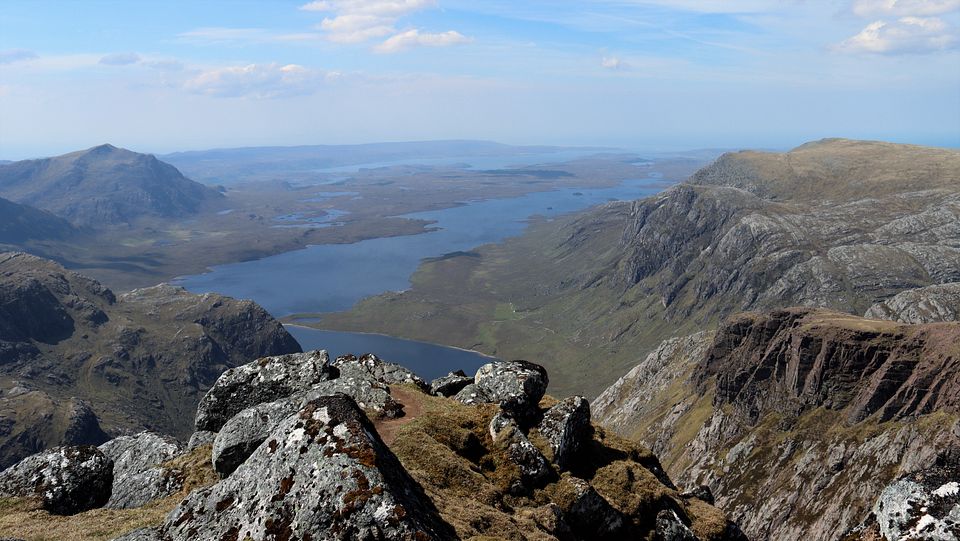 Tobey is happy to have bagged his first Munro and is already talking about returning to complete the rest.
After some more snacks, we started our descent and headed northeast towards the col below Ruadh Stac Mor. This was much easier than the ascent.
On the way we found snow and enjoyed sliding down and snowball fights.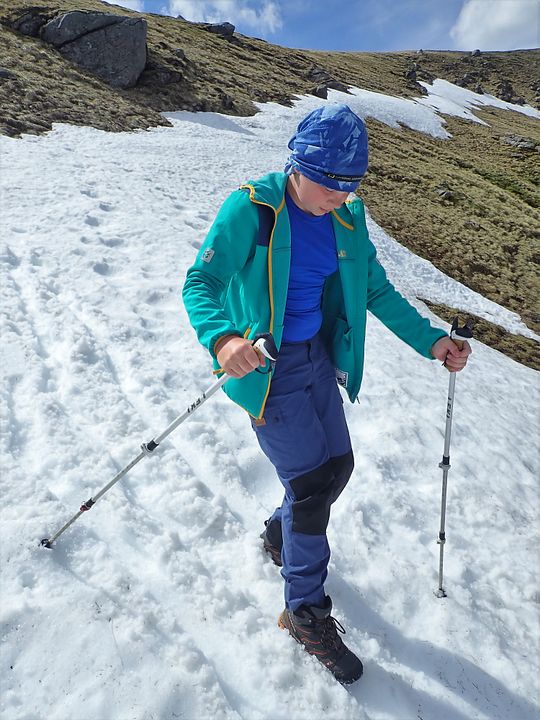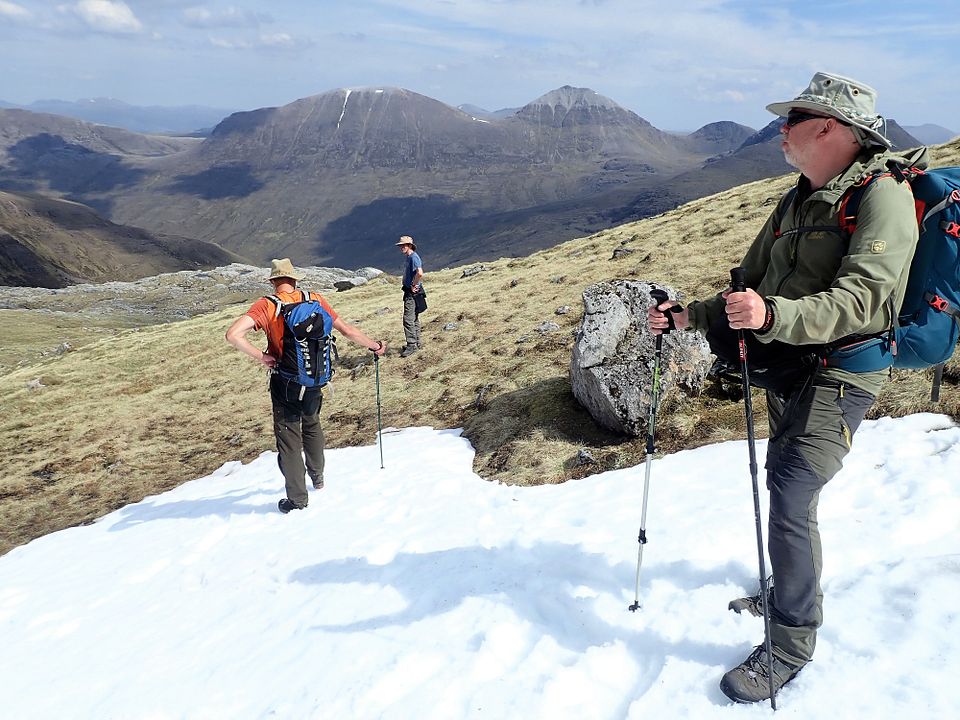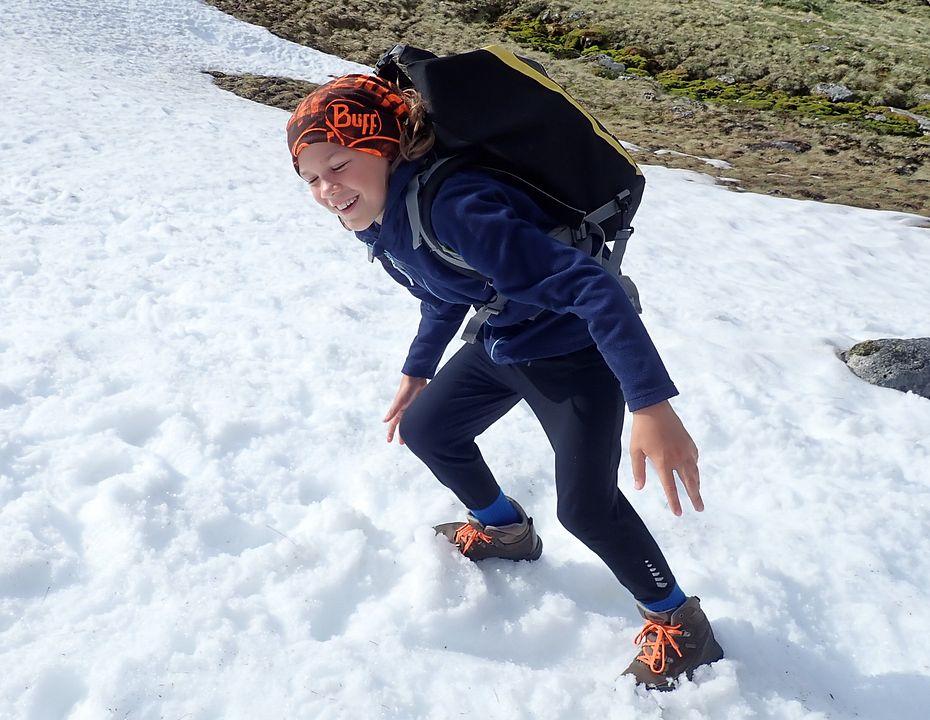 I would have loved to have bagged Ruadh Stac Mor but I made the decision that if I wanted to get back to camp, I couldn't climb it. My knees just wouldn't make it. I am more than happy to have reached the summit of Armageddon.
With tired legs, Tobey, Ben and I headed down the long path that would take us back to camp. From here, we could see the rocky pinnacles that we had conquered, and it looked impossible. This was a long route back, but the views were still stunning in every direction.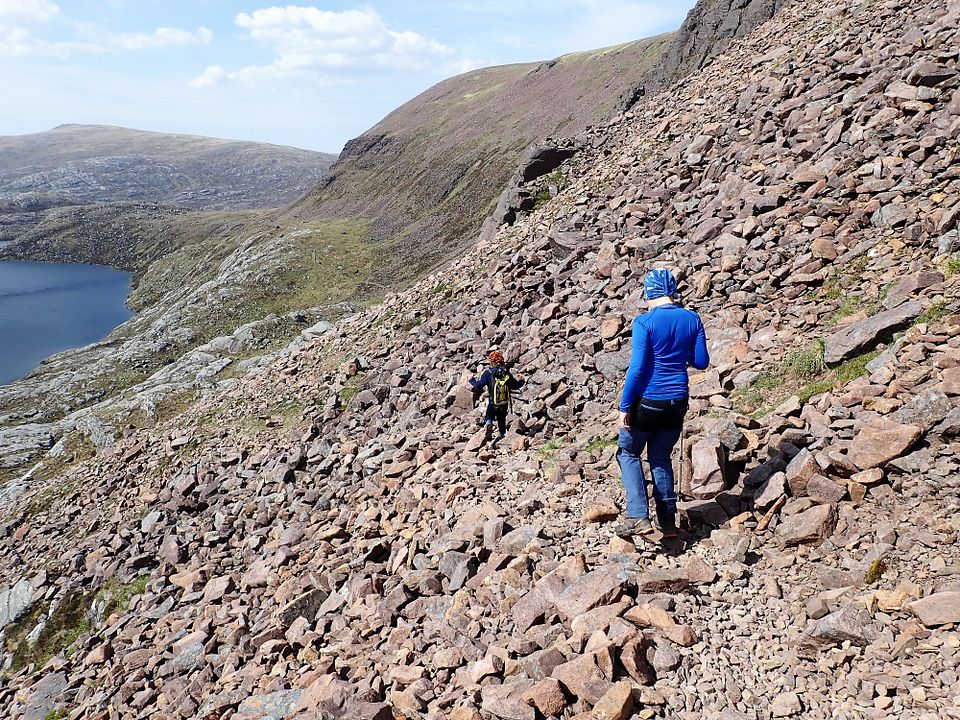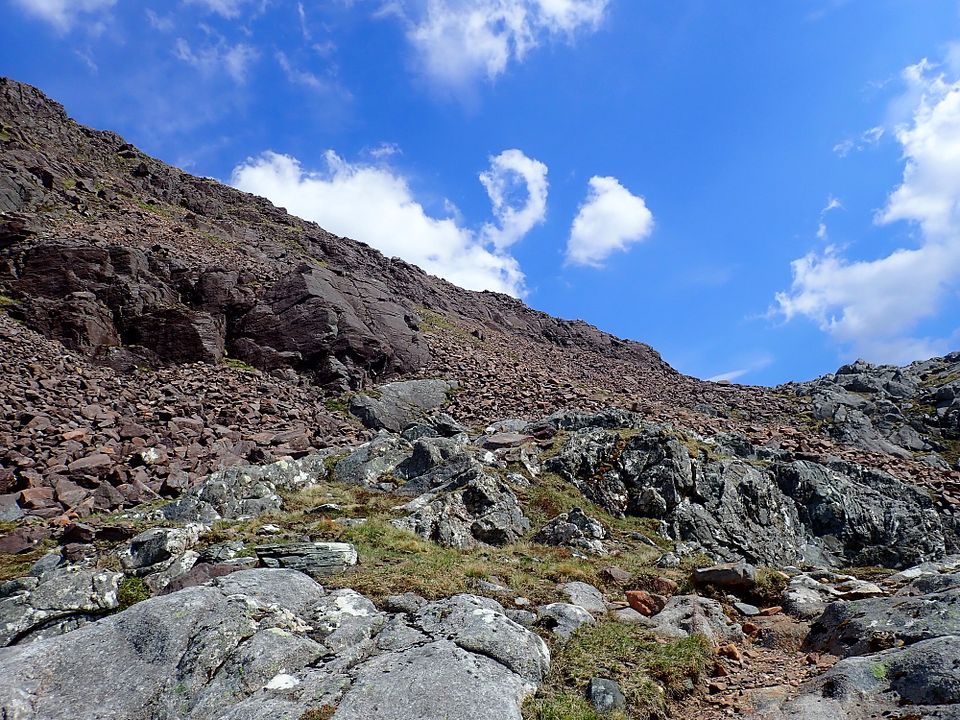 Tired but very happy we arrived back in camp. It was my night to cook and I was very grateful to Liz who had already made a start on prepping the corned beef hash. I was told to go for a dip, before the blokes got back, in the new 'swimming pool' Alex and Josh had created in the river. It felt wonderful to cool down after a long day in the sun. The gin and tonic went down well too.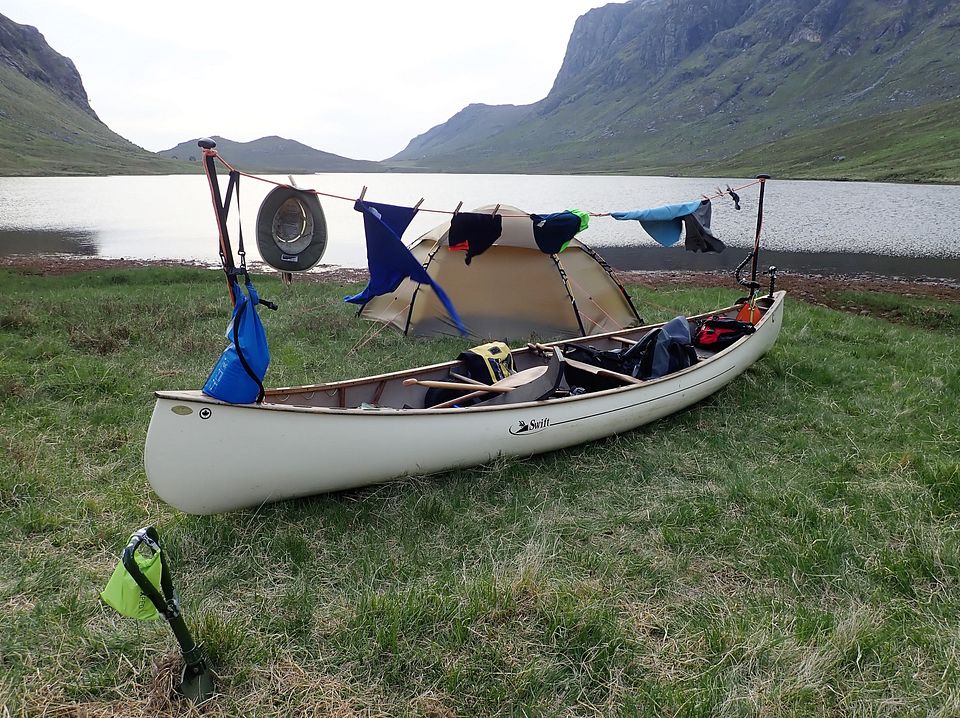 Mal made a delicious choc chip Bannock which we had with butter. I am impressed with my German army butter dish which had kept the butter solid for days in very warm weather.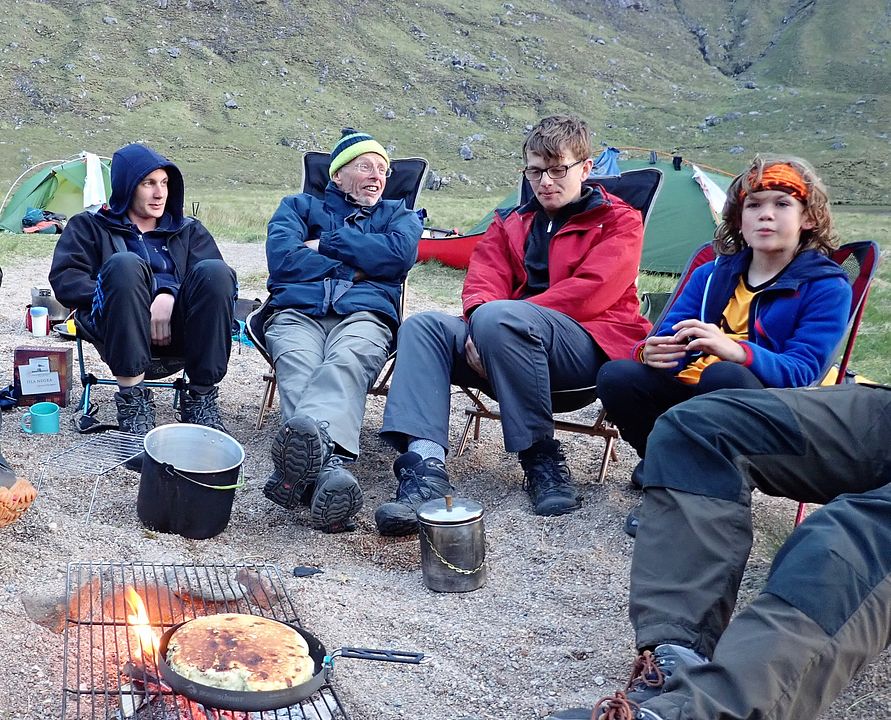 As it was our last night at Camp Armageddon, we drank lots of wine and whisky and burnt the last of the logs to reduce our load for the portage out.
We reflected on our trip and were very satisfied with getting to Dubh Loch in the Great Wilderness and climbing the remotest Munro in the Highlands. I would be sorry to leave this wonderful place.
Day 6 – Escape to Bad Bog and Kearnsary
Distance 9.3 miles (6.3 miles paddling, 3 miles portaging) – weather cloudy, seas choppy.
All were sad to leave Camp Armageddon, one of the best mountain camps so far. Our plan had changed from Tobey's route via the Lost German Portage. Instead, we planned to paddle to Bad Bog and then to Loch Maree.
The wind was getting up a bit but Dubh Loch looked good for paddling. Our canoe felt so much lighter in the water now that we had got rid of the tins of corned beef and 48 sausages, not to mention the wine and whisky!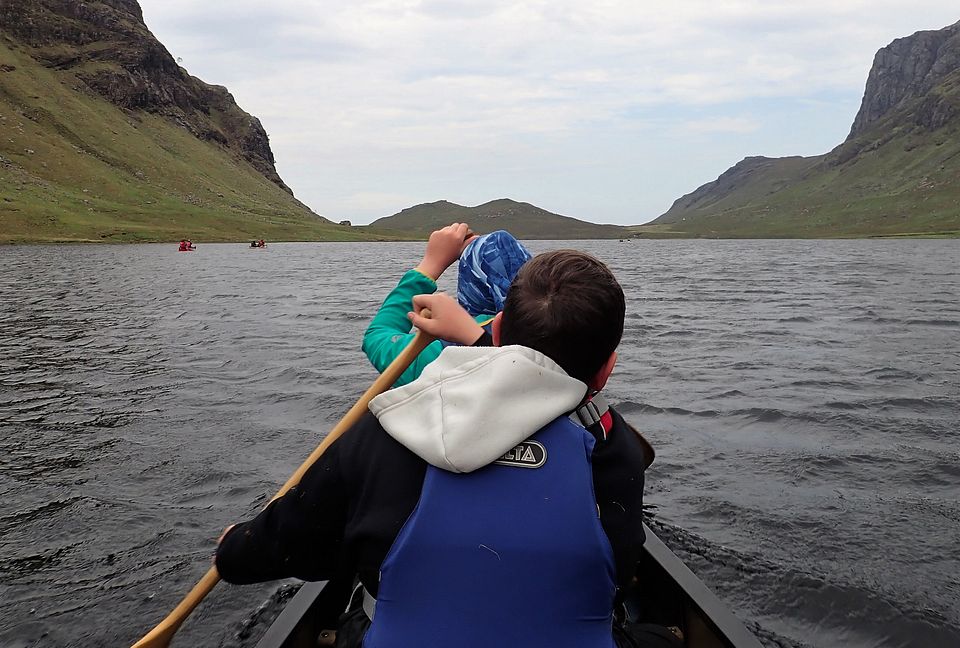 As we reached the causeway, we could see the wind was a lot stronger on Fionn Loch, but still from behind us. I hoped it would stay that way as the wind here has a habit of changing direction without warning. We navigated the hidden underwater rocks again and hopped across the short portage. A couple of back packers stopped for a chat and said that they had looked down upon our camp with envy. They had also been discussing how on earth we had got there!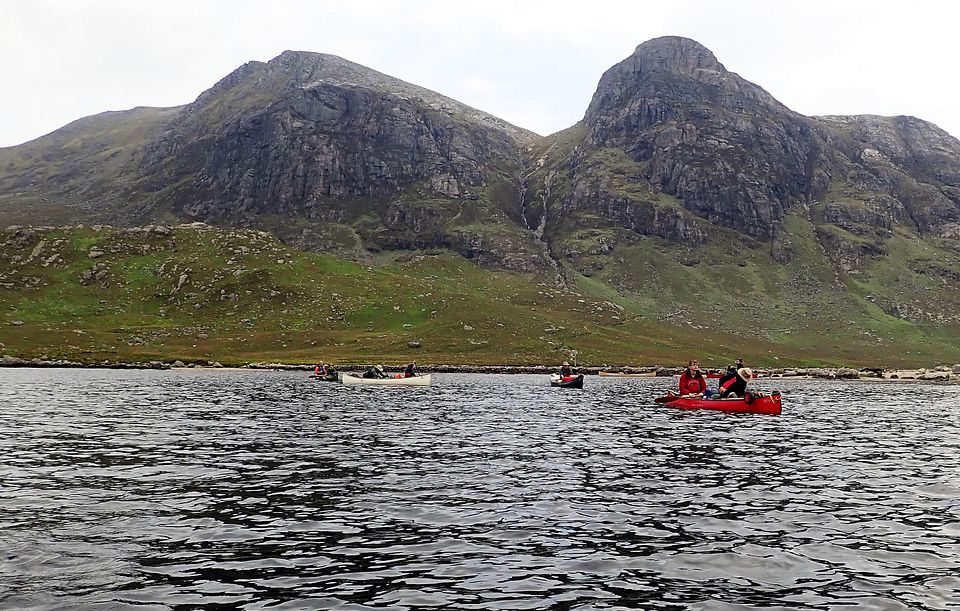 We hugged the south and west shores to get any shelter that we could. It was hard going to keep the canoe in a straight line, but Tobey and Josh were superb with their paddling efforts and a great help. Waves were coming from all angles but didn't come over the side and I felt happy that we were within our limits at all times. Luckily, we did get some rests in the small bays.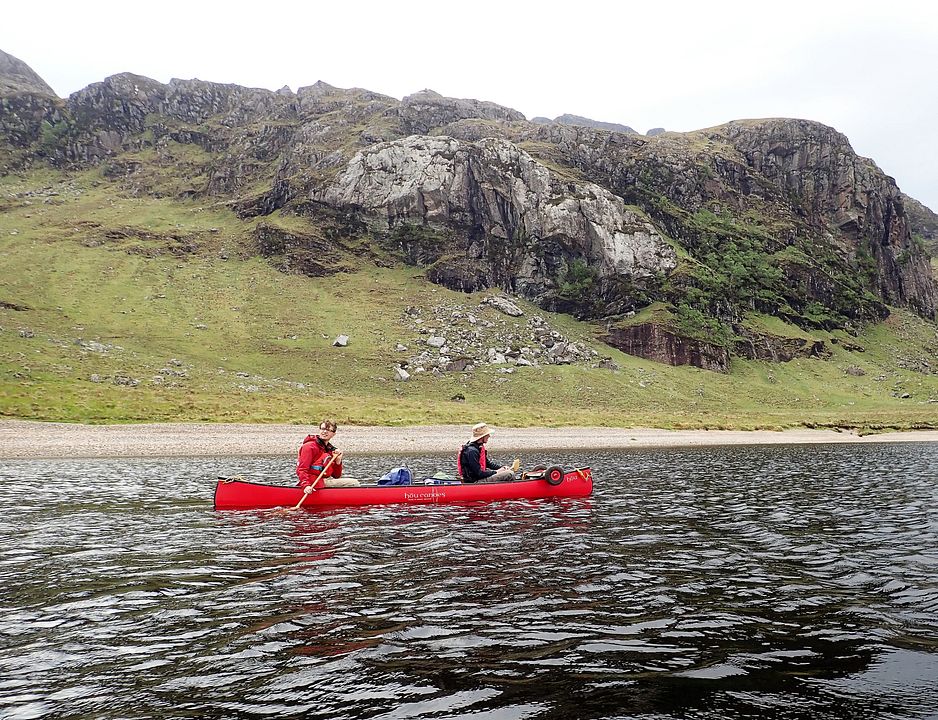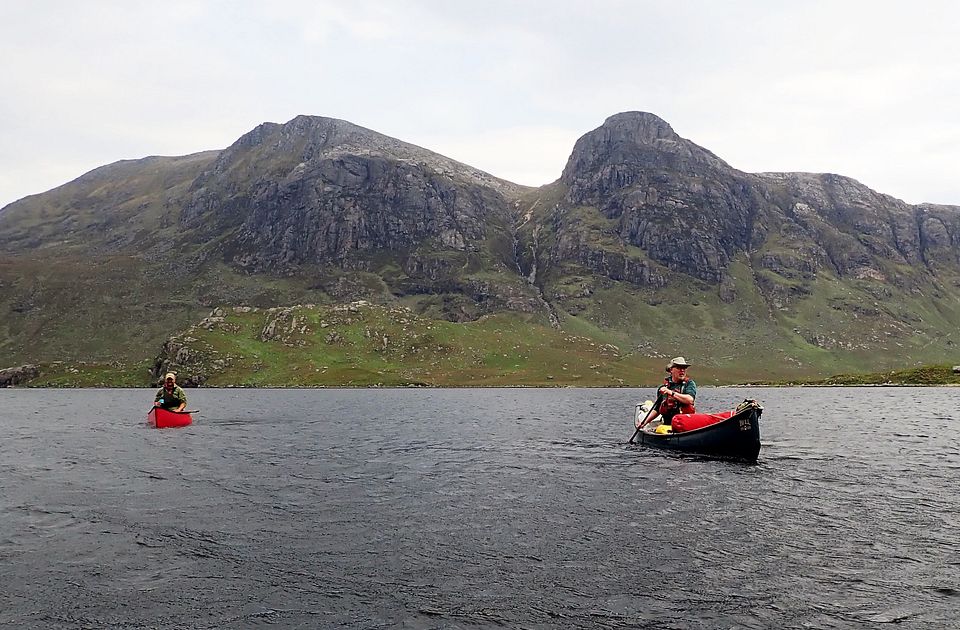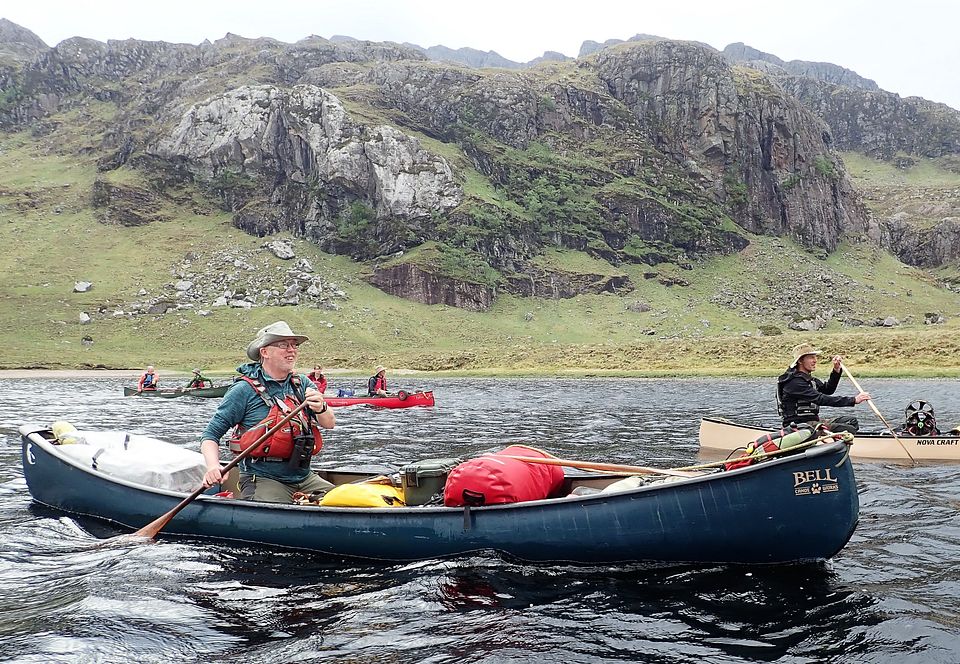 The wind calmed down as we got closer to Bad Bog and we enjoyed our last views of the mountains from the water.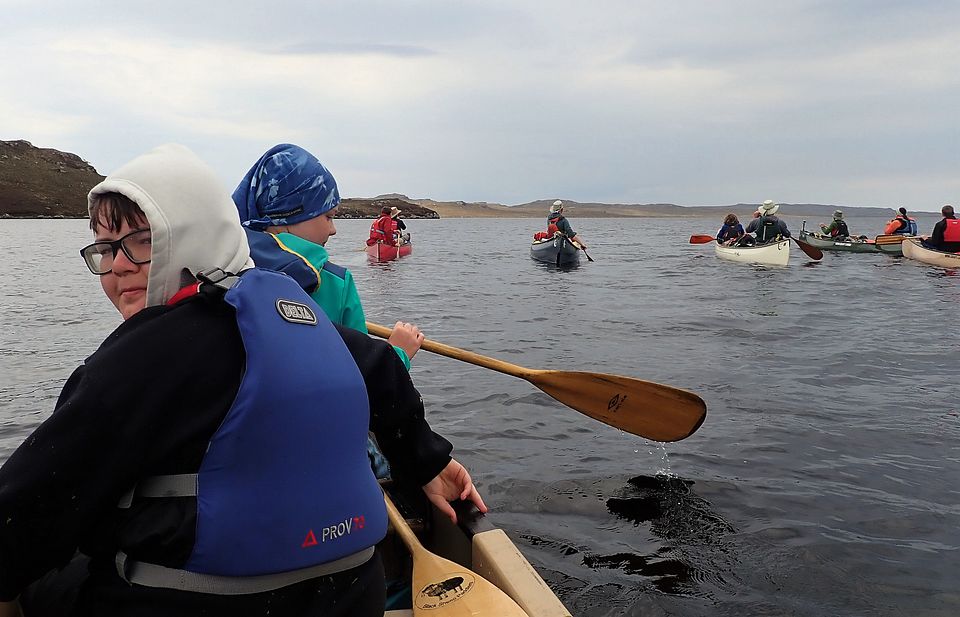 Wren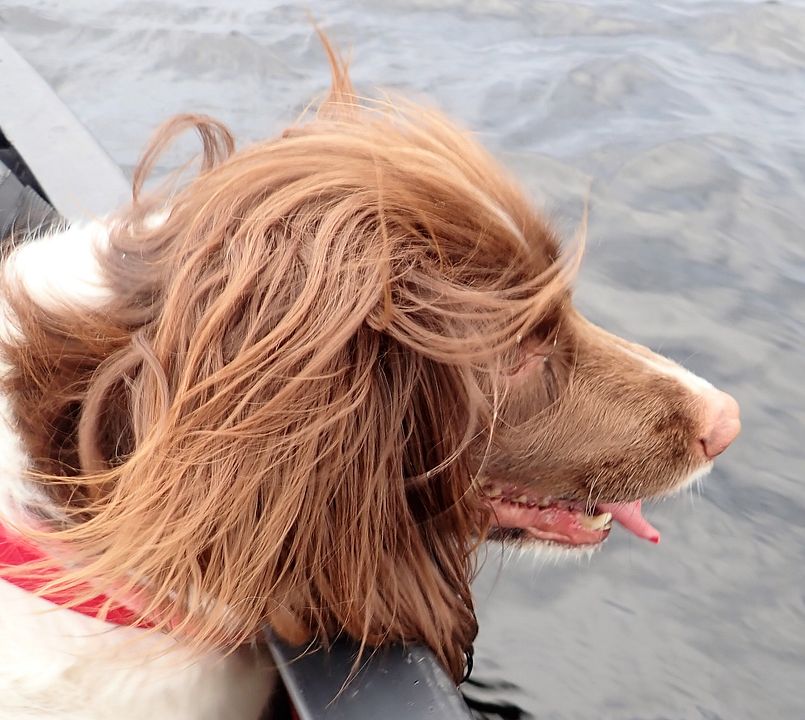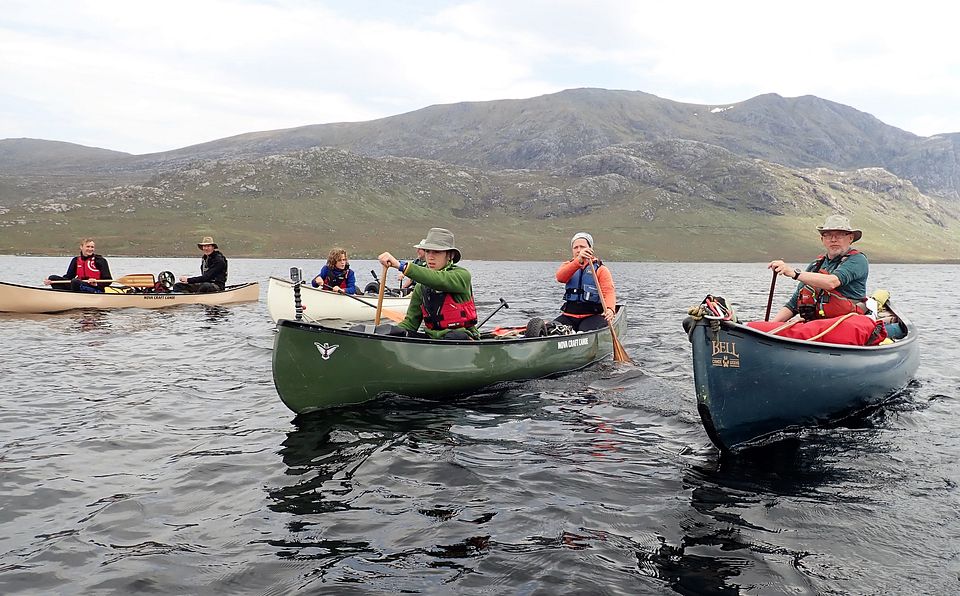 We stopped for lunch, mostly cheese and pate. Then we set off on our portage, downhill on a good track. By carrying a bag each, we were even able to portage in one go with the canoes rolling well. Even Wren did her part in pulling from the front.
I was glad of the frequent rest stops as my knees feel old and rusty.
Unfortunately, Mal was able to get a weather forecast, confirming that we wouldn't be paddling on Loch Maree tomorrow as the winds were going to be over 20mph. We had no choice but to portage the 10km out. Onwards we went.
At least it was mostly downhill. I was relying on Tobey at the back to stop the canoe overtaking me. A task he was very good at.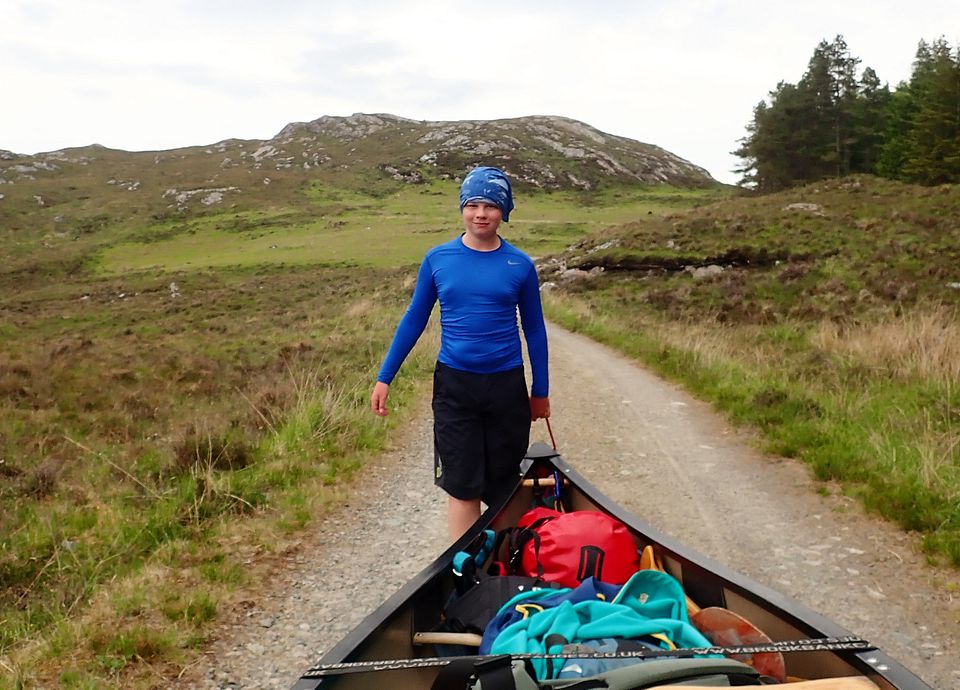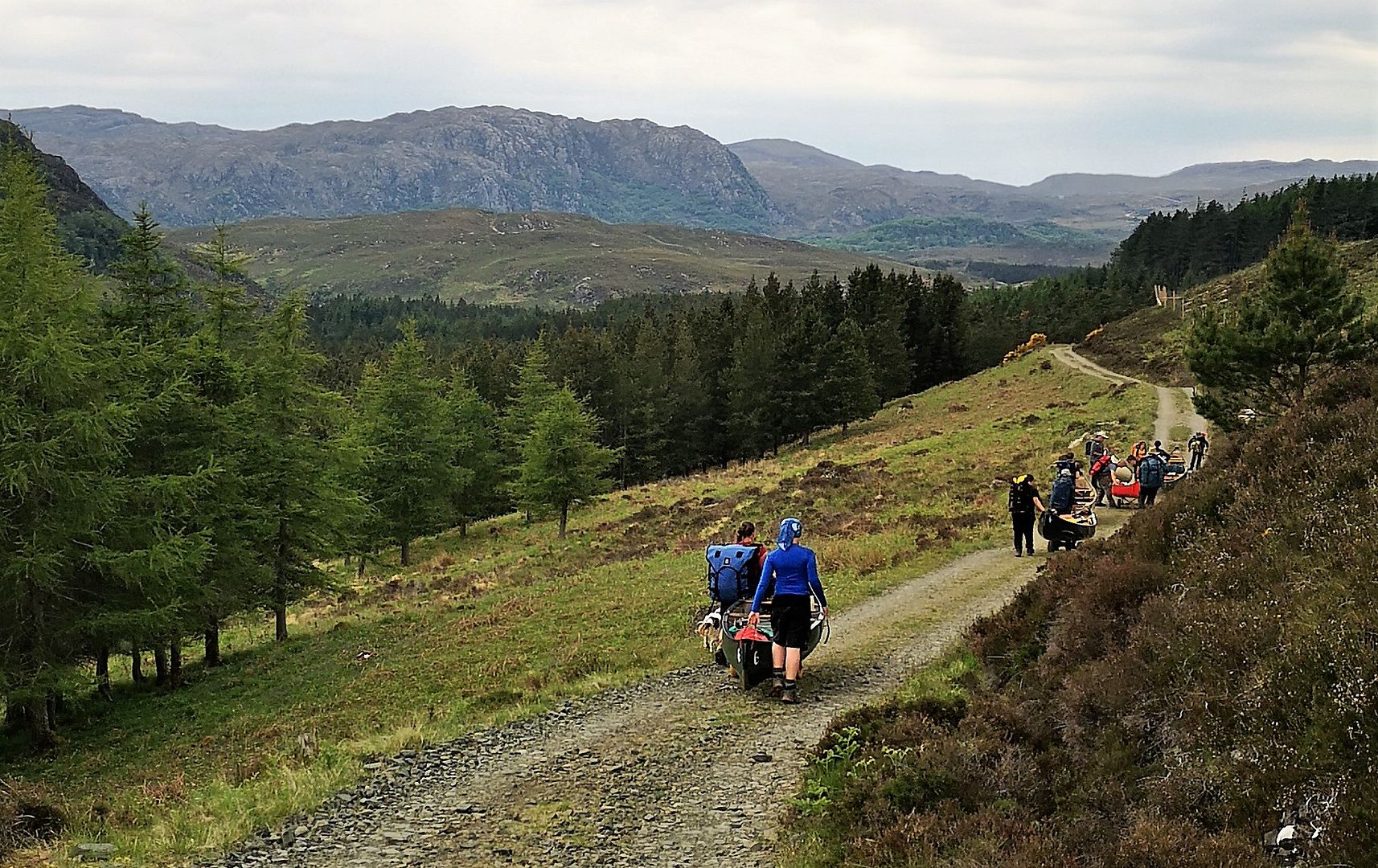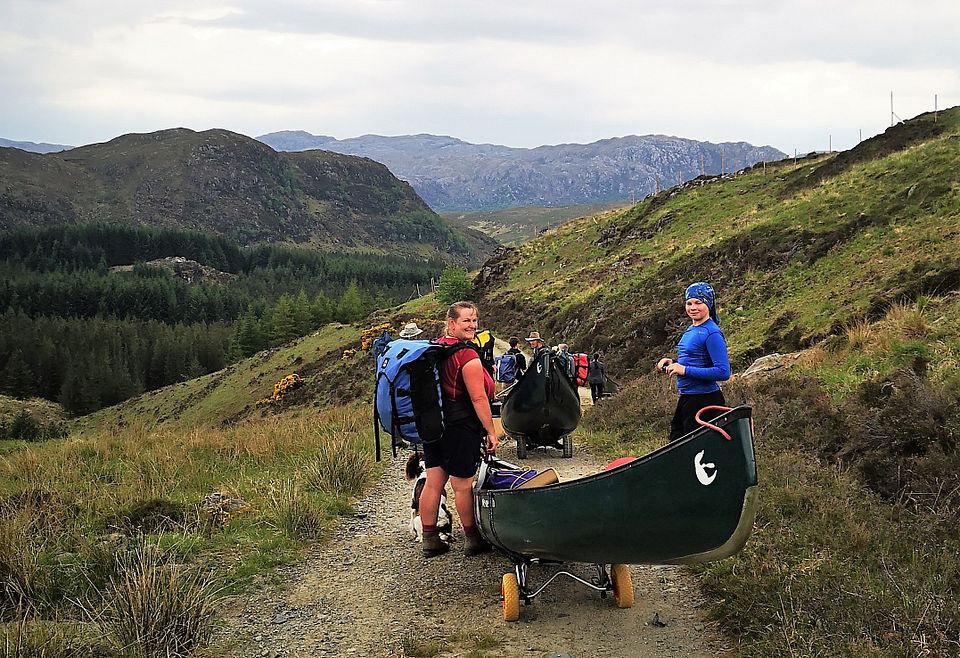 On reaching Kearnsary, we were pleased to find the new estate manager was ok for us to camp in a field by the river. It was a lovely spot but as there was not a breath of wind, the horrendous wee beasties descended in their thousands and millions.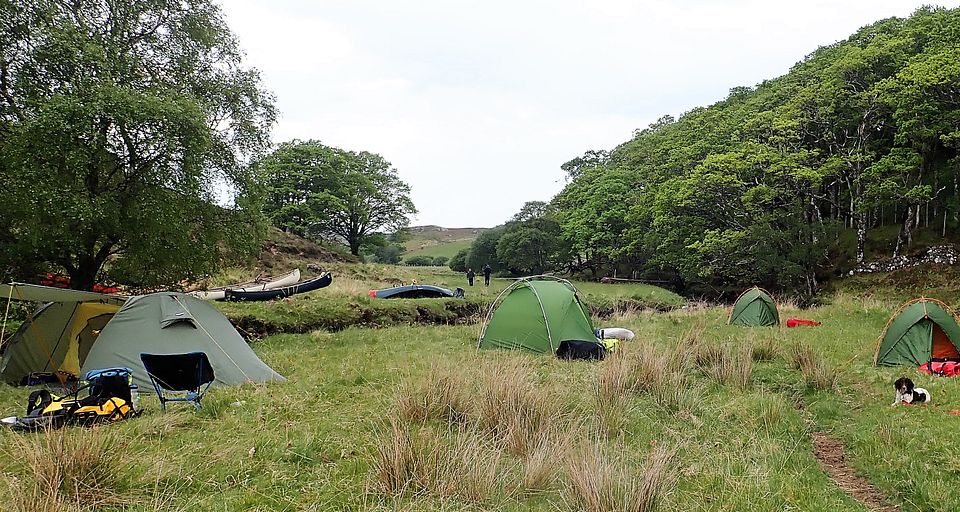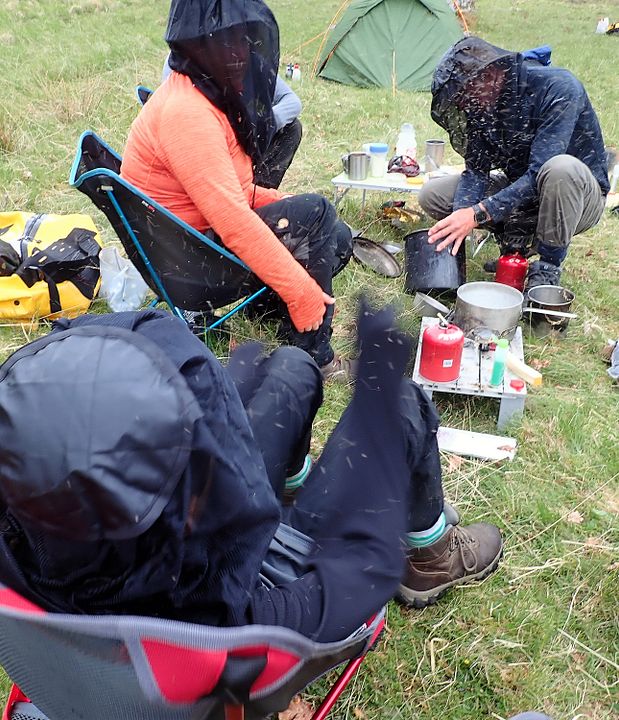 Tea was eaten on the move, wandering about like some strange zombies, trying to avoid being eaten alive by the midges.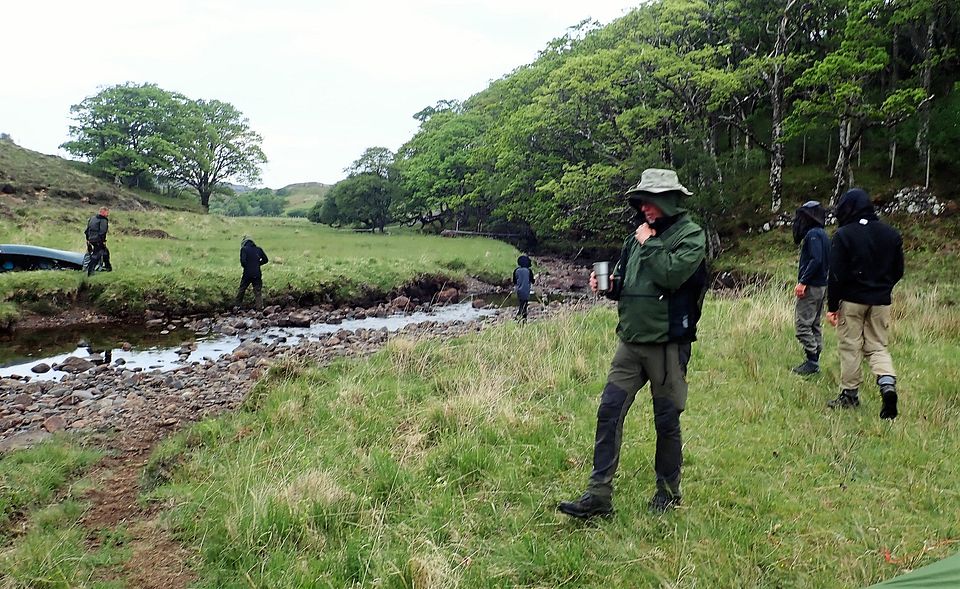 Well before 9 pm, we had all had enough and retreated to our tents. I fell asleep to the sound of everyone batting their tents until they had squished every last midge. It went on for some time!
Day 7 – escape to Poolewe
Distance 3.2 miles portaging. Weather cloudy and sun, breezy.
Morning brought with it a very welcome breeze and sunshine - and no midges! Porridge and pancakes for breakfast this morning and camp was packed up quickly. We were disappointed that Loch Maree would now be too windy, so we headed instead to Poolewe.
I did hope we would be trolleying downhill but there were still plenty of uphill bits. We were leaving the mountains behind and heading for the coast.
By dinnertime we had reached the end. What a journey it has been; two days to get to Fionn Loch, three days of heaven at Dubh Loch, conquering Armageddon and two days to get out.
We returned to one of our favourite campsites at The Sands in Gairloch, where we relaxed on the beach, cooked steaks and remembered our wonderful journey. I am glad our tyre exploded five years ago because if it hadn't, we would not have returned to this part of the Highlands and enjoyed the warm weather and stunning views from the summit of Armageddon.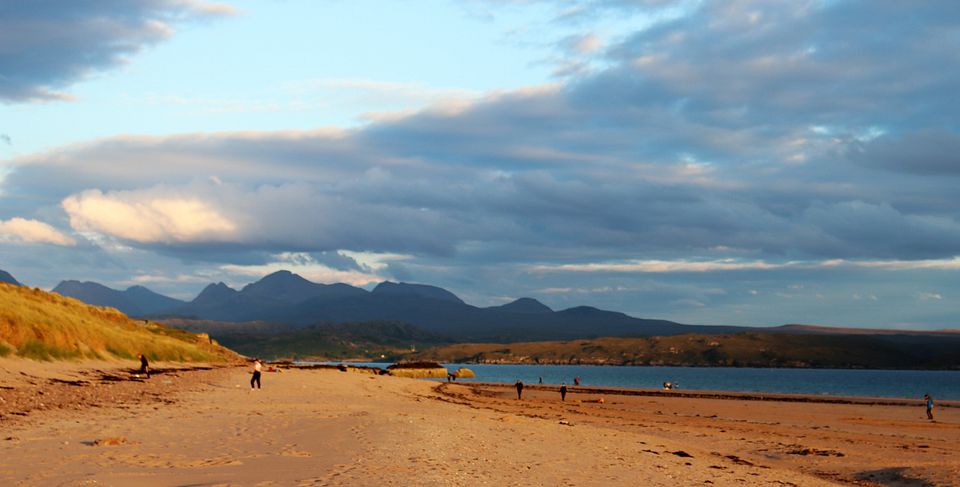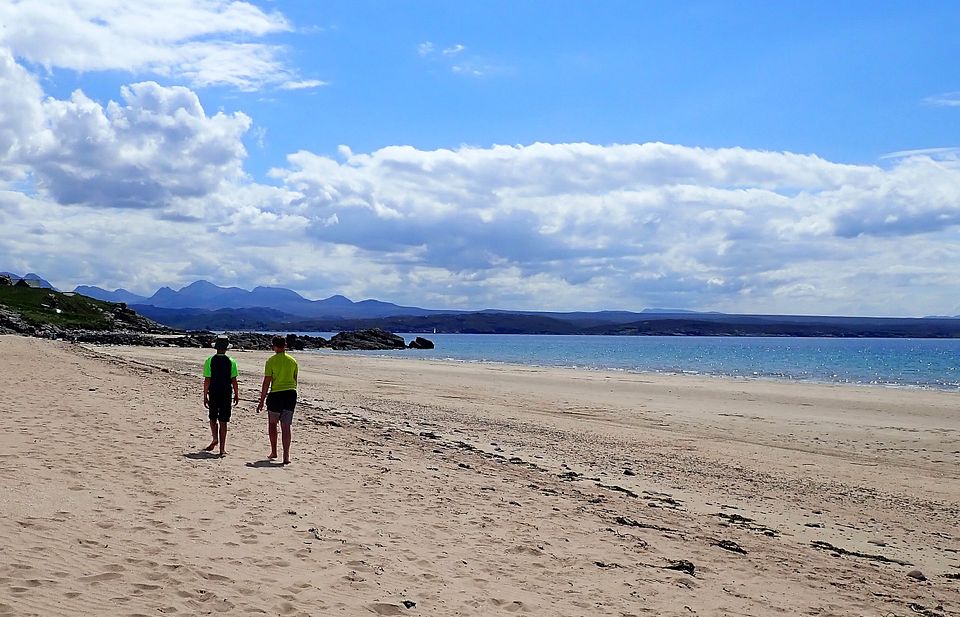 The end
We had waited so long to be able to do this trip together as a group. It feels fantastic to have done it, made it to the beach at the end of Dubh Loch and conquered Armageddon! A great wilderness adventure that we will remember for a long time.
Cheers,
Lynne
Click to mark this as a great report. Register or Login
free to be able to rate and comment on reports (as well as access 1:25000 mapping).
---
1
,
2
Wainwrights:
Scafell Pike
Hewitts:
Scafell Pike
Date walked: 06/07/2020
Distance: 23.5km
Ascent: 1573m
Comments: 17
Views: 4883
---
Activity: Wanderer
Pub: Kylesku Hotel
Mountain: Suilven
Place: Inverpolly
Gear: Osprey Aura 65 rucksack
Member: Scouts, Wildlife Trusts, Lancashire Badger Group, British Mountaineering Council, British Canoe Union
Ideal day out: Wilderness canoeing and camping in the North West Highlands with my son Tobey and backpacking in the Lake District.


Munros: 1
Grahams: 1
Wainwrights: 31
Hewitts: 23
Islands: 29











Statistics

Trips: 1
Distance: 10.9 km
Ascent: 904m
Munros: 1
Trips: 1
Distance: 23.5 km
Ascent: 1573m
Wainwrights 1



Joined: Aug 11, 2020
Last visited: Nov 14, 2021
Total posts: 4 | Search posts