Date walked: 03/07/2015
Time taken: 15 hours
Well, having booked a day off work some time ago, the plan was to enjoy a leisurely weekend in the hills above Crianlarich... I had 3 days, one tent and 7 Munros to get my teeth into... what could possible go wrong?
Hmm, the weather for a start. As I watched the forecast like a hawk during the week, it became apparent I'd only have a small window unless I wanted to get soaked or electrocuted. Friday = sun, 20 degrees. Saturday = heavy rain. Sunday = thunderstorms. That pretty much made the decision for me - I'd try and squeeze as many as possible into one day... could I do all 7?
After only a couple of hours of kip I was on the early (0520
) train north from Glasgow and by 0745 I was sweating and wheezing my way up the steep grass of Ben More. It was incredibly unpleasant at first due to the warm weather, midges and heavy clothing, but after rearranging my gear the temperature dropped nicely as I climbed and , whilst relentless, was a pretty straight-forward climb. Just go straight up until you reach a cairn! I reached the summit with a chap who was just doing More and Binnein, which sounded like a much more pleasant idea. I couldn't quite shake off the cloud on Ben More and after dumping my pack at the bealach it followed me up Binnein and had no view whatsoever. Still, I had the two big boys in the bag by mid-morning and the weather was due to brighten by lunch. If it was all like this, I thought I could be done in 12 hours... famous last words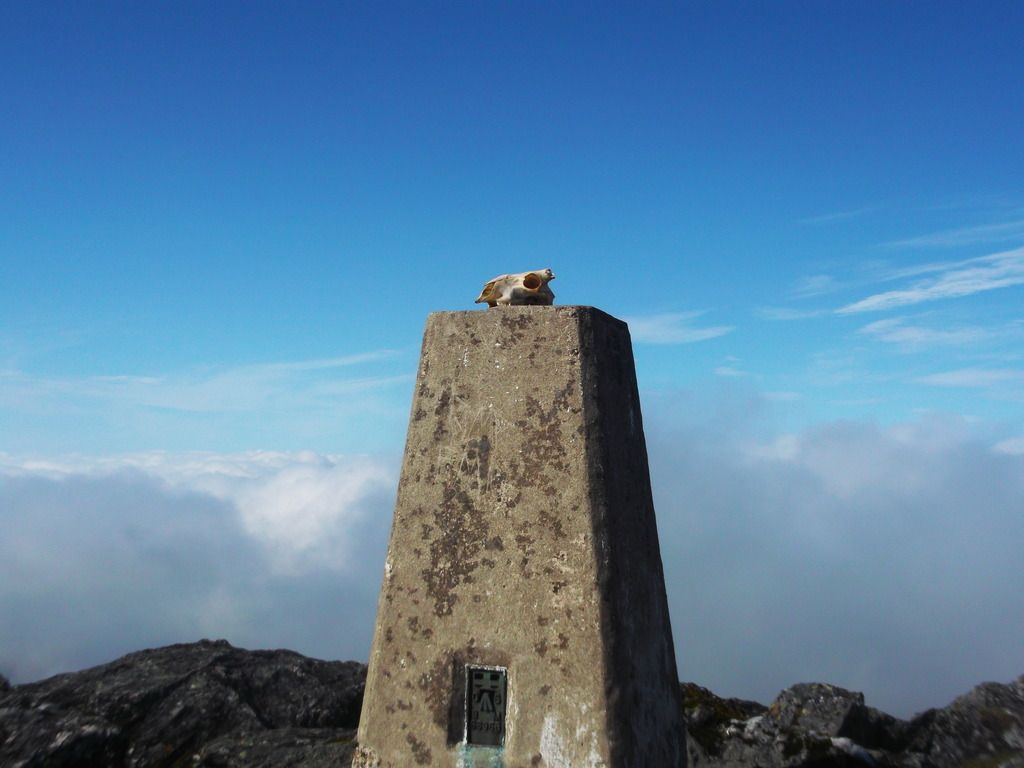 Company atop Ben More...
The descent from the bealach is not at all recommended... it was like walking down a gigantic Munro-sized sponge
and that was compounded by some navigation "issues"
trying to get a direct route between two bands of crags on the map. A couple of dead ends and the sun was beating down, which made it pretty tough going. By the time I eventually reached the bealach between Cruach Ardrain and Beinn Tulaichean I was behind schedule and low on water. The sun really sapped my energy and 2.5 litres just wasn't going to be enough. This was going to be tough! Luckily, CA and BT are an easy pair, and it's amazing how psychologically it lifts you going from 2 down & 5 to go, to 4 down & 3 to go within half an hour. But the priority for the moment was to get water.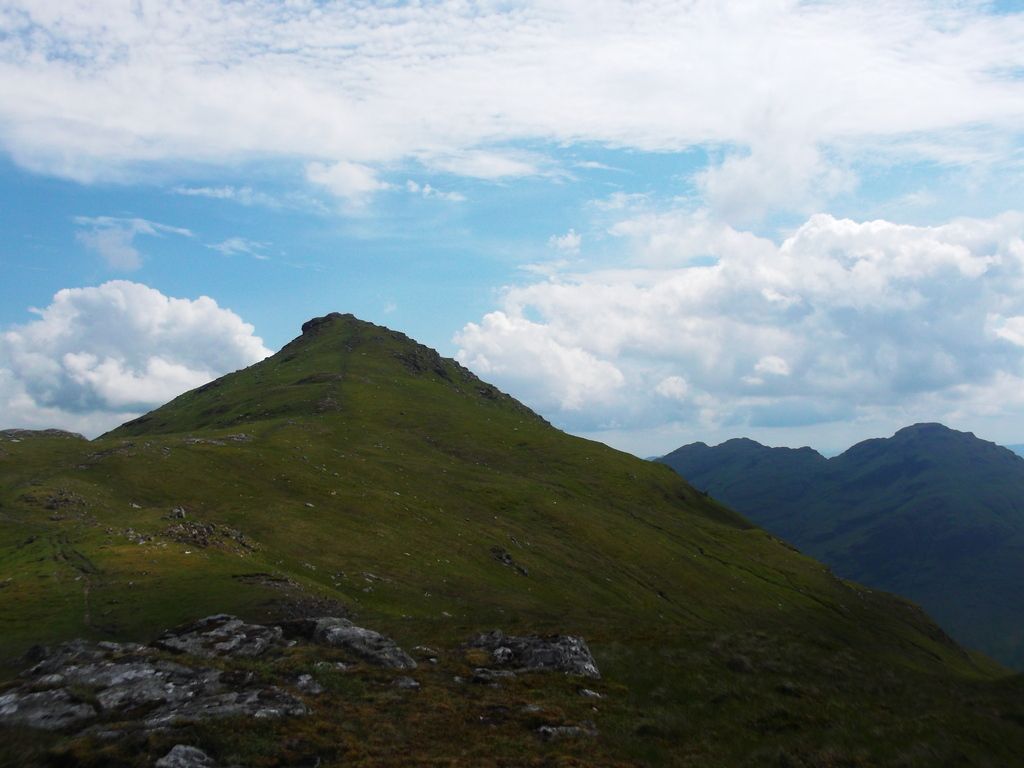 Beinn Tulaichean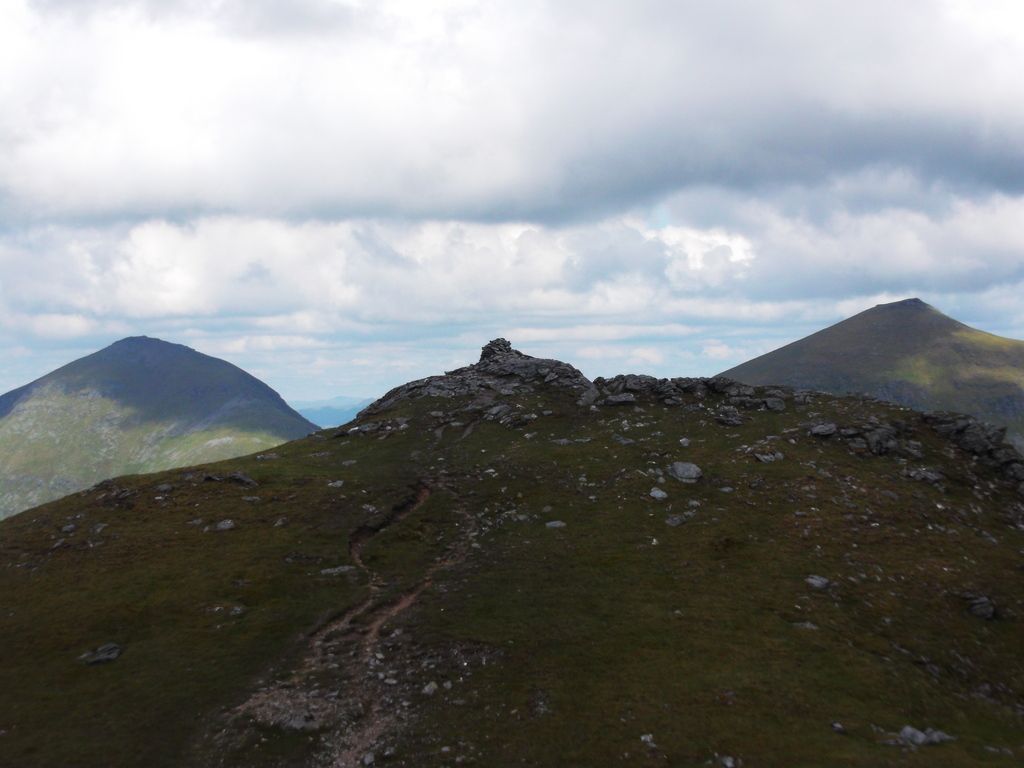 Cruach Ardrain between Munros 1 and 2 of the day
This was probably the hardest part of the walk as you lose a lot of height between CA/BT and the next two, which are a long way away and over rough ground. I filled from a burn (couldn't see any sheep) and ploughed a direct line towards a ridge coming off Beinn a'Chroin. After what felt like forever I hit the ridge and found a path. I was pretty knackered by now and couldn't believe there was still 3 to go, but the psychological effects of soon picking off two in succession kept me positive. Beinn a'Chroin is a nice peak, and the path down to the bealach has a sting in the tail - it goes round the far side and down a scrambly bit that would probably be quite enjoyable... but not so with jelly legs and a heavy pack
. I left my pack and clambered up An Caisteal. This was by far the highlight. The views were quite spectacular - on one side great views north to Ben Lui/Glencoe/Nevis, and on the right was the 5 I had just climbed basking in sunshine. Simply awesome! These two would probably make a great pair on their own - nice ridges and scrambly summits, but I had no time for thoughts like that as it was getting late and I still had to get up and over another hill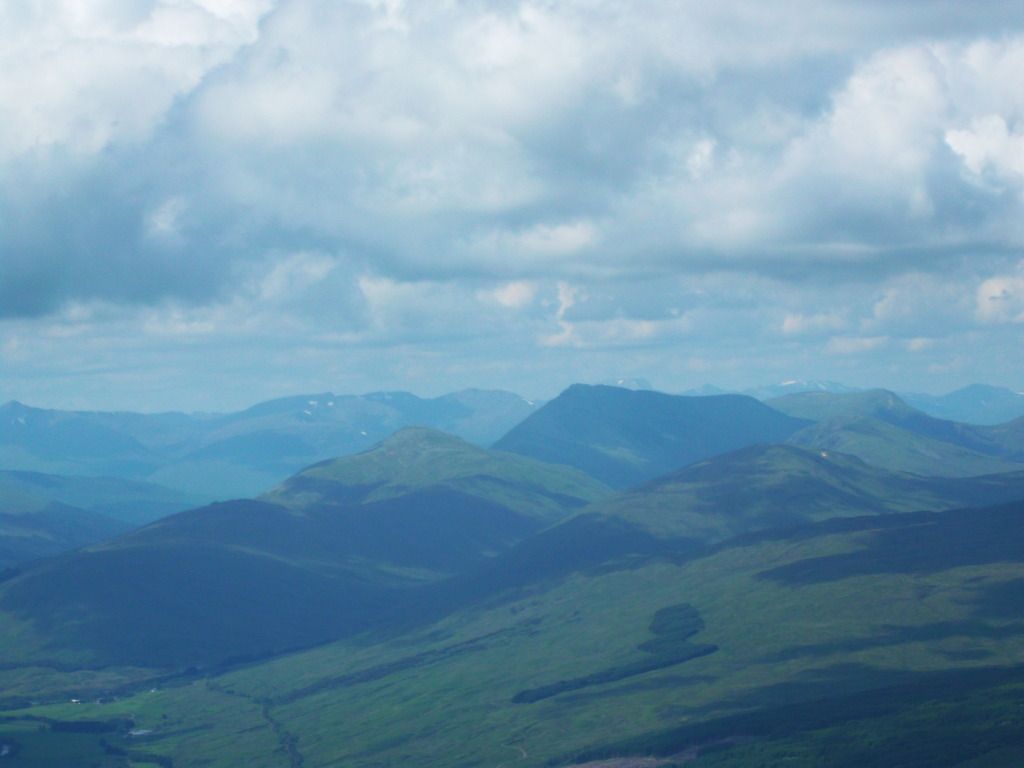 North towards Nevis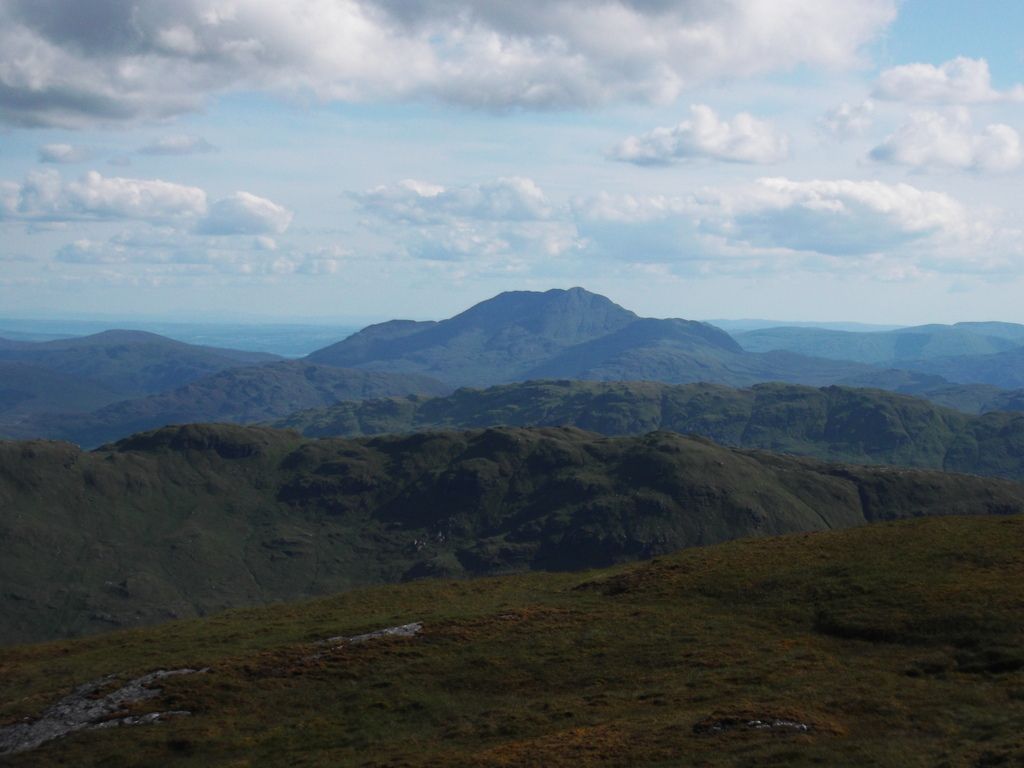 South towards Lomond
Once again it's a big drop down and a big climb up, and Beinn Chabhair from the east side looks impregnably steep. You've just got to put your hands on the grass and pull yourself up. I was feeling quite energetic until the final pull to the summit, which I reached at 8pm. I guzzled the last of my water and took the view in. Great views south to Lomond, Arrochar Alps and Arran. Now just the walk out... and this was hell
. A seemingly interminable trudge along the ridge seemed to lose little height and I could feel my ankles rubbing in my boots. Once down at the lochan it gets no better, and I seemed to have deposited almost all of the path in my boots as I splashed through the bogs. As the sun began to set over the hills in the distance Inverarnan seemed to get no nearer and I started to worry I'd get there after dark and after the pub shut
But soon after 10pm the path descended steeply to the village... and the campsite bar was open till midnight
a couple of shandies and Irn Bru to top up the sugar and fluid and the next thing I knew the rain was hammering down on my tent, the campsite was nearly flooded and it was 10.30am. I think 2 hours of sleep, 7 Munros and 15 hours of walking the day before had taken its toll!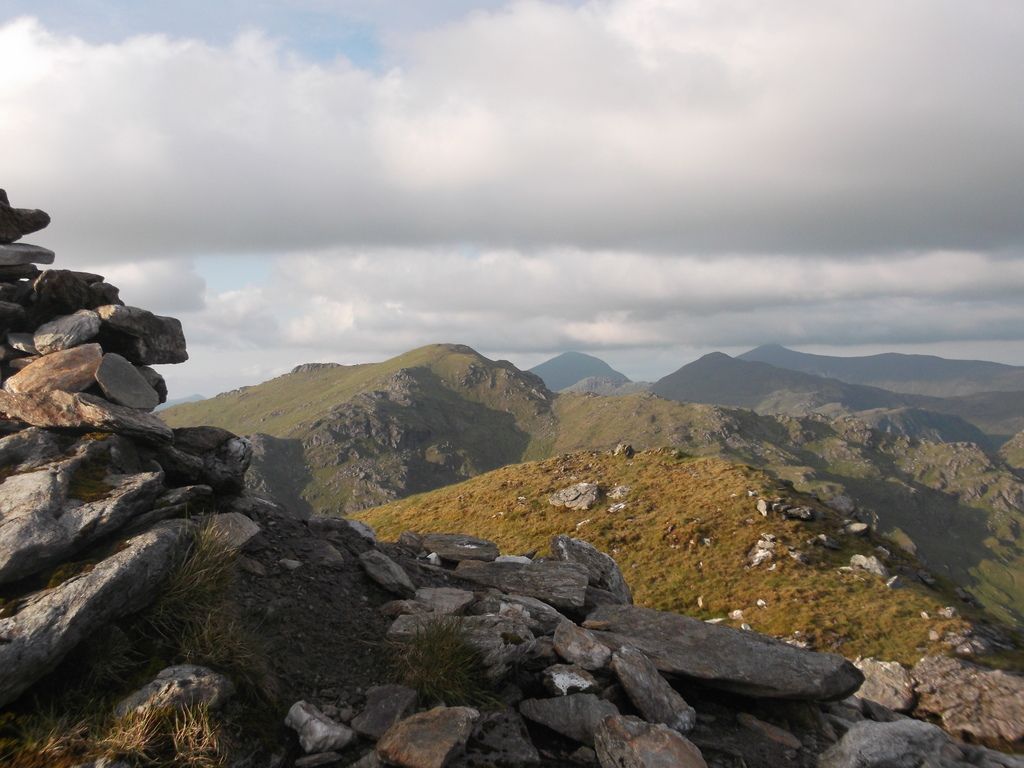 Munros 1,2,4 and 6 from 7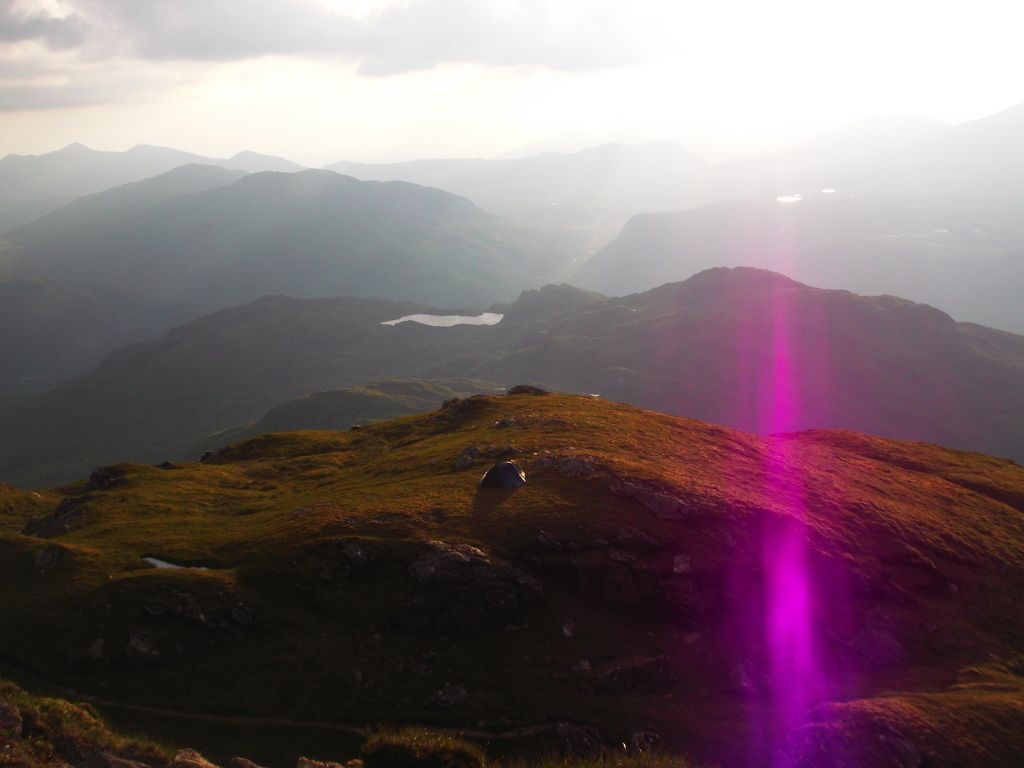 Looking north from Chabhair in the evening sunlight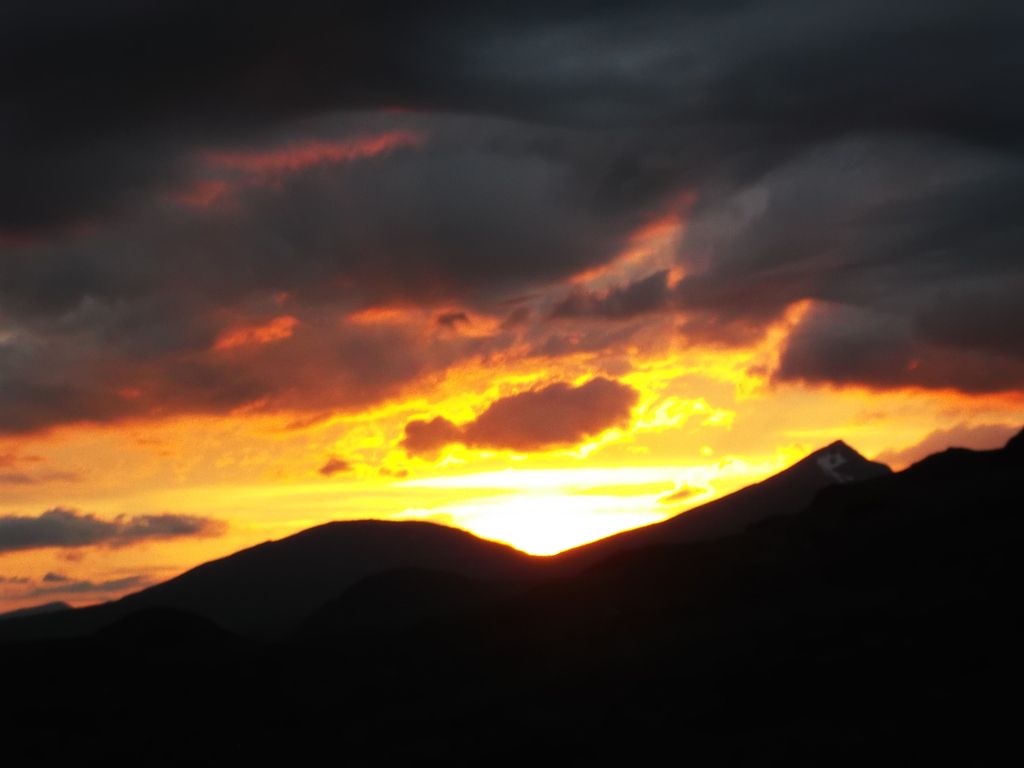 Just back in time
All in all a tough day but so rewarding. Cracking views and mostly blazing sunshine made it so worth it... and such a sweet feeling to know that they are all in the bag before the driving rain came down
. Epic!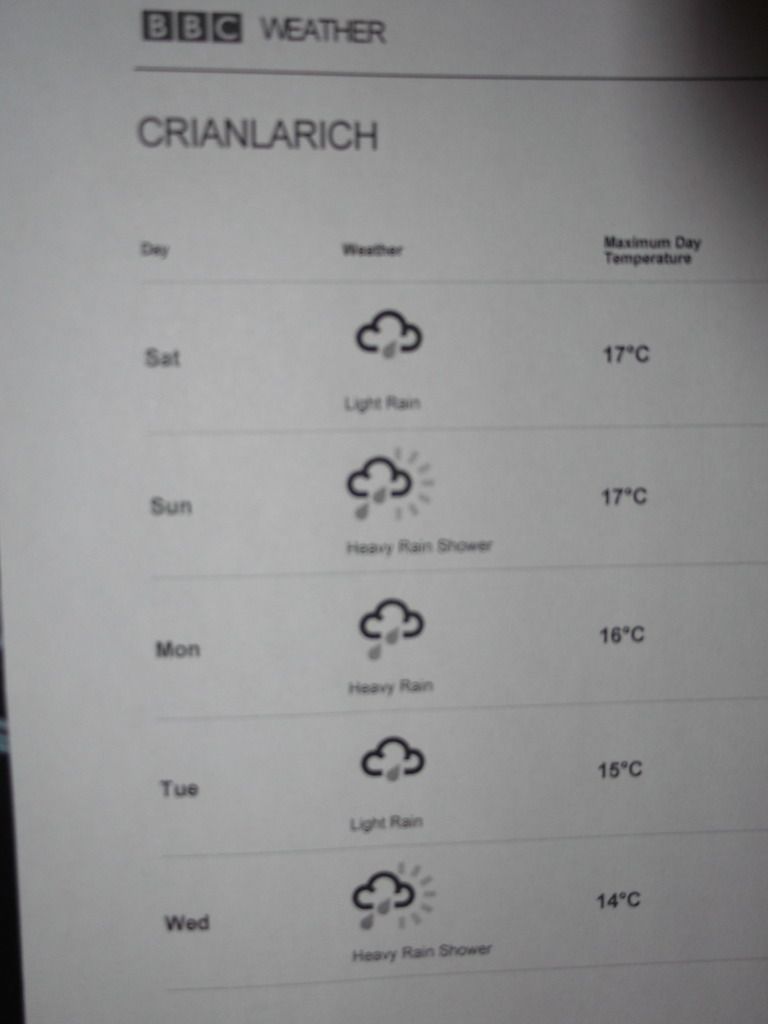 Weather forecast in the Drovers - time to get out of here!
Click to mark this as a great report. Register or Login
free to be able to rate and comment on reports (as well as access 1:25000 mapping).
---


Munros: 96
Corbetts: 4











Statistics

Trips: 1
Munros: 7



Joined: May 11, 2015
Last visited: Aug 22, 2021
Total posts: 8 | Search posts