Date walked: 03/03/2017
Time taken: 4 hours
Ascent: 928m
Thought I'd try my first trip report after being a long-term lurker on the site.
Just spent a week with the missus on Skye and we were fortunate enough to catch a break with the weather on our walks - always a bonus! This report will deal with Bla Bheinn, although I also had a very memorable walk in the Quiraing in the mist and snow, which gave it an eerie, otherworldly feel. But that's another report for another day!
The day I chose to do Bla Bheinn was an absolute scorcher - it might even have reached double digits - with barely a cloud to be seen which, on Skye, guarantees that it's not going to rain for at least 5 minutes. It was a real last minute decision to do the walk at all, and I'm ashamed to say it was past noon when the mountain came into view along the Broadford road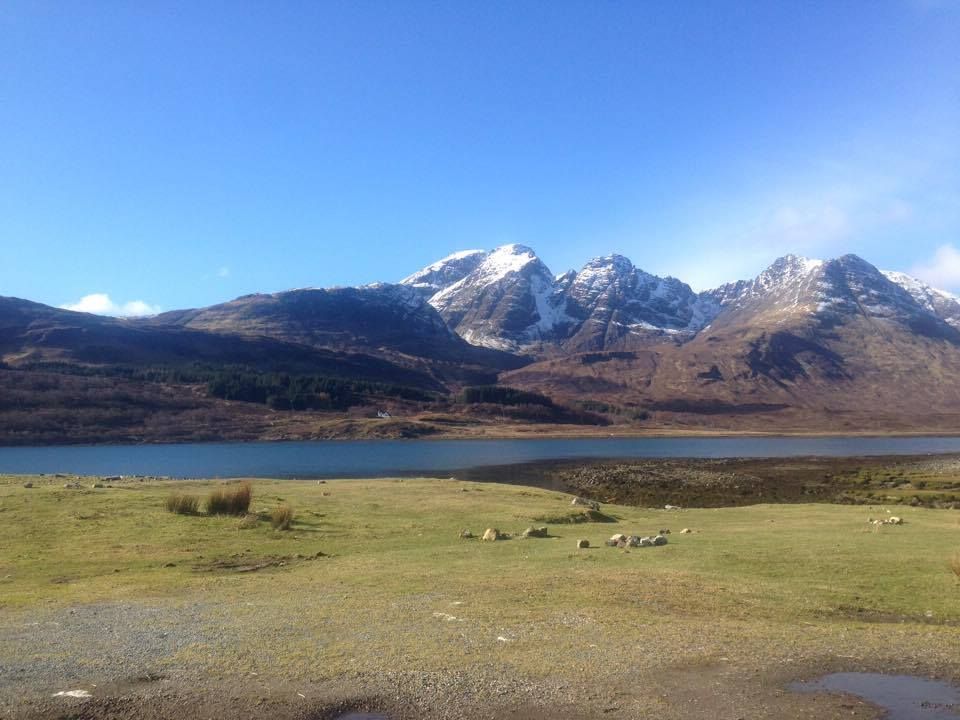 After a gentle ascent through a well-defined path surrounded by heather, I began to feel an over-inflated sense of my level of fitness, which would be put right after the climbing began in earnest. I bumped into a guy coming down who had spent the night playing cards in a bothy (which is definitely being visited next time round). Although he'd taken a tumble on the scree, he was "still aright tae kick a baw" and we chatted about the route. After we parted ways I thought it was time for a cuppa.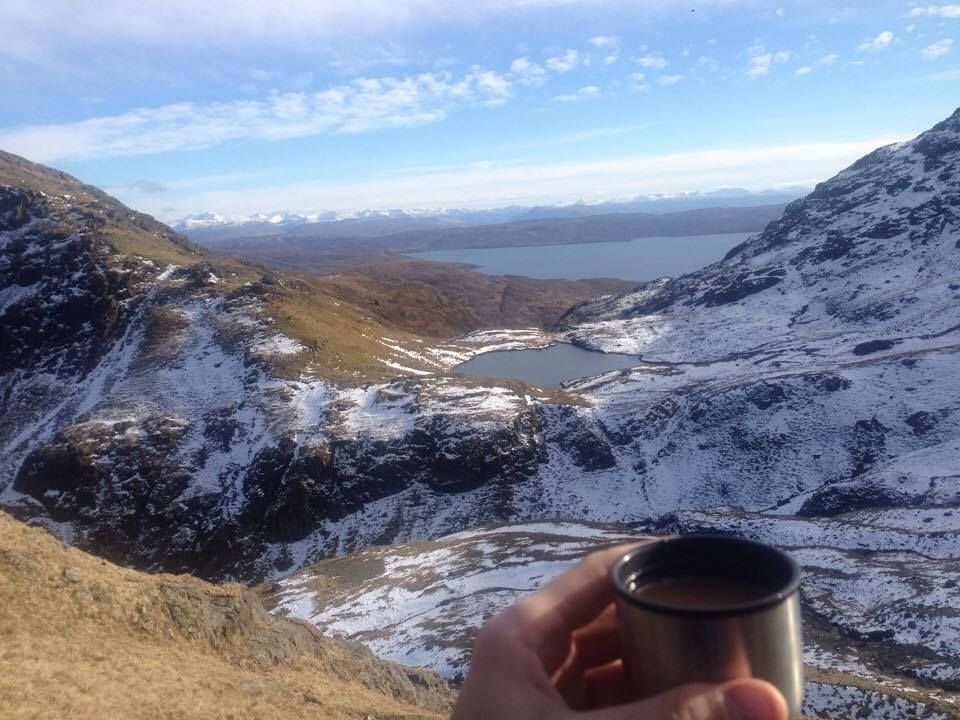 Around 450m, looking roughly southeast towards the wee Loch Fionna-choire, with the west coast of mainland Scotland in the background.
The going got a little steeper above 500m where the snow started. Whenever I stopped to catch my breath I turned around and watched the landscape open up around me the higher I went. It was slightly frustrating at not having anyone to share the spectacular views with - I'd left the missus in Broadford - and had to settle for shaking my head disbelievingly and muttering obscenities.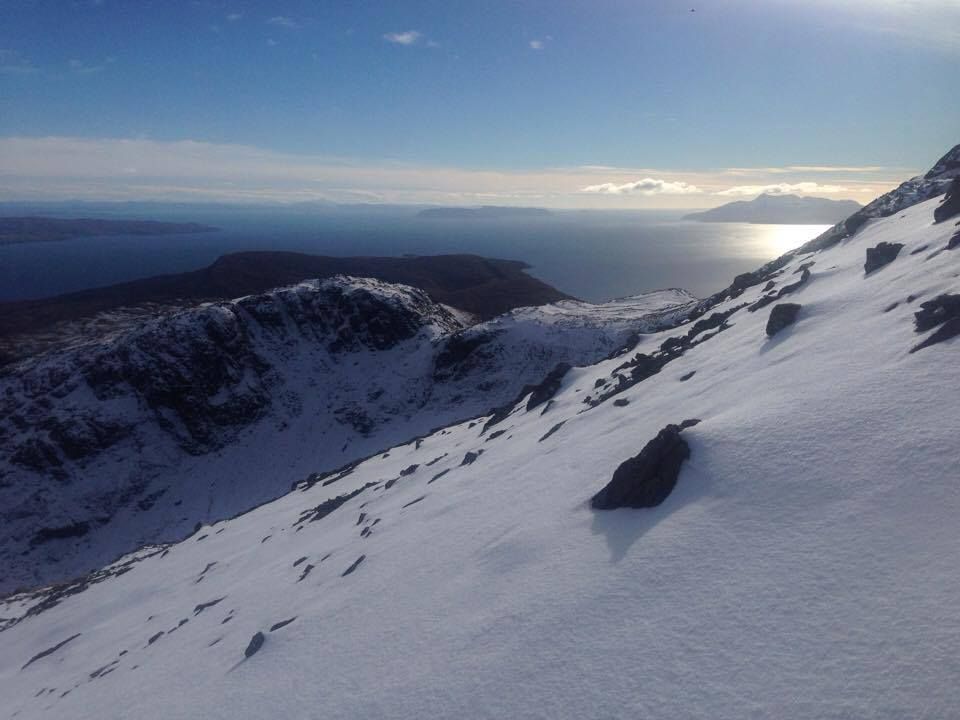 Looking south over the water at Rum (top right) and Eigg & Muck (top centre)
After reaching the summit, the Cuillin appeared suddenly and I just had to laugh out loud at the majesty of the ridge. I'm so glad I went up when there was still snow, as it gave the whole day a mountainous, alpine feel, especially after scrambling through knee-high virgin snow to get there. The views made it feel like I was at 4000m in the Alps rather than 900m in Scotland.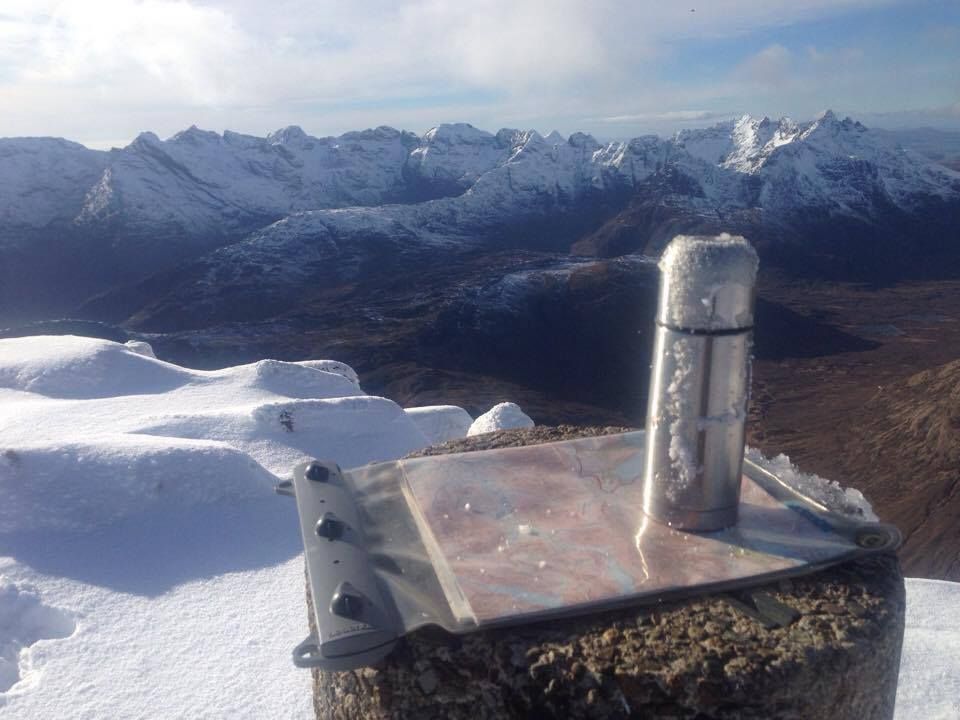 Summit looking west at the Cuillin
The visibility was so good I could just about make out the back of my own head. I ended up staying at the summit for about 80 minutes until my camera ran out of battery and was forced to start the descent. I really, really didn't want to leave.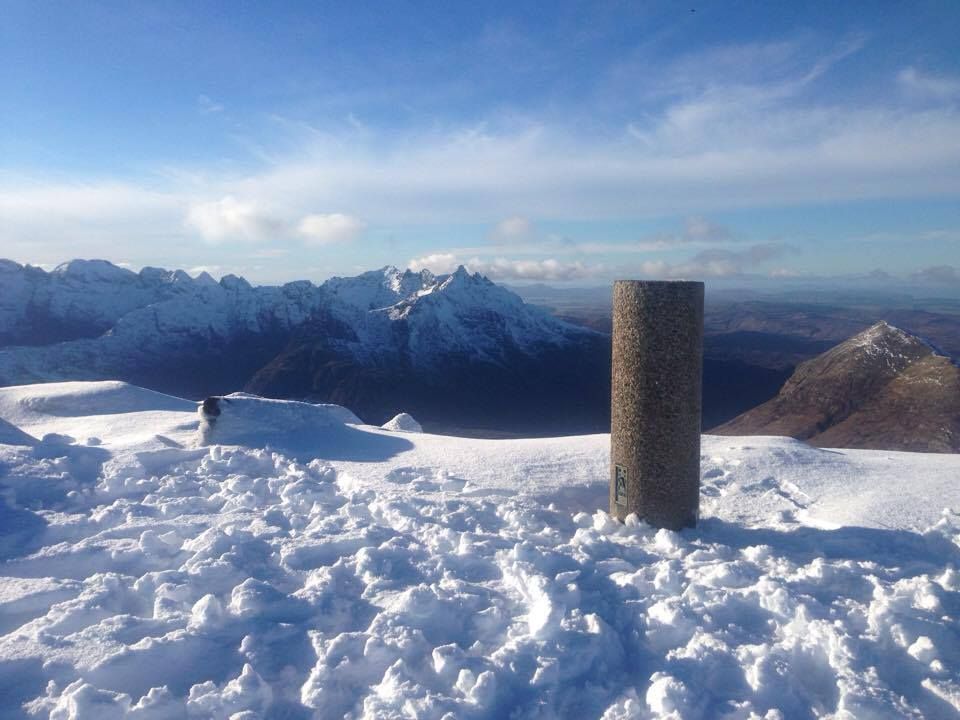 North-west over Sgurr nan Gillean and the rest of Skye.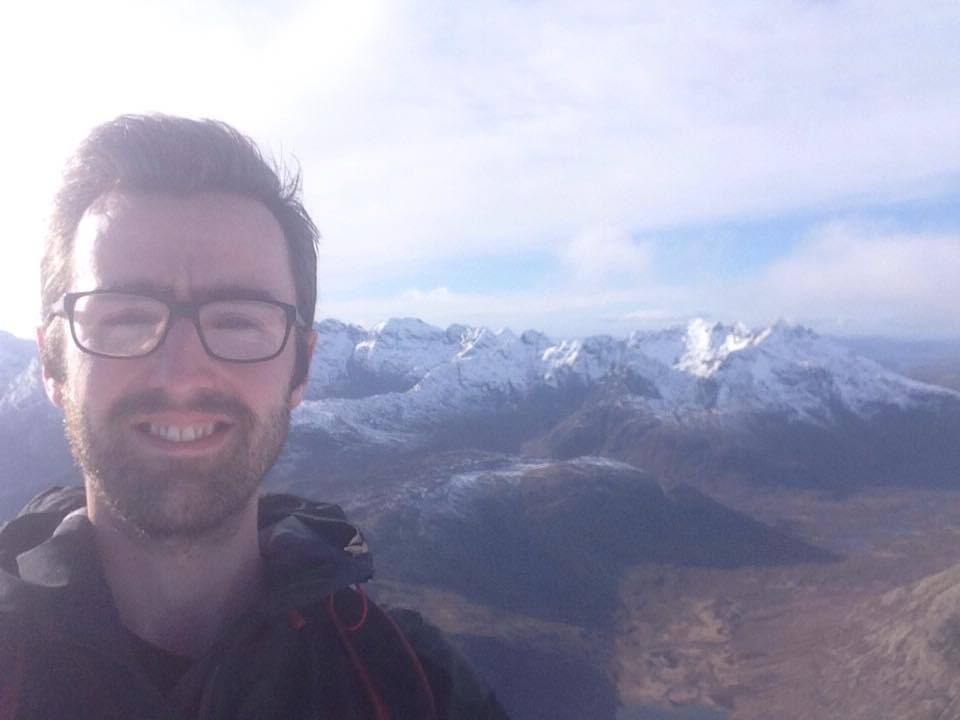 Obligatory mugshot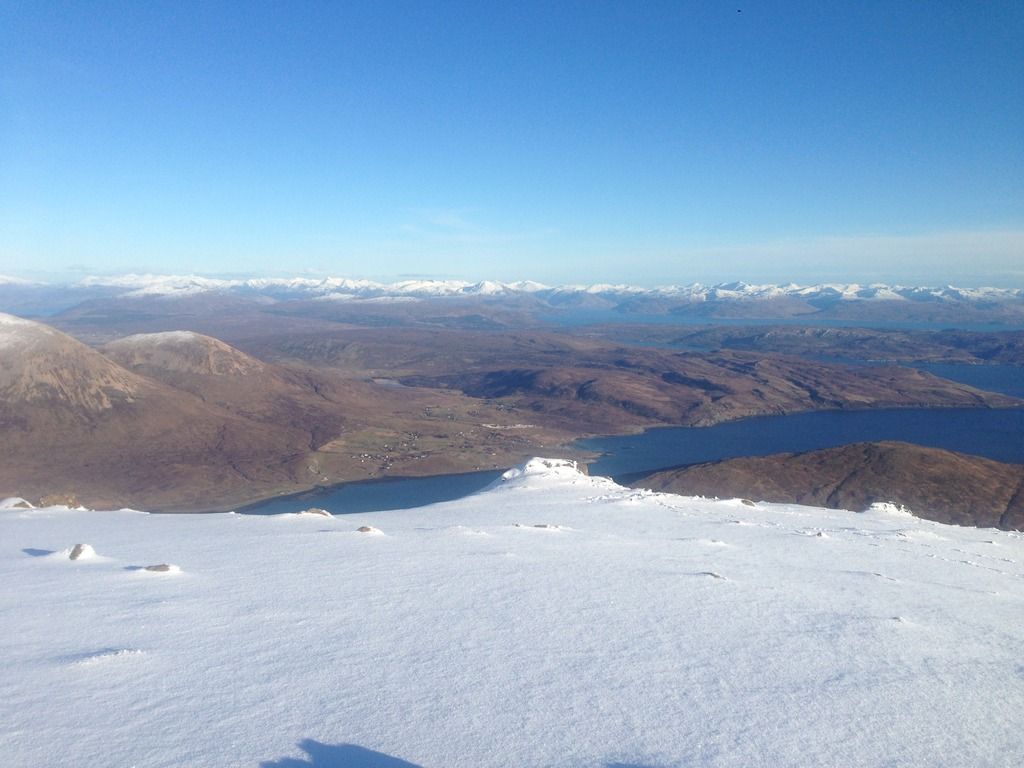 Southeast looking over Loch Slapin at the village of Torrin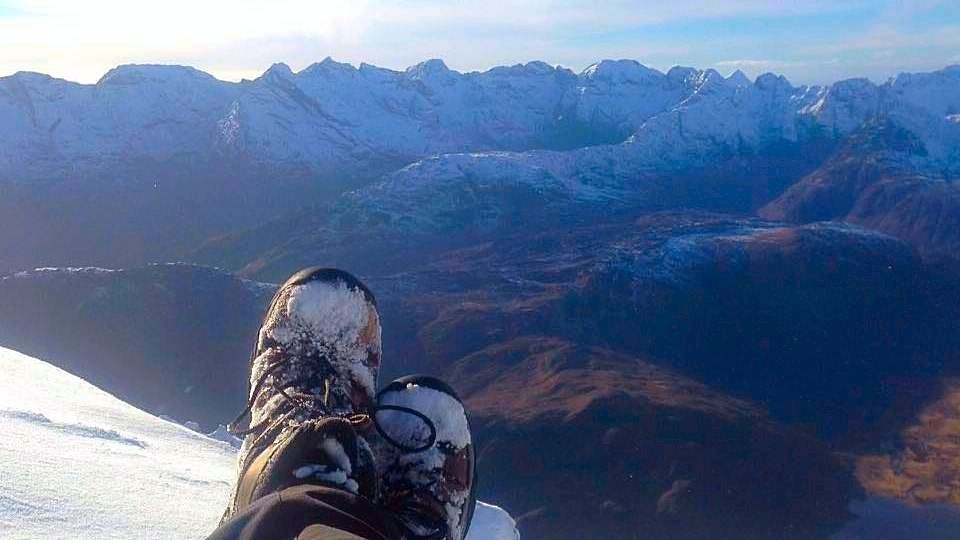 I can think of worse ways to spend a Friday afternoon
Absolutely cracking weather, visibility was ridiculously good the whole day. I'm so glad I went in the snow, really added an extra dimension to the trip. It's really opened my eyes to how big a task tackling the Cuillin will be - not your usual rolling slopes and gravelled path to the top! Can't wait.
Click to mark this as a great report. Register or Login
free to be able to rate and comment on reports (as well as access 1:25000 mapping).
---
Ideal day out: Epic ridge Walk


Munros: 58











Statistics

Trips: 1
Ascent: 928m
Munros: 1



Joined: Jan 28, 2012
Last visited: Jul 02, 2020
Total posts: 7 | Search posts