Date walked: 23/10/2011
Time taken: 9 hours
I have been hoping too get into the Arrochar Alps for a while and today my dad gave me the oppurtunity.
The plan was too do Ben Vane, Beinn Ime and Beinn Narnain. The weather was good early in the day but it was deteriorating all day long with very few views of any kind.
I had been out for a few beers last night and ended up in bed way later than I should have been, lets just say I got about 4 hours sleep and when I woke my head was still pretty sore. Anyway, we left Inveruglas visitor centre at 8.45am and after a few trys looks for the start point we eventually made our way up the tarmac road. A' Chrois was looming large and trying too confirm which hill was quite difficult. Eventaully we got round the corner and could see the base of Ben Vane. It is my kind of hill ! Steep, rocky and a huge pyramid. Dont know what It is about steep things that I am attracted too, I just find them cool. Anyway, we began the ascent and into the mist we went.
Where is the hill ? Bob leads the way !
We pushed on and made good time up the steep face which has lots of features which keeps your mind off the pain going through your calfs ! We seemed too be taking the hardest routes up through the rock features with parts which needed a technical foot and the use of hands. It was good fun for practicing holds on though. Eventually the flat and fairly un-eventful top was reached and after taking a bearing and getting some food we headed due west for Beinn Ime.
The "boring cairn" and the summit shrowded in mist.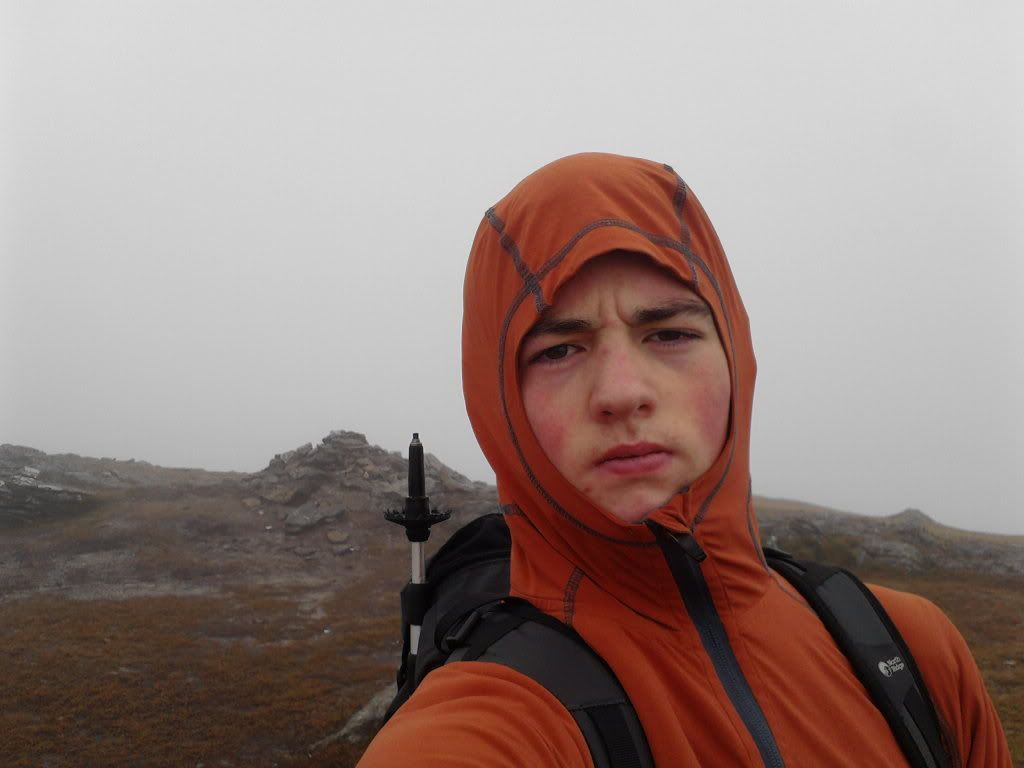 Trying out the grump look up top !
The descent down Ben Vane was steep and could have been dangerous had the cloud not blown off for our descent. Trying too take a bearing coming over those crags would be nigh impossible in very thick, low cloud. Now after this there was very small oppurtunities for pictures. I was half hungover, dehydrated and hungry. I had very little food and what water I did have was fast disappearing. Dad had a good supply of water luckily enough. I had bought some food in Dumbarton so was re-fuelled when we reached the valley floor, it wasn't much but high energy gear was enough too keep me going.
The view back up at Ben Vane from the valley.
The climb from here was pathless and soggy. I was slowing quite quickly, still fast enough too be efficently moving though. By this point I was kind of wishing I had cut my loses on Vane where I had been enjoying myself, now I was slogging and not enjoying much of it. And too add insult too injury, the bad weather which had been forecast for the afternoon came blowing in just as we reached Beinn Imes bealach and waterproofs were now called upon. Blast's of wind came sweeping across the grassy slope, it reminded me of the initial ascent of Ben More but slightly more tame in angle and in the weathers attitude.
We reached the summit but didn't hang around. Didn't even take my phone out for a picture. We descended directly south too the bealach between Beinn Ime and Beinn Narnain. We had planned too take this peak in also but I had already made my mind up that I was descending there and then. I was tired and hungry, all I wanted was out of the wind and rain. Had I not been on Ben More the other week there, I would have been ignorant too the fact that it was getting late and just gone for the summit anyway. Not today, I had no problem with saying "No". I'll get her and Arthur very soon.
Had we done Narnain we would have been an hour late and would have been walking back in the dark.
We descended into the valley, which was steep but it wasn't overly noticebale as I remember, and followed the faint trace of a path, muddy and boggy but we were making good time. We eventually reached the forrest track and began the long and sore walk out. It was still pouring of rain and my mood was low, I felt glad my dad was with me too keep my spirits up. Im sure the feeling was mutual.
After long, we were at the Ben Vane start point and soon we were back at Inveruglas. A fairly long and painful descent but a very enjoyable day out. I won't realise how much I did enjoy it for a few days when I begin too miss the hills again.
Those Arrochar Munro's may be small in size but their complex terrain and wild nature make them as big as anywhere in the country.
Click to mark this as a great report. Register or Login
free to be able to rate and comment on reports (as well as access 1:25000 mapping).
---
Munros:
Meall nan Tarmachan
Date walked: 14/08/2011
Comments: 2
Views: 3046
---
Corbetts:
White Coomb
Donalds:
White Coomb
Date walked: 06/08/2011
Comments: 2
Views: 3447
---
Grahams:
Culter Fell
Donalds:
Culter Fell
Date walked: 24/07/2011
Comments: 2
Views: 3064
---
Munros:
An Stùc
,
Meall Garbh (Ben Lawers)
,
Meall Greigh
Date walked: 29/04/2011
Comments: 4
Views: 3307
---
Munros:
An Stùc
,
Beinn Ghlas
,
Ben Lawers
,
Meall a' Choire Lèith
,
Meall Corranaich
Date walked: 16/04/2011
Comments: 7
Views: 4503
---
Corbetts:
Hart Fell
Donalds:
Hart Fell
,
Swatte Fell
,
Under Saddle Yoke
Date walked: 19/03/2011
Comments: 6
Views: 5335
---
Sub 2000s:
Nutberry Hill
Date walked: 27/02/2011
Distance: 18km
Comments: 11
Views: 7391
---
Location: Broadford Skye
Occupation: Student
Interests: Hill Walking, Fly fishing and Fly tying, Football and Poker
Activity: Munro compleatist
Place: Anywhere thats pointy
Camera: Fujifilm
Ideal day out: Anything that involves steepness, scrambling, or ridge's.
Ambition: Lenin Peak












Statistics

Trips: 8
Distance: 18 km
Munros: 11
Corbetts: 2
Grahams: 1
Donalds: 5
Sub2000s: 1



Joined: Mar 01, 2011
Last visited: Nov 13, 2013
Total posts: 580 | Search posts