Date walked: 21/08/2011
Time taken: 4 hours
Distance: 11km
Ascent: 400m
I've wanted to camp in Great Moss for ages, but, that never quite coming to fruition, I decided to walk in for the day instead. Apart from being a good walk in it's own right, I could check the place out for camping and look at the routes from the Moss - I like to be prepared
We parked at Brotherilkeld, there's space for a couple of cars just after the bridge at the bottom of the pass. The path is clear and the gradients are easy all the way to Lingcove Bridge, where it gets a little steeper but nothing too bad. The river was really impressive, with many small falls, particularly so given the recent rain. I did wonder if we'd ever be able to cross it though! Above Lingcove Bridge, the Esk narrows and enters a ravine, with many great falls. Sadly, views from the path of these are limited to glimpses, but they make one heck of a roar!
Pretty waterfalls in the early stages: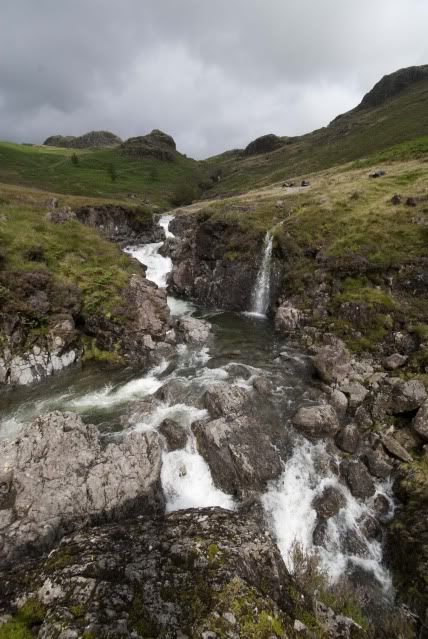 Lingcove Bridge, an early packhorse bridge:
(Intriguingly, the 2 1/2 inch map shows the RoW passing about 50m upstream of the bridge... the bridge pre-dates the map, so heavens knows why!)
Glimpse of waterfalls in the gorge:
The end of the gorge, the river makes a sudden turn below the crags of Scar Lathing: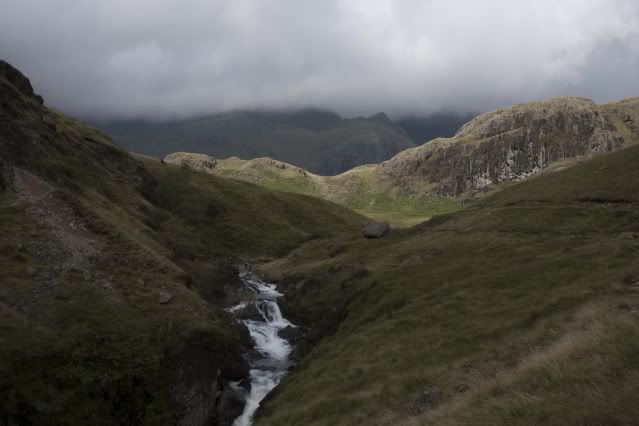 Huge eratic at the top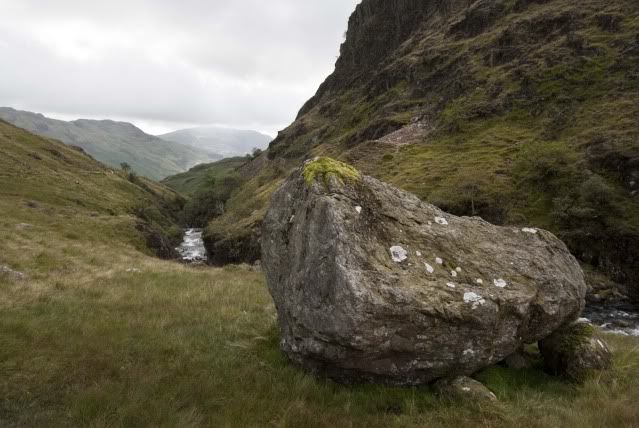 Looking back, the river is transformed into a gentle meandering beck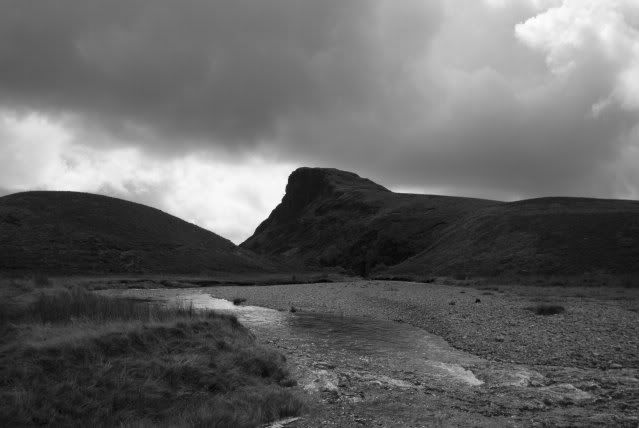 Great Moss! This really is a stunning place: the crags all around are magnificent yet it's so flat! It's also fairly damp. Canoe recommended...
Looking north to Esk Hause. Scafell Pike on the left, Esk Pike on the right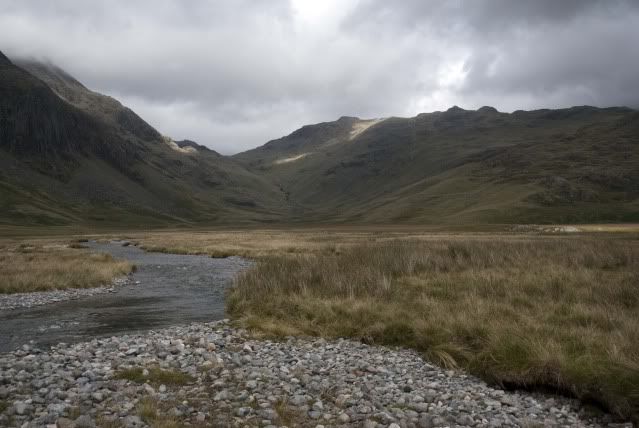 Cam Spout Crag and Sampson's Stones. Scafell is somewhere up there.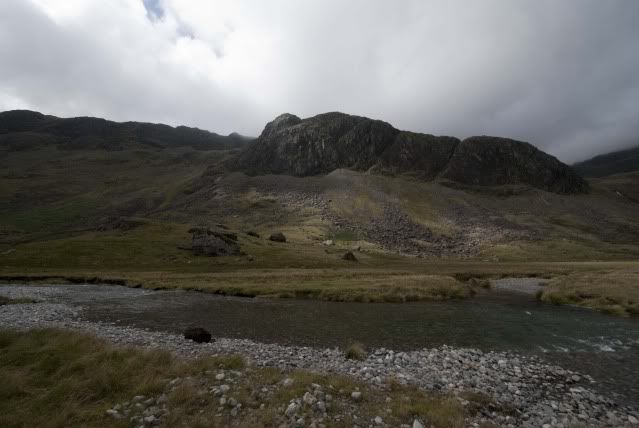 We had intended to cross here and return on the far side of the river for variety. However, overnight rain made that easier said than done... just to reach to place to cross with dry feet would be almost impossible because the moss itself was so wet! Bravely, we gave up and returned the same way. Verdict? Good half-day's walking. Can't wait to be back for that camp!
Click to mark this as a great report. Register or Login
free to be able to rate and comment on reports (as well as access 1:25000 mapping).
---
Munros:
Beinn Liath Mhòr
Date walked: 04/08/2011
Distance: 15km
Ascent: 1100m
Comments: 2
Views: 3408
---
Activity: Munro compleatist
Mountain: Blencathra
Place: Skye
Gear: Boots


Munros: 97
Wainwrights: 178
Hewitts: 85
Long Distance routes: Cape Wrath Trail











Statistics

Trips: 2
Distance: 26 km
Ascent: 1500m
Munros: 1



Joined: Nov 29, 2009
Last visited: Feb 12, 2022
Total posts: 60 | Search posts