Date walked: 11/03/2013
Time taken: 2 hours
Distance: 7km
Ascent: 280m
Hill: Dun Leacainn
11.3.13
Distance: 7km
1 Hour to top, 270m ascent.
This hill used to be a real nightmare for marilyn baggers, being surrounded by forestry.
However, a recent report I read highlighted that recent felling has opened an opportunity to climb this hill easier than before.
I parked in a layby at 028028, directly opposite a forestry track, this is marked on the map.
This track heads uphill, then turns back on itself, and it goes much further than the map suggests.
Track.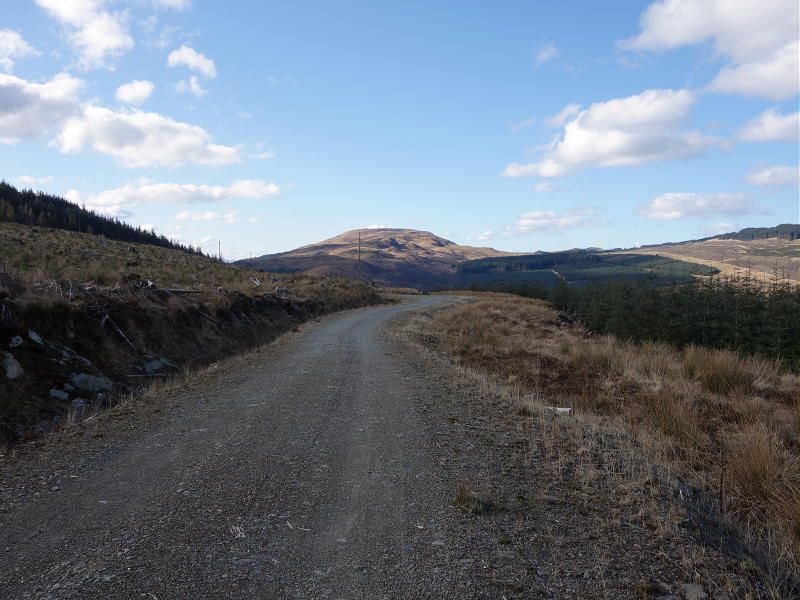 Keep on the track until you come to this felled section, and this felling track. I meant to take a waypoint here, but forgot, I guess its at 031023.
This felling track winds uphill, and gets you very close to the open hillside, which is at the end of those trees in the centre of this photo. 034019
You then have to leave the rough track and cross the debree field to get to the hillside, its thankfully short, only around 100m or so. And then you are clear of the trees.
Access is easy enough for now, but the hillside is heather growing amongst tussock grass, a horrible combination, but its not far at all, maybe 400m.
And here is what you get for your short visit to the roughty club....
Stunning views!!!!!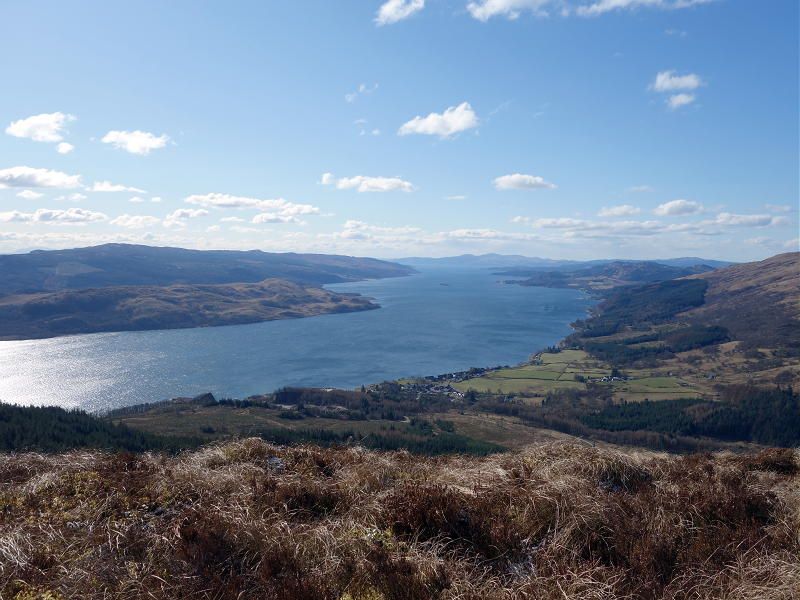 Ooor Alps..
Not the best view of Cruachan, but good enough.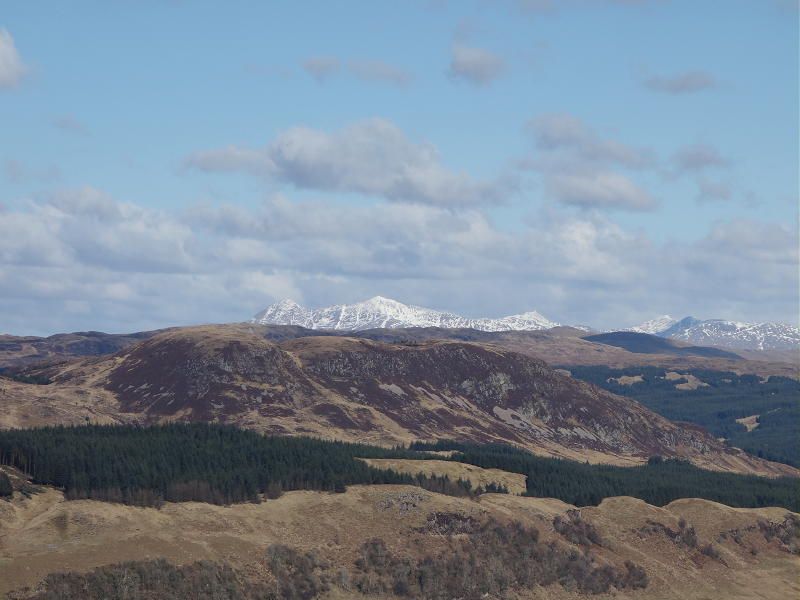 Yum..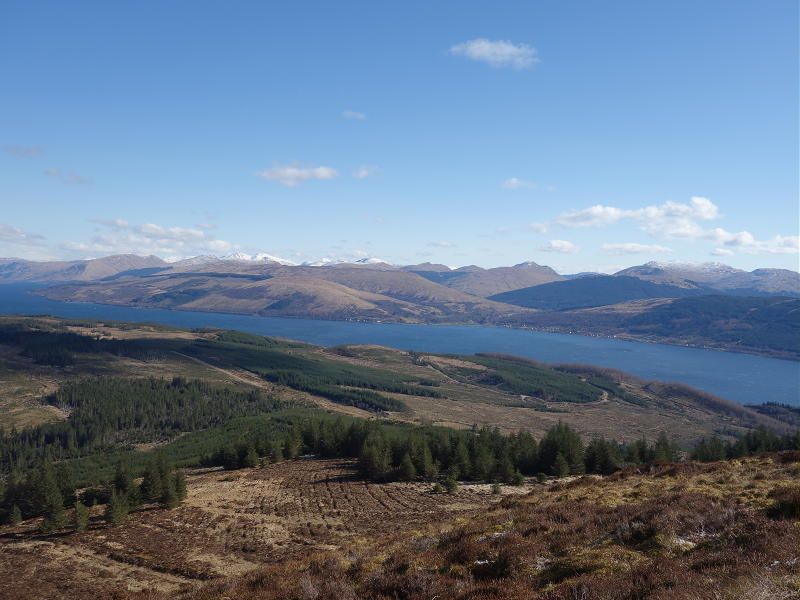 This hill has a trig point, but not at the summit, its on the next little hump.
Trig from summit.
And a wee bench, this has been here a while, local knowledge knows a way up here anyway...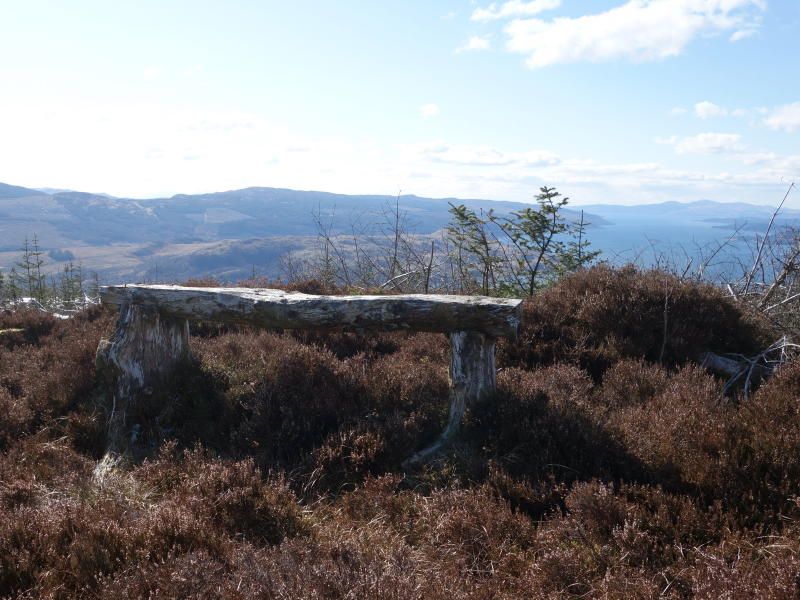 Summit from trig, nice day for wandering around comparing views..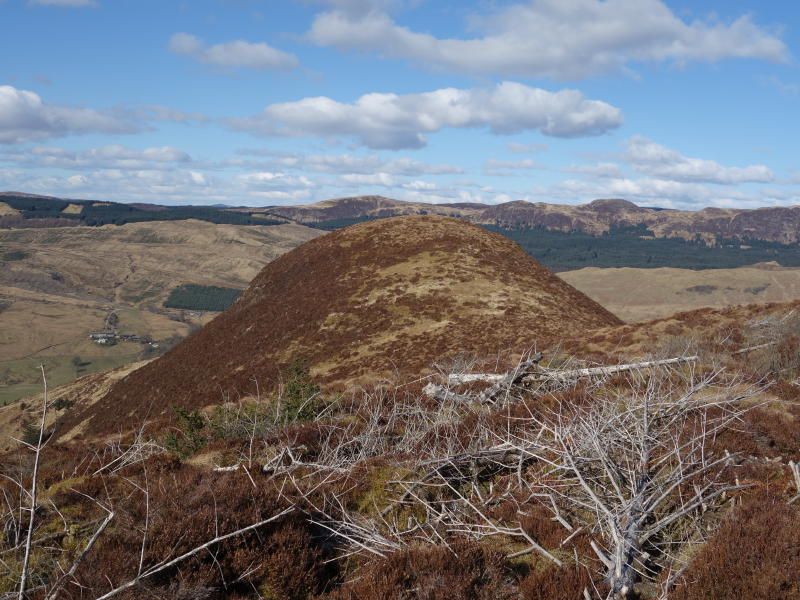 Inveraray.
Strachur.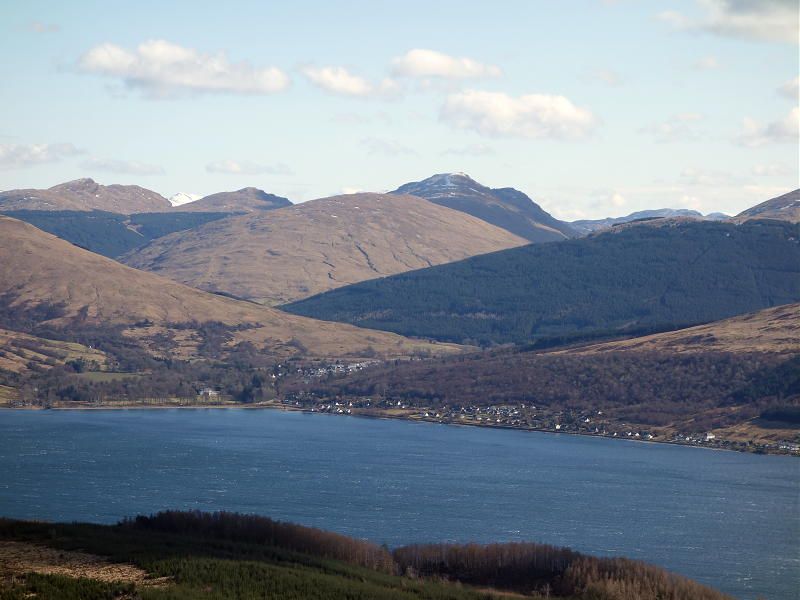 I returned the same way. I love these western seaboard marilyns, they are all lovely viewpoints, a lot of them have waymarked trails around them, this one does...
But no-one seems to think folk will actually want to climb them!!! The saplings are growing fast here, soon this hill will return to horror status, so for now, its well worth the meagre effort required to get those lovely loch and mountain views...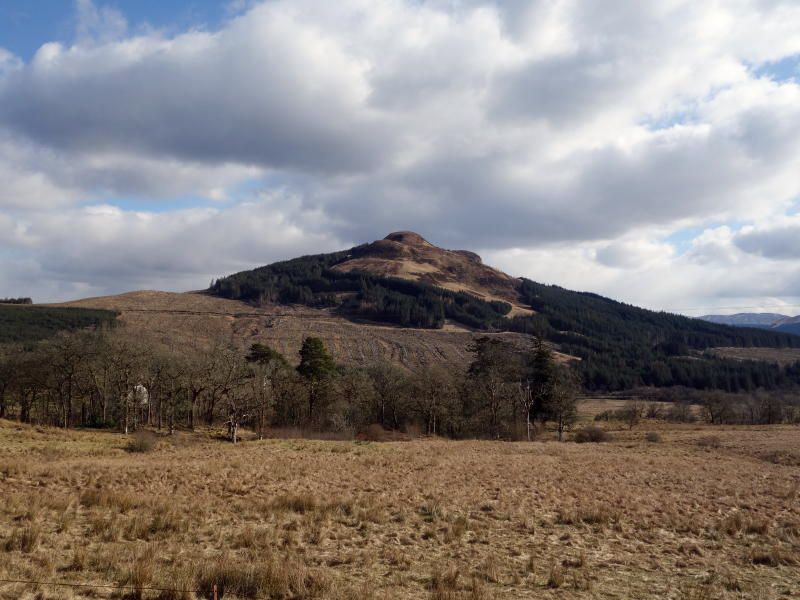 Hils..
Click to mark this as a great report. Register or Login
free to be able to rate and comment on reports (as well as access 1:25000 mapping).
---
Grahams:
Càrn na h-Easgainn
Date walked: 25/02/2013
Distance: 7km
Ascent: 330m
Comments: 7
Views: 5212
---
1
,
2
Sub 2000s:
Hare Cairn
Date walked: 14/01/2013
Distance: 11km
Ascent: 250m
Comments: 19
Views: 7454
---
Date walked: 03/09/2012
Distance: 3km
Ascent: 120m
Comments: 3
Views: 6655
---
This post is not published on the Walkhighlands forum
Sub 2000s:
Dumyat
Date walked: 09/08/2012
Comments: 7
Views: 5817
---
Corbetts:
Mount Battock
Date walked: 20/11/2009
Distance: 14km
Comments: 4
Views: 5078
---
Munros:
Cairn of Claise
,
Càrn an Tuirc
,
Tolmount
Date walked: 25/09/2009
Distance: 28km
Comments: 7
Views: 7102
---
Location: Stirling
Activity: Munro compleatist
Mountain: All of them.
Place: Outer Hebrides
Gear: Ma cosy down jacket (:


Munros: 215
Corbetts: 109
Grahams: 109
Donalds: 65
Wainwrights: 8
Hewitts: 4
Sub 2000: 157











Statistics

Trips: 3
Distance: 25 km
Ascent: 860m
Grahams: 1
Sub2000s: 2
Trips: 2
Distance: 3 km
Ascent: 120m
Sub2000s: 1
Trips: 2
Distance: 42 km
Munros: 3
Corbetts: 1



Joined: Sep 16, 2009
Last visited: Nov 12, 2018
Total posts: 476 | Search posts