This post is not published on the Walkhighlands forum
Munros:
Ben Lomond
Date walked: 14/01/2012
Views: 1568
---
This post is not published on the Walkhighlands forum
Corbetts:
The Cobbler
Date walked: 12/11/2011
Views: 1356
---
This post is not published on the Walkhighlands forum
Fionas:
Beinn a'Mheadhoin
Date walked: 02/11/2011
Distance: 5.3km
Ascent: 380m
Views: 1378
---
This post is not published on the Walkhighlands forum
Fionas:
Mount Blair
Date walked: 01/11/2011
Distance: 4.2km
Ascent: 400m
Views: 1340
---
Date walked: 15/07/2011
Time taken: 6.5 hours
Distance: 18km
Ascent: 1100m
Friday 15th July
Great sleep at Drinisaider hostel, nice to have a bunk after two nights camping.
Wasn't away as early as planned and it was just after nine when I parked at the entrance gates of Abhainn Suidhe estate.
Set off along to and up the landrover track to the power station beyond Loch Leosiad. Had hoped to climb the two grahams plus visit Sron Uladal but with the top of the hills clad in cloud decided to walk through to see the famous crag first. Track allows good progress and was soon at the dam on Loch Chliostair.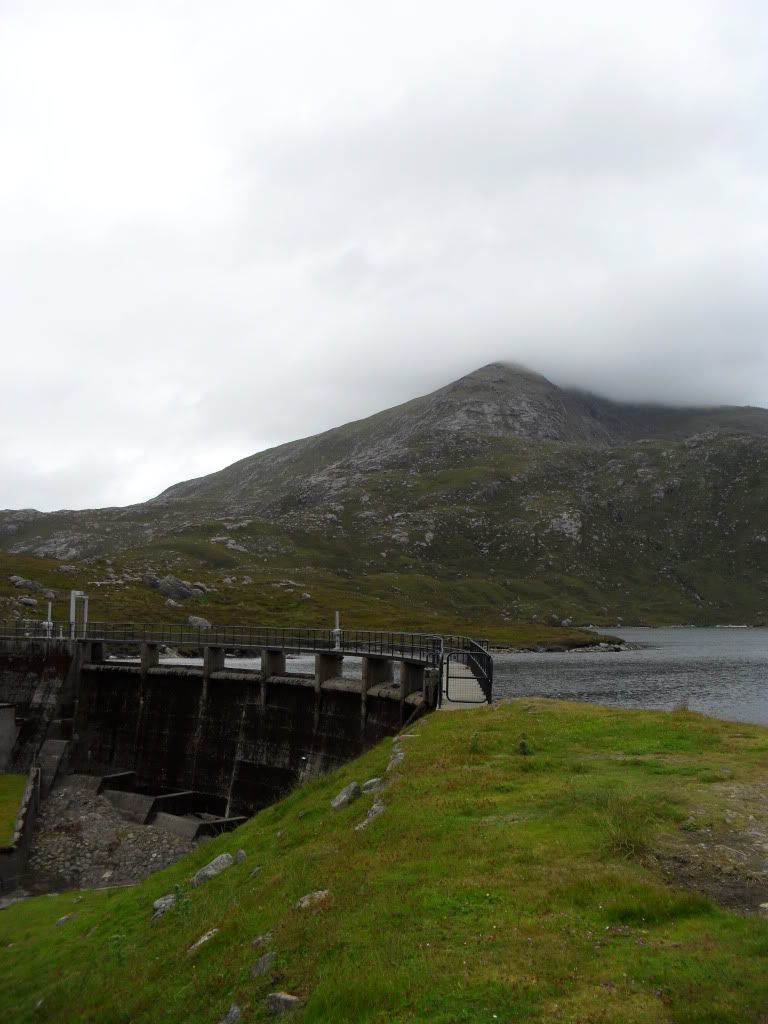 Dam at Loch Chloistair
Path works being carried out beyond the dam, no doubt this is now a popular walk especially since the BBC programme.
Elf'n'Safety
Only an hour and half to get below Sron Uladal – sure is a big lump of rock.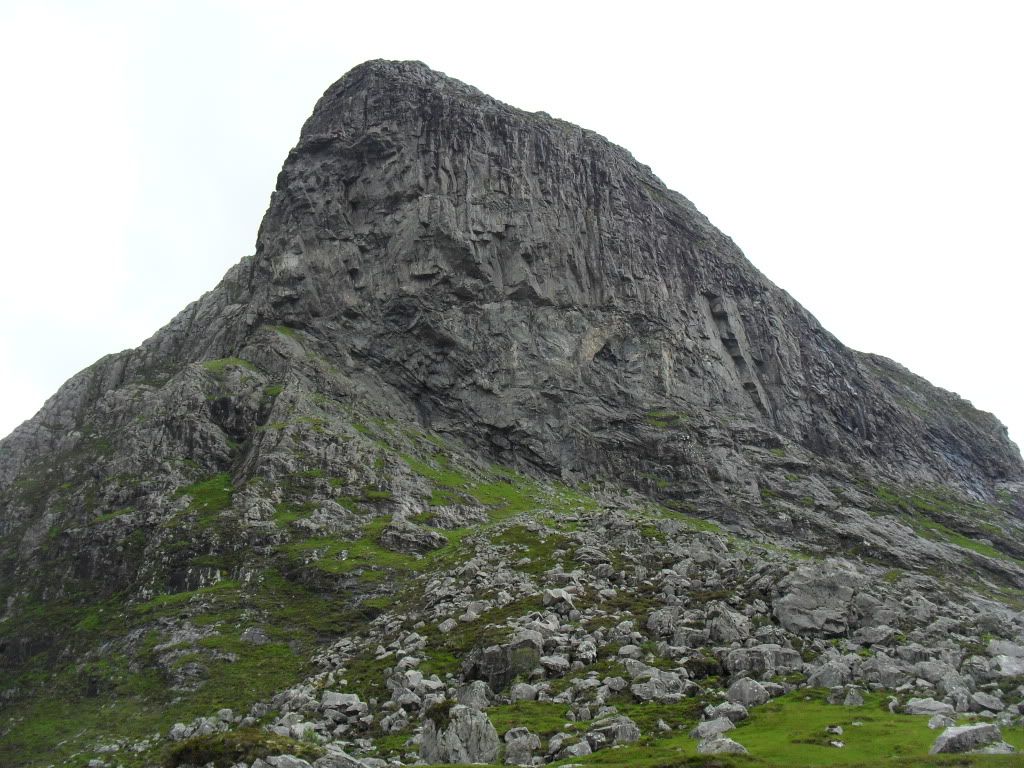 Sron Uladal
Sron Uladal profile
After a break started back up to the high point of the path at Loch Aiseabhat getting there just about mid-day.
The weather which had been fine for my low level walk so far looked at that point as though it might improve further.
Decided to go over Ulabhal and Oireabhal and leave Tiorga Mor for another day.
Just minutes after starting up it closed in and started raining steadily,and did so for the next hour or so.
A soft grassy plod up towards the broad ridge to the north of Ulabhal.
Must have trended a bit more to the right than I thought in the mist so hit the ridge higher than expected,so not a long climb up to Ulabhal.
No view however and wet and windy.
Cairn on Ulabhal
Took my bearings for Oireabhal and set off just after 1 pm– less than an hour to Oireabhal where there is two cairns.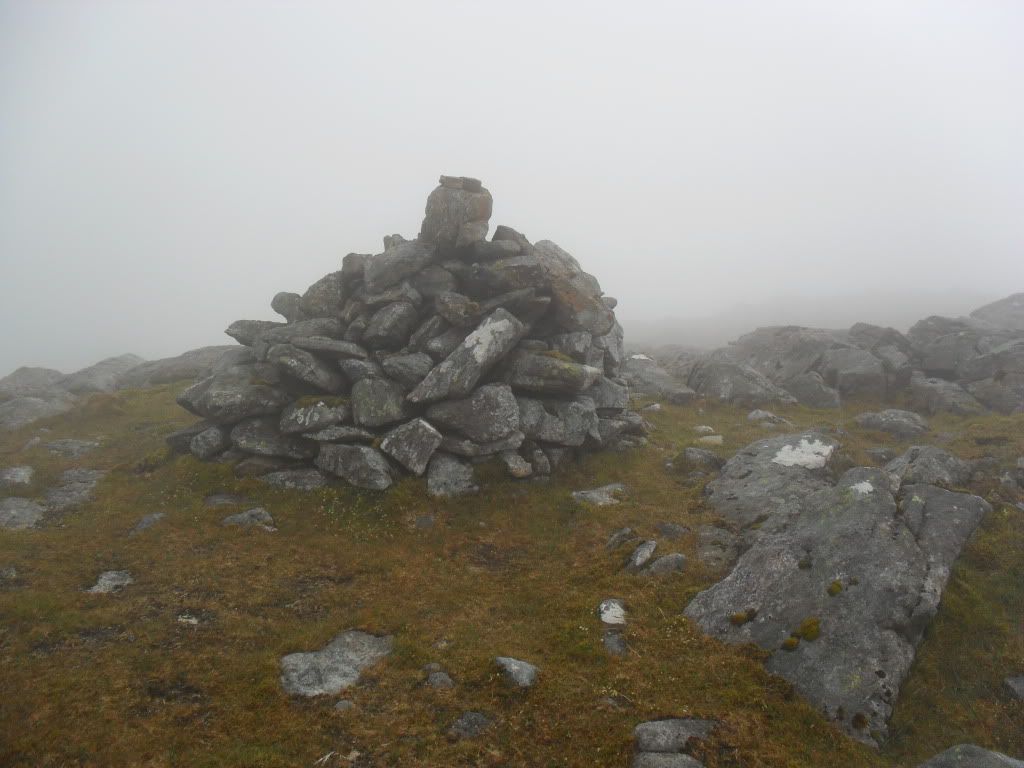 Oireabhal cairn #1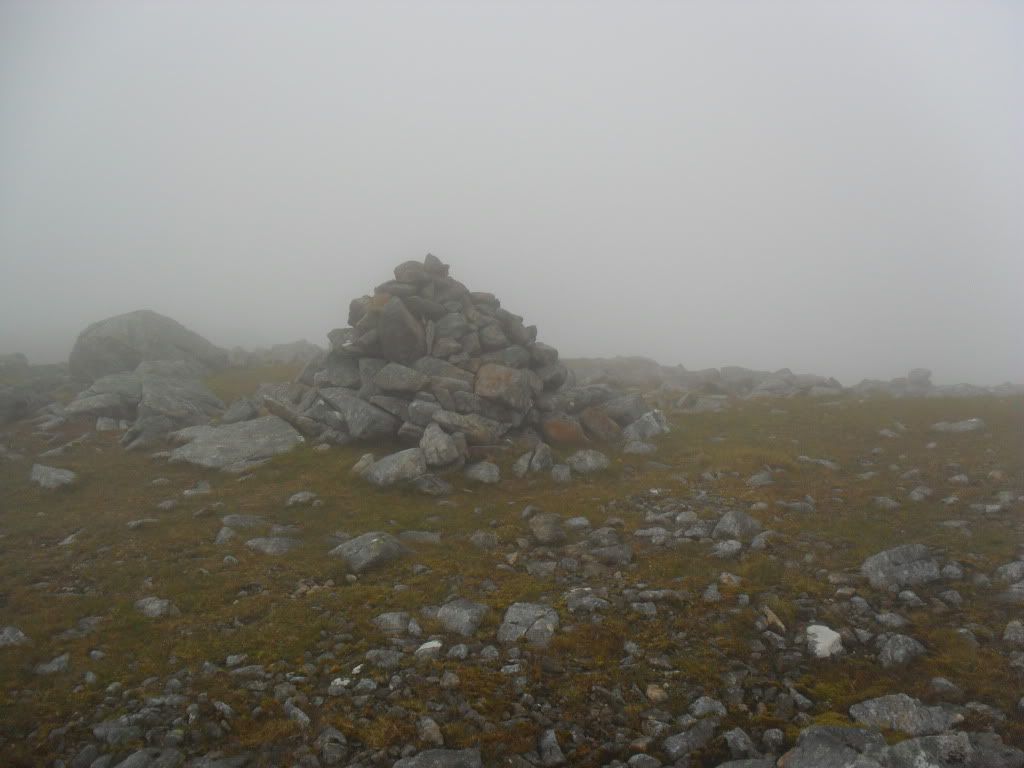 Oireabhal cairn #2
Very cold now,found a place to shelter out of the wind to study the map and decide on route down.
North west from the summit and then down in to the corrie looked shortest but the name Lag Garbh had me thinking it could be rough ground.
As I dropped down to the shoulder I started to get brief clearances below and not too long after could see the way ahead.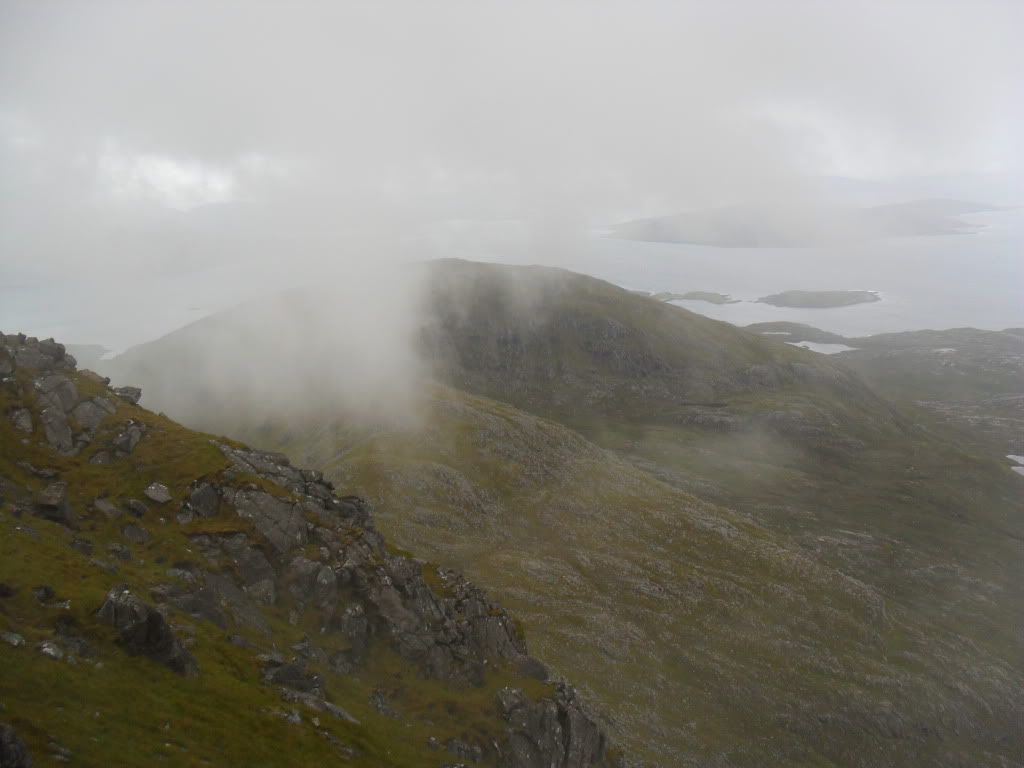 Will it clear ?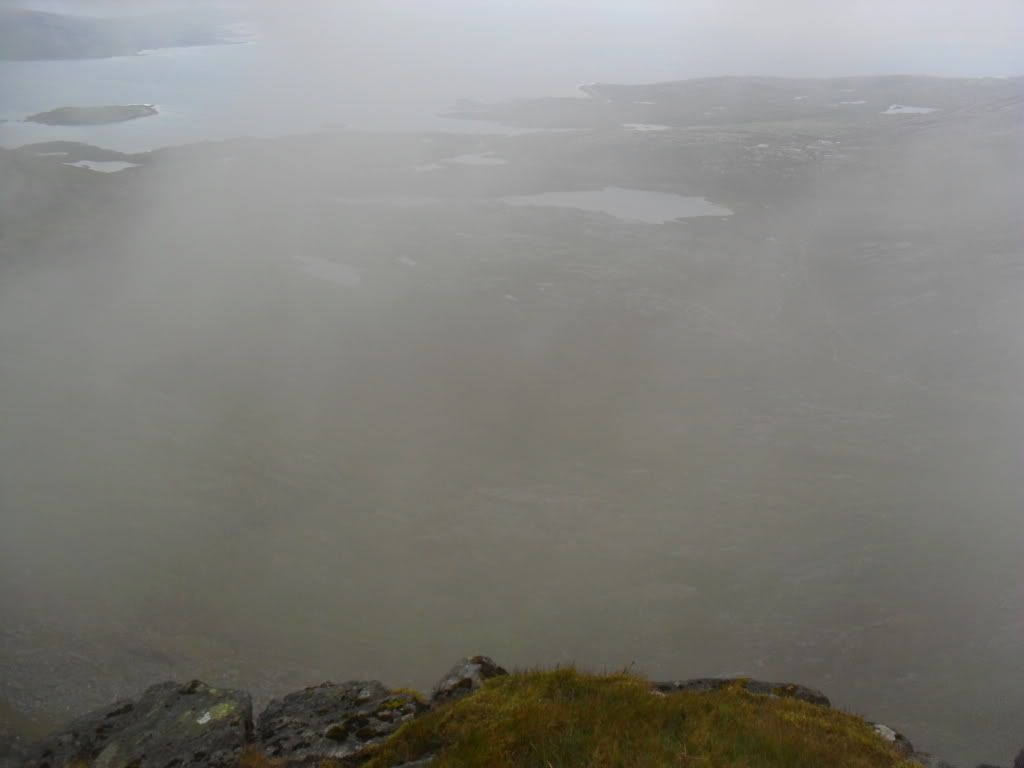 Maybe not !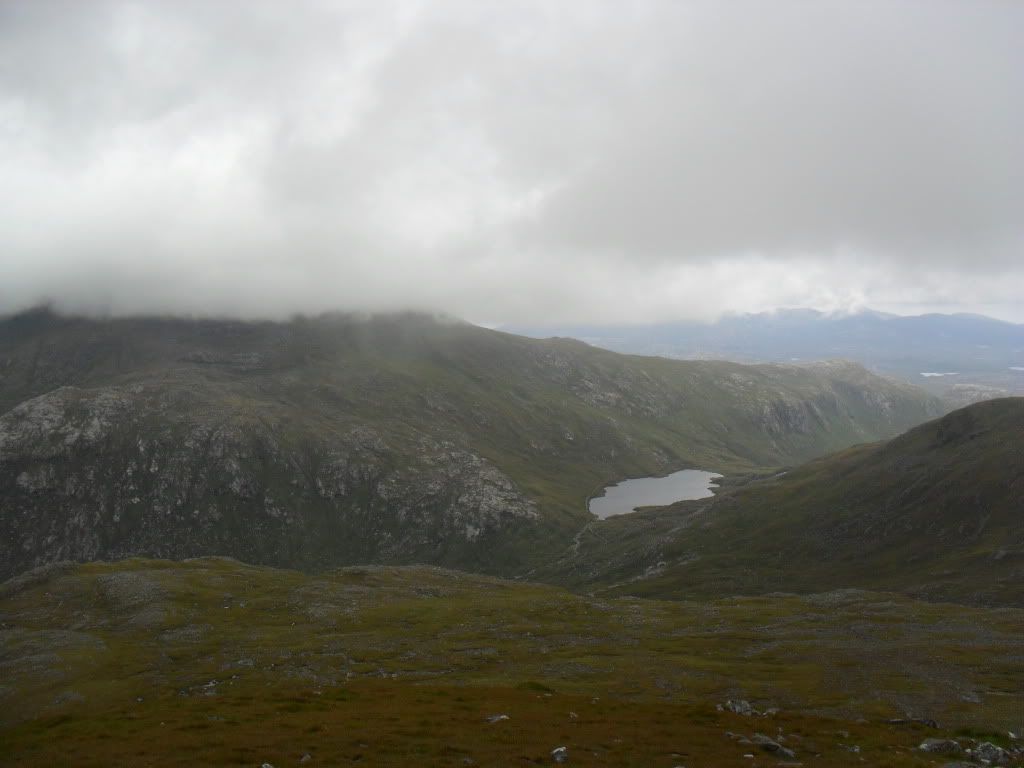 Better now - Loch Aiseabhat
Route looked OK so turned down towards the corrie.
Cleiseabhal clear now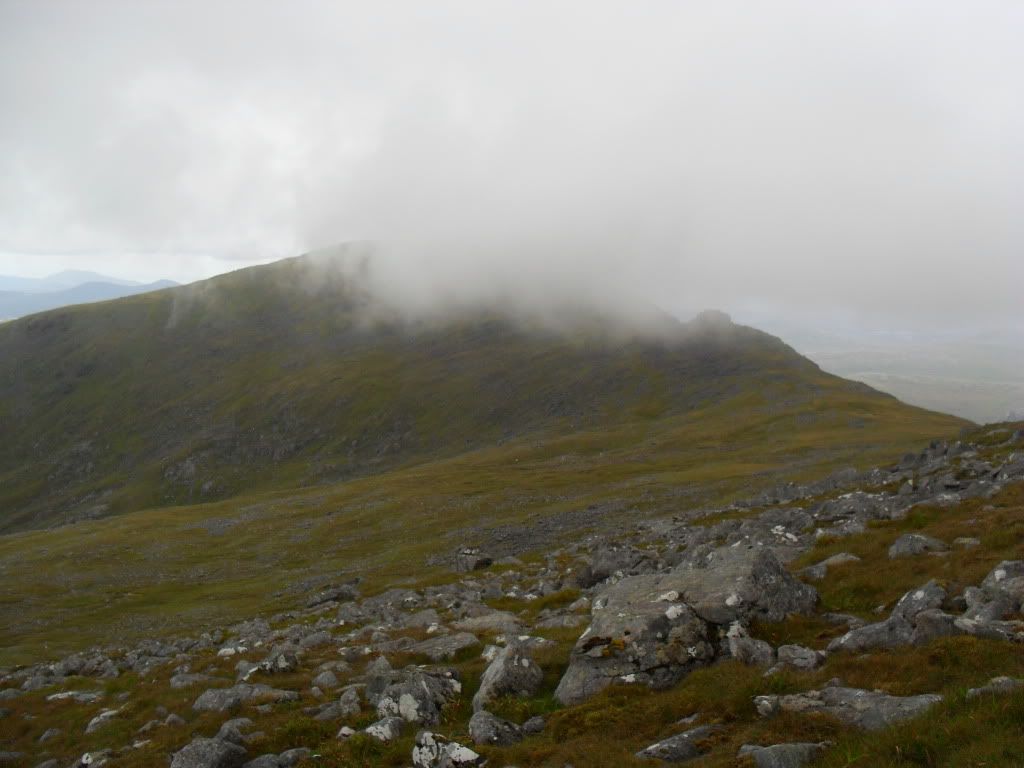 Ulabhal not so clear
Came to a steep slope and it was pretty rough going right enough, that horrible mixture of broken rock and heather.
Took my time and was soon down on easier ground. When I got to the pipeline just above the dam the ground was really rough,and after a couple of wee tumbles decided it was easier to clamber up on to the pipe and use that as my walkway.
Back on the track it was a short walk back to the car (there about 3.30 pm)
Photos at Abhainn Suidhe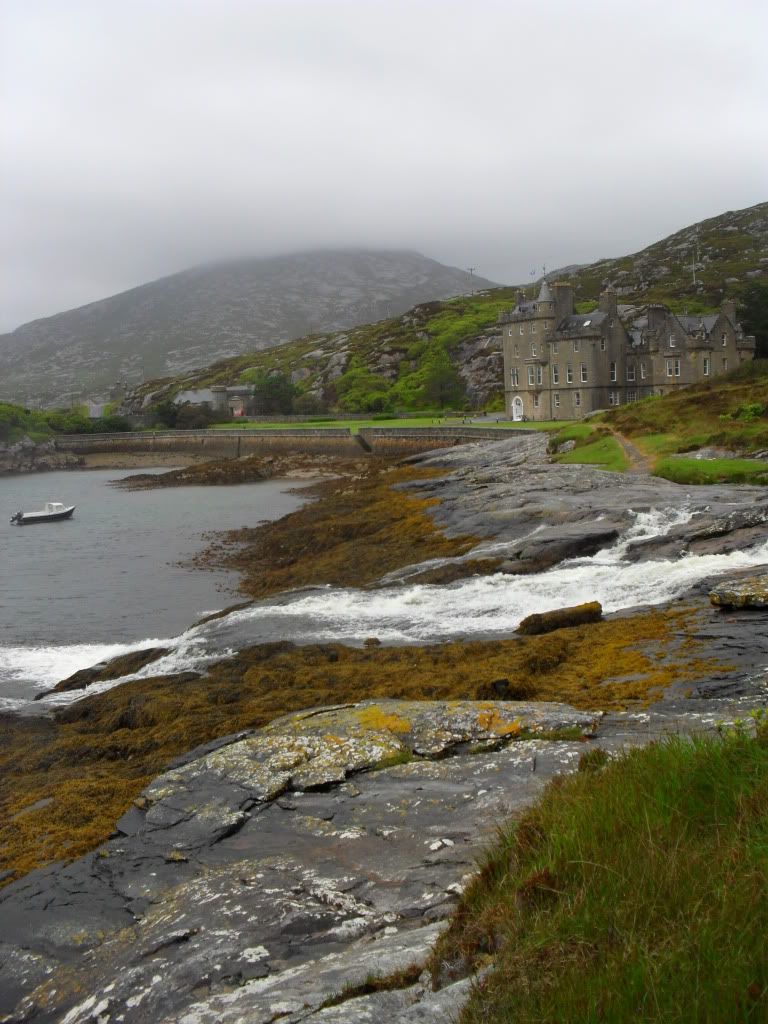 What a good idea - to stop the boulder rolling away - they've anchored it back to the tree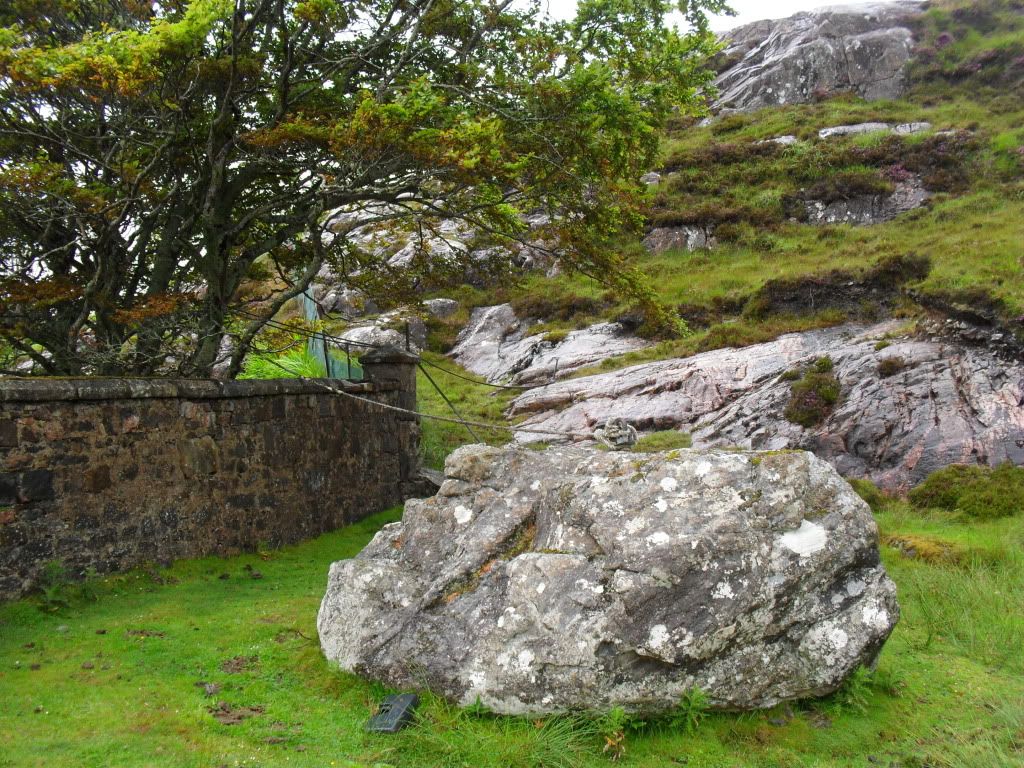 Back to Tarbet for the standard pints - then to Drinisaider
Never did get Tiorga Mor climbed before going home
Ach well - hill will still be there when I go back
Click to mark this as a great report. Register or Login
free to be able to rate and comment on reports (as well as access 1:25000 mapping).
---
Sub 2000s:
Eaval (North Uist)
Date walked: 13/07/2011
Distance: 10km
Ascent: 580m
Comments: 6
Views: 5299
---
Fionas:
Beinn Mhór (Uist)
Date walked: 11/07/2011
Comments: 1
Views: 2841
---
1
,
2
Sub 2000s:
Beinn Sciathain (Eriskay)
,
Sheabhal (Barra)
Date walked: 08/07/2011
Comments: 17
Views: 10892
---
Munros:
Beinn Ìme
Date walked: 29/04/2011
Distance: 13km
Ascent: 1000m
Comments: 4
Views: 4548
---
This post is not published on the Walkhighlands forum
Fionas:
Beinn na Feusaige
,
Càrn Breac
Date walked: 16/04/2011
Distance: 13.8km
Ascent: 815m
Views: 1752
---
Activity: Rambler
Pub: any pub
Mountain: beinn eighe
Place: NW Highlands
Gear: scarpa boots
Munro rounds: 3


Munros: 282
Tops: 225
Corbetts: 222
Fionas: 110
Donalds: 23
Wainwrights: 10
Hewitts: 24
Sub 2000: 17
Islands: 28











Statistics

Trips: 1
Munros: 1
Trips: 17
Distance: 144.3 km
Ascent: 7835m
Munros: 2
Corbetts: 1
Fionas: 8
Sub2000s: 4
Trips: 34
Distance: 405.15 km
Ascent: 23255m
Munros: 16
Corbetts: 12
Fionas: 7
Donalds: 3
Sub2000s: 1
Trips: 15
Distance: 172.8 km
Ascent: 10310m
Munros: 5
Corbetts: 4
Fionas: 9
Trips: 1
Distance: 18 km
Ascent: 1450m
Munros: 2
Corbetts: 1
Trips: 1
Distance: 27 km
Ascent: 2200m
Munros: 6
Trips: 1
Trips: 1
Distance: 30 km
Ascent: 2600m
Munros: 5



Joined: Aug 11, 2008
Last visited: -
Total posts: 2678 | Search posts