Date walked: 26/11/2012
Time taken: 6 hours
Distance: 18km
Ascent: 1047m
Well after a month or two without a walk, it was high time I was getting back out again. Thanks to an early 30th birthday present (some Mahmut boots) this was finally achievable and I could finally retire the running trainers I had used on the previous 10 Munroes!
Alistair and I departed Aberdeen for Huntly at 6:15am and upon arrival jumped into Craig's car for the second half of the drive to the Cairngorm Ski centre. Arriving at the ski centre around 8:15am we set off for Ben Macdui around 8:30am full of eager excitement
Being my first winter walk I expected the cold and to be fair it wasn't quiet as bad as I thought, only really noticed it when stopping. What I didn't expect was how hard it is to catch your breathe and being a smoker this soon lead to the other two taking a good lead.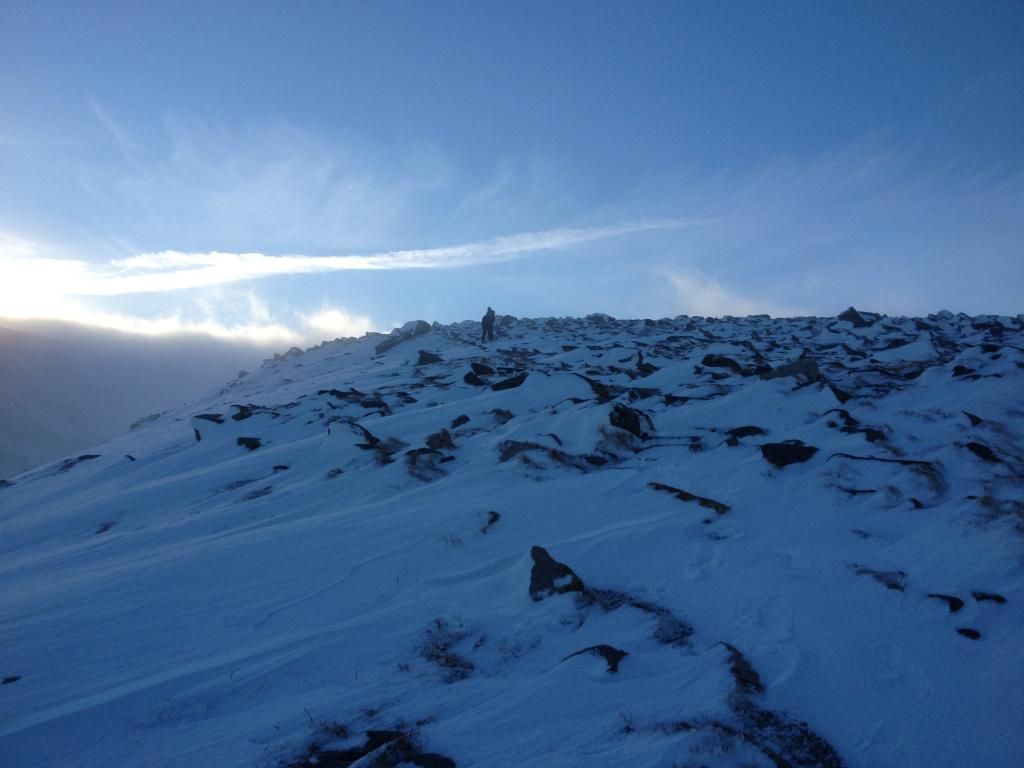 After the initial hardship that was the first hill (probably the closest i've come to giving up yet) the path flattened out and the long slog to Ben Macdui became quite a pleasant trip. Lost both Alistair and Craig in the fog but could easily follow there footprints and soon got a feeling of what it must be like for an artic explorer
Caught up with Alistair and Craig before the final ascent of Ben Macdui and reached the top without to much hardship. Although by this point flakes of ice had begun to form on eyelids.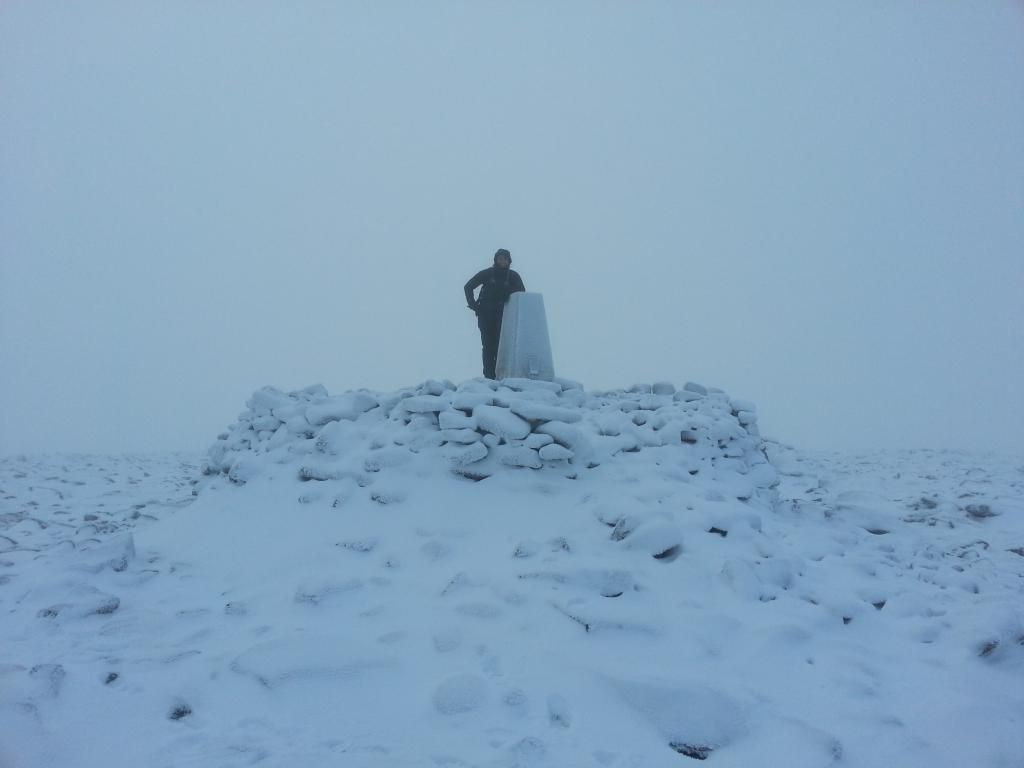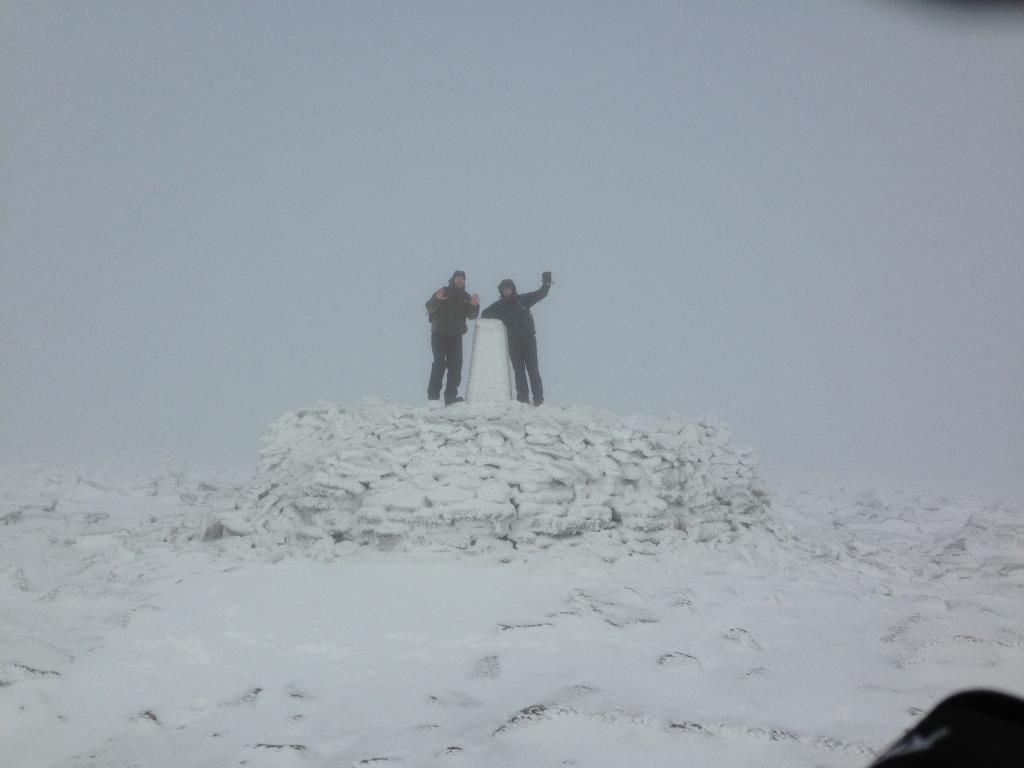 Found the marker which had formed minature side way snow trees as had the rest of the environment and stopped for 5 minutes to have a quick snack. This is when you could really feel the cold and the lack of gloves on my parts became a problem!
From here we took stock and decided that we would only have time for the 2 Munroes today and Cairngorm was our next target. So off we set: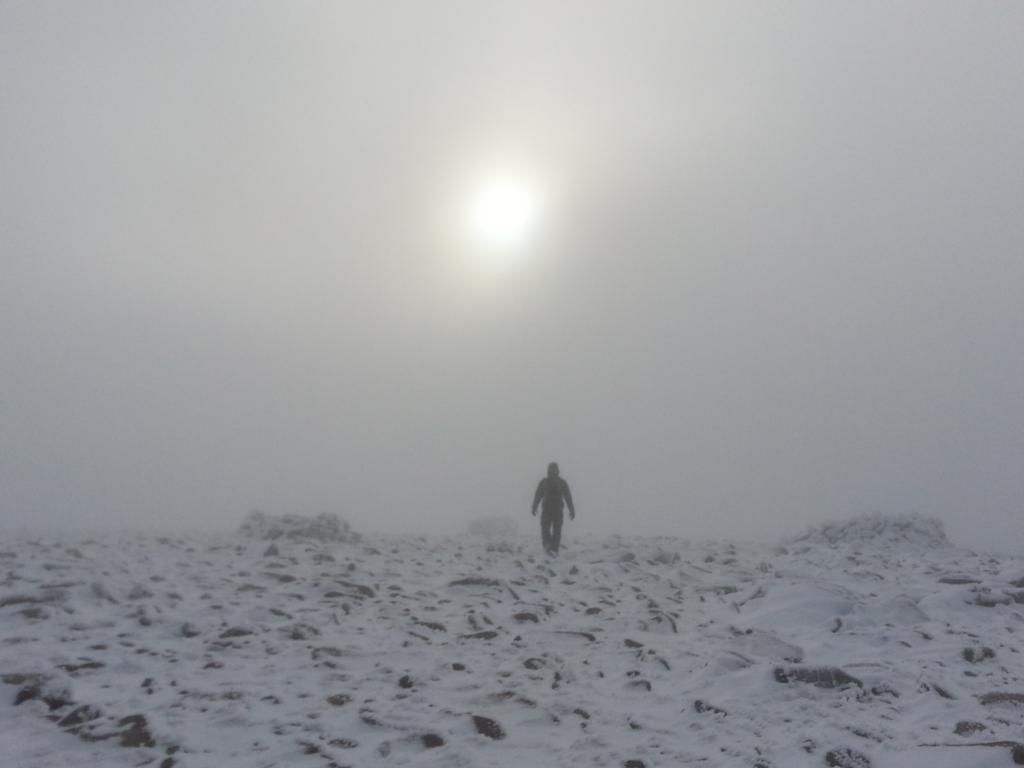 Wasn't to long till we reached the drop off looking down into Coire an t-Sneachda, the view here in between broken cloud was spectacular and made for same great photo opportunities. A number of climbers were scaling the face and looking down at them hanging off the rock was an incredible sight to see.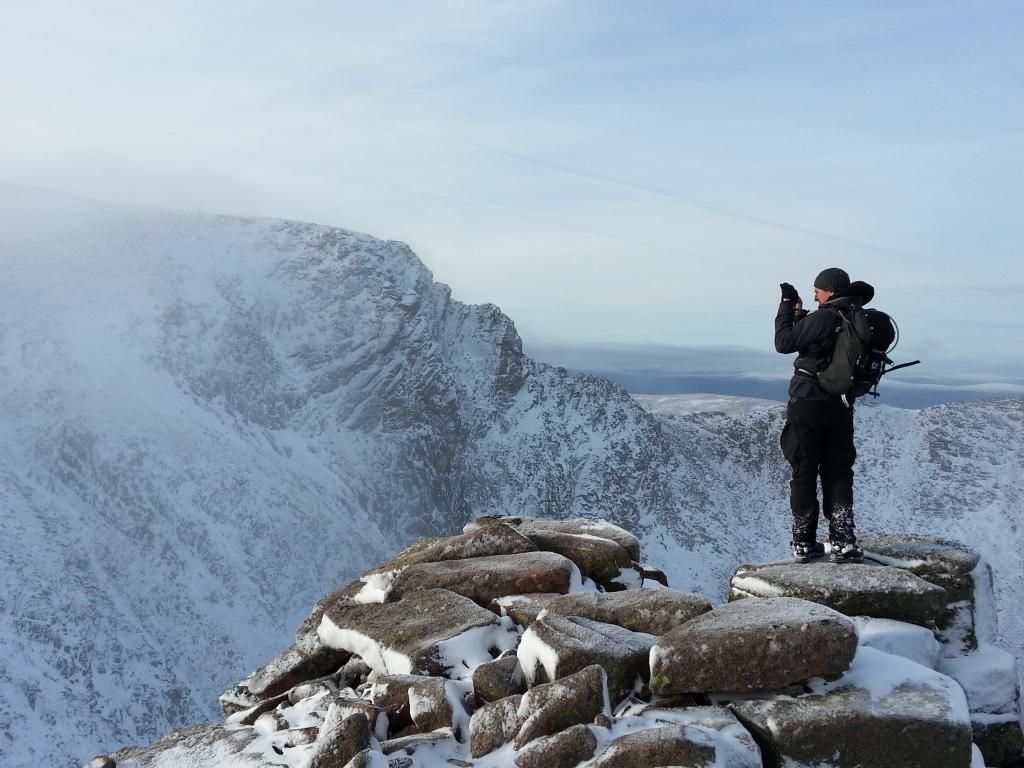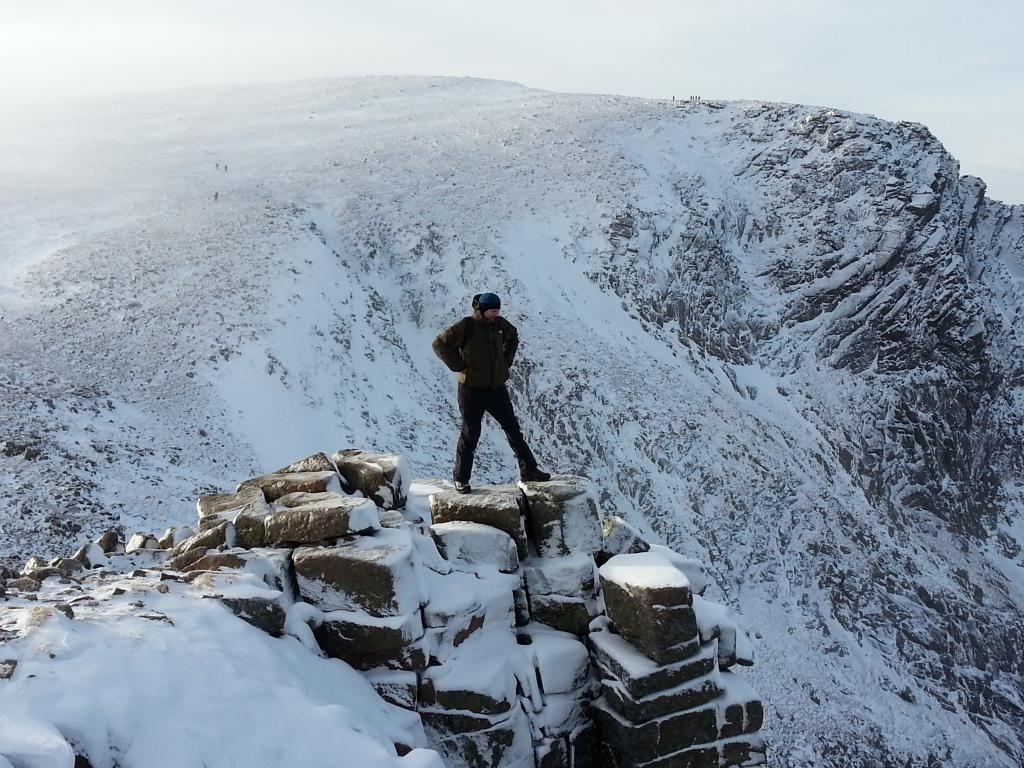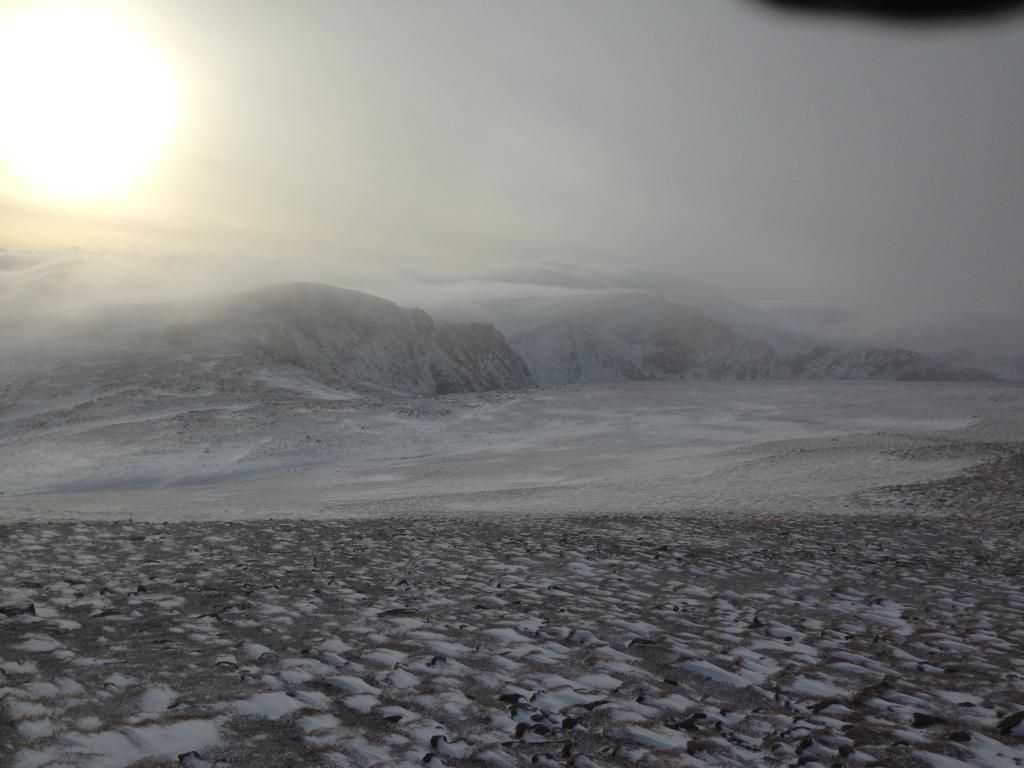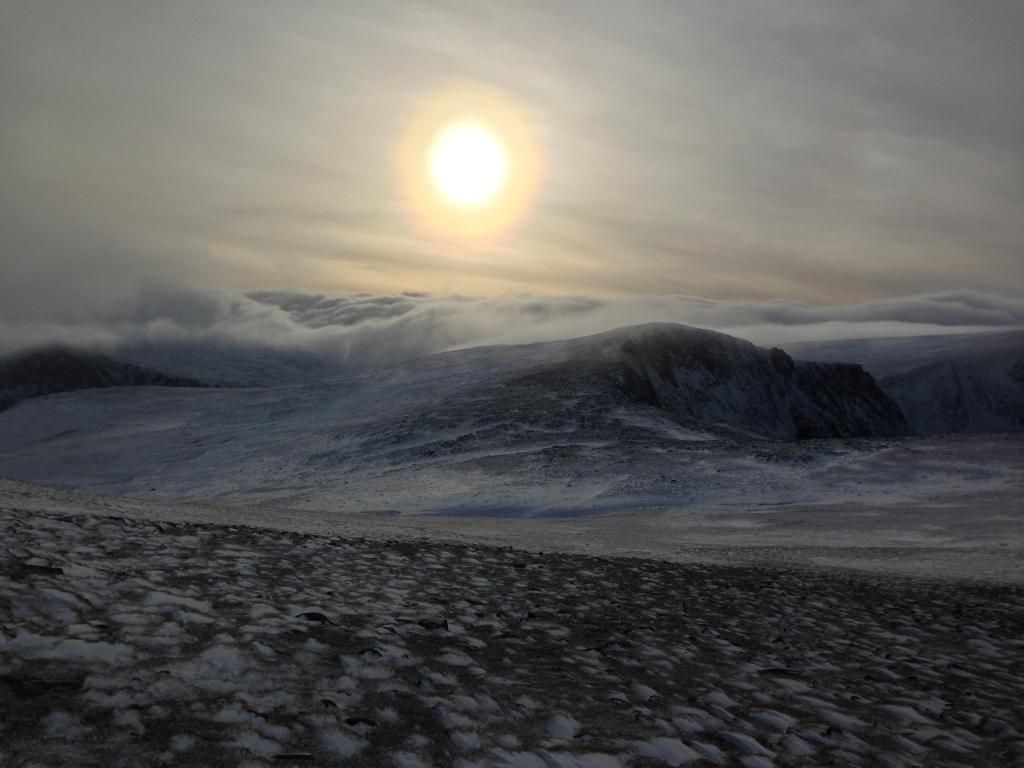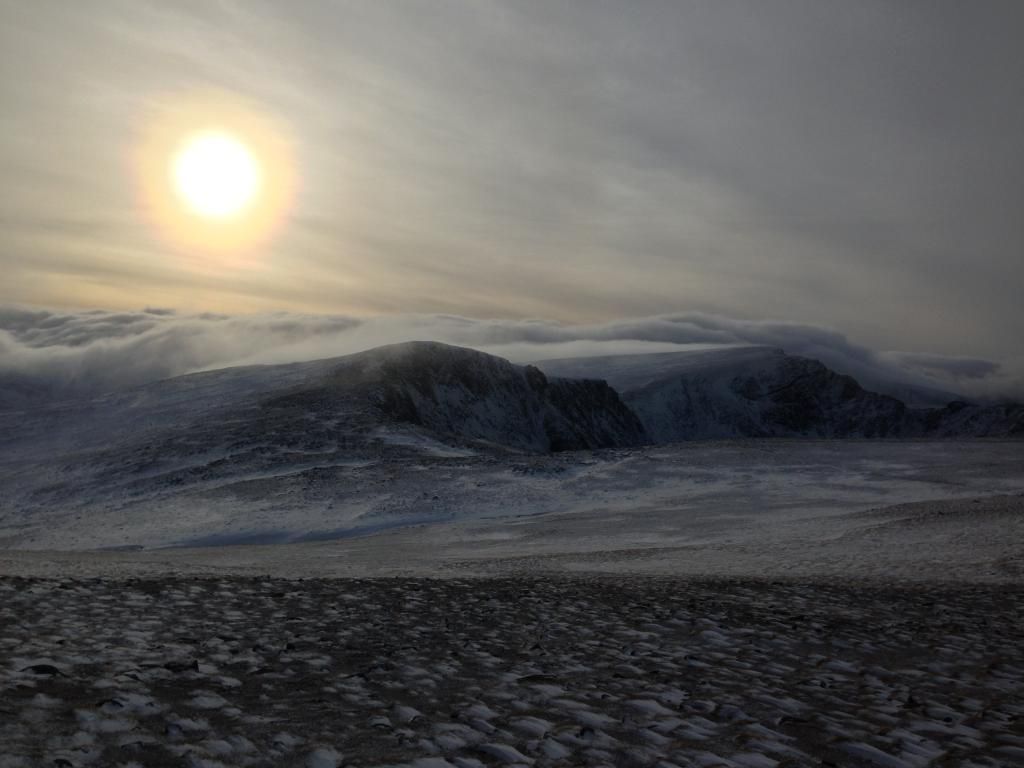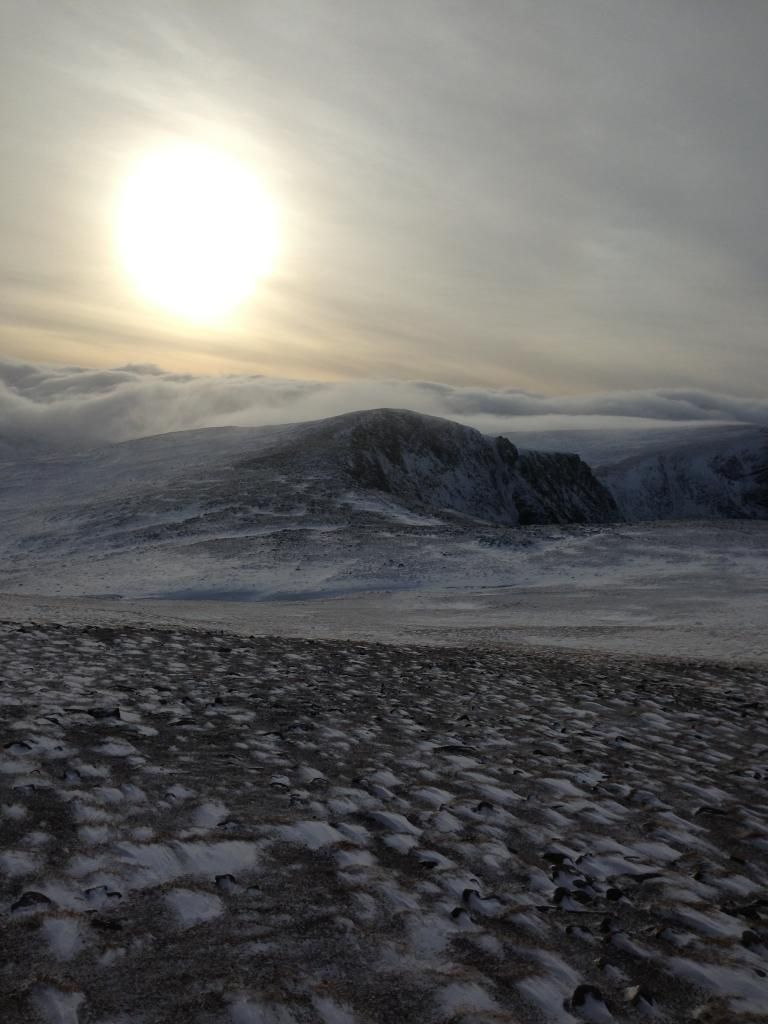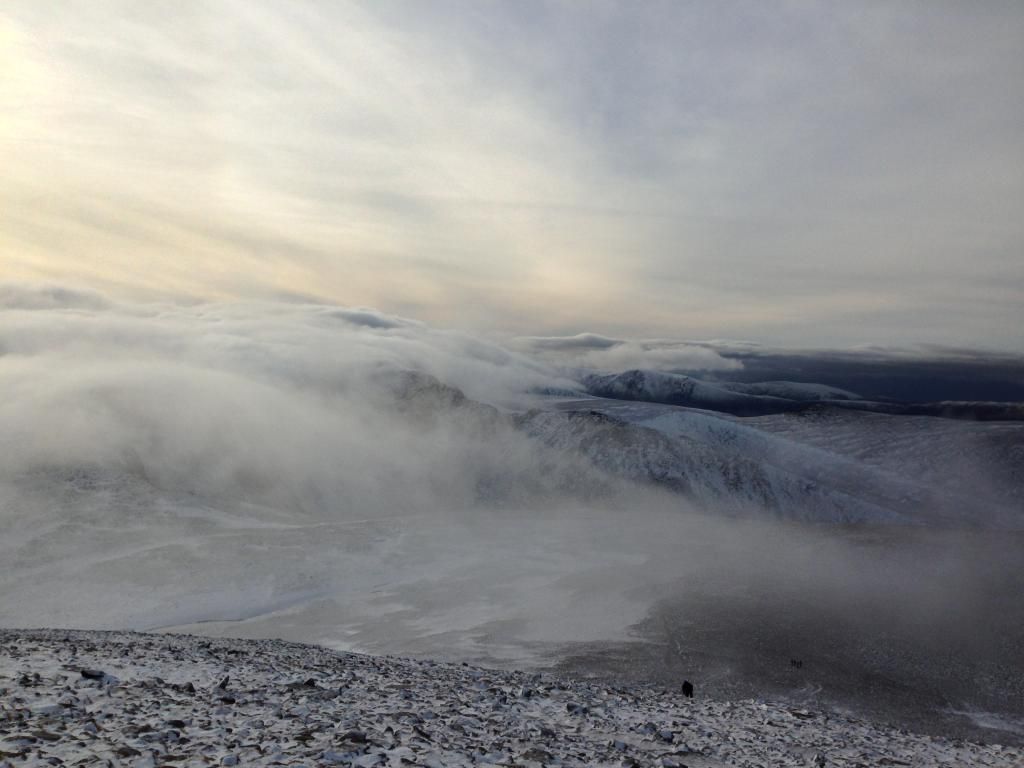 After taking in the view for sometime it was on to the final climb.... destination.... the top of Cairngorm
Myself lagging at the back in a race against the oncoming cloud cover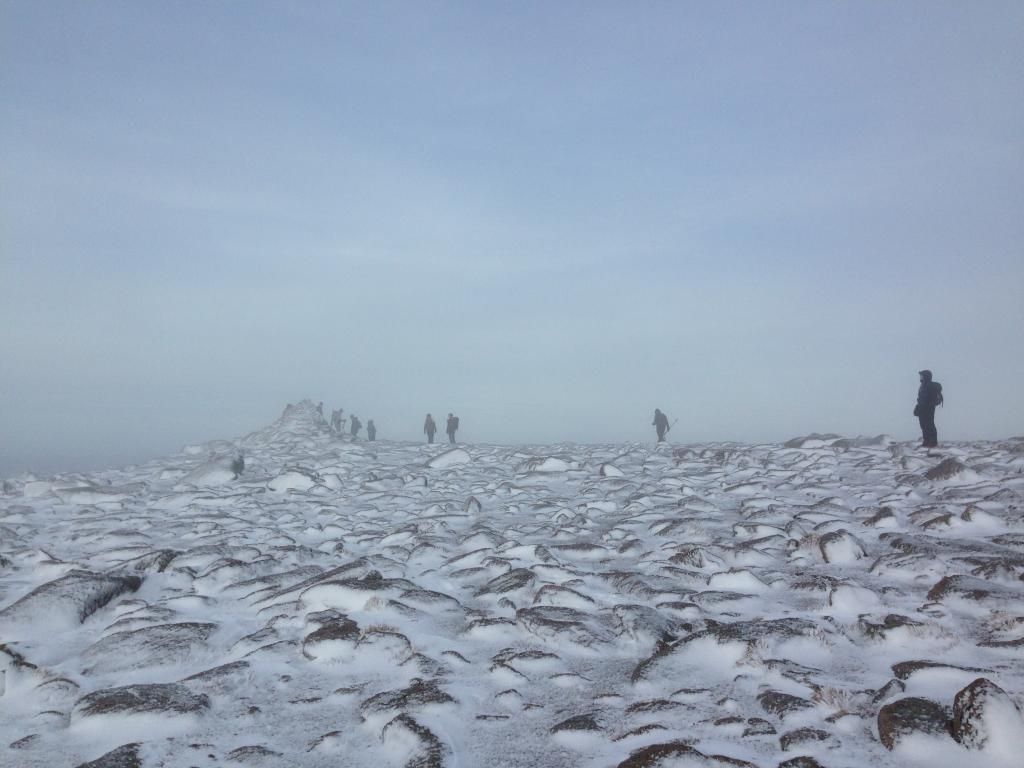 Finally make the top to see a bunch of tourists that have taken the train up and not the 17km circuit to this point. Do they have the right idea? naaahhhhhhhh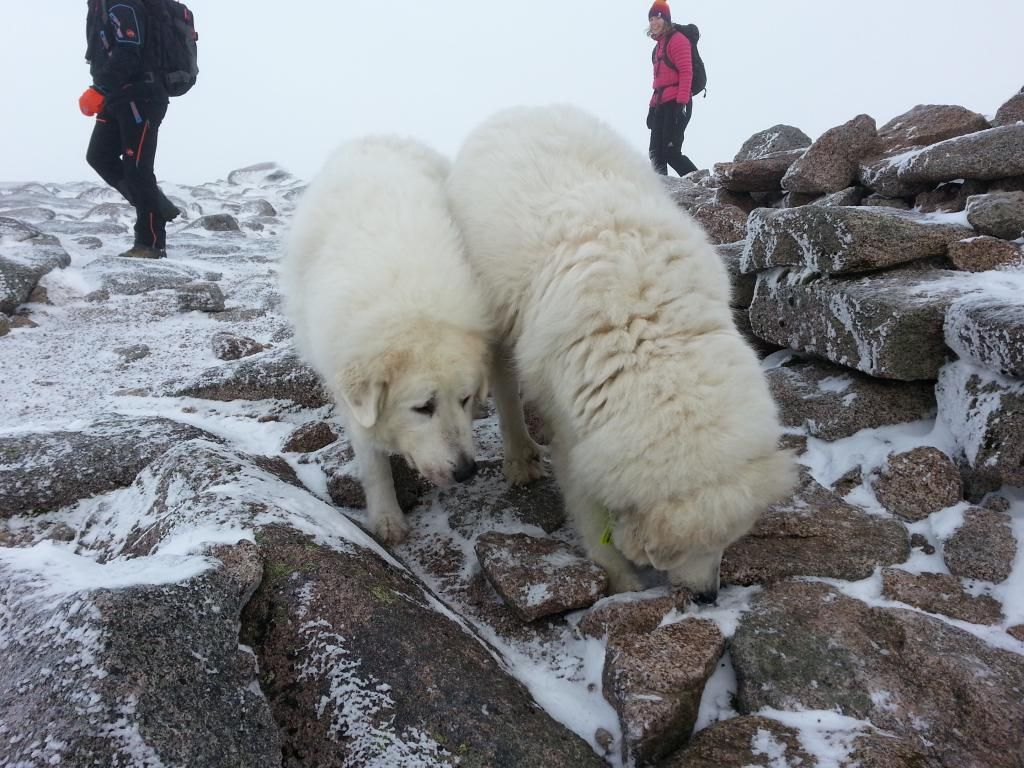 Couple of pirenese mountain dogs
Victory!!!! 2nd and 6th highest Munroes done in a day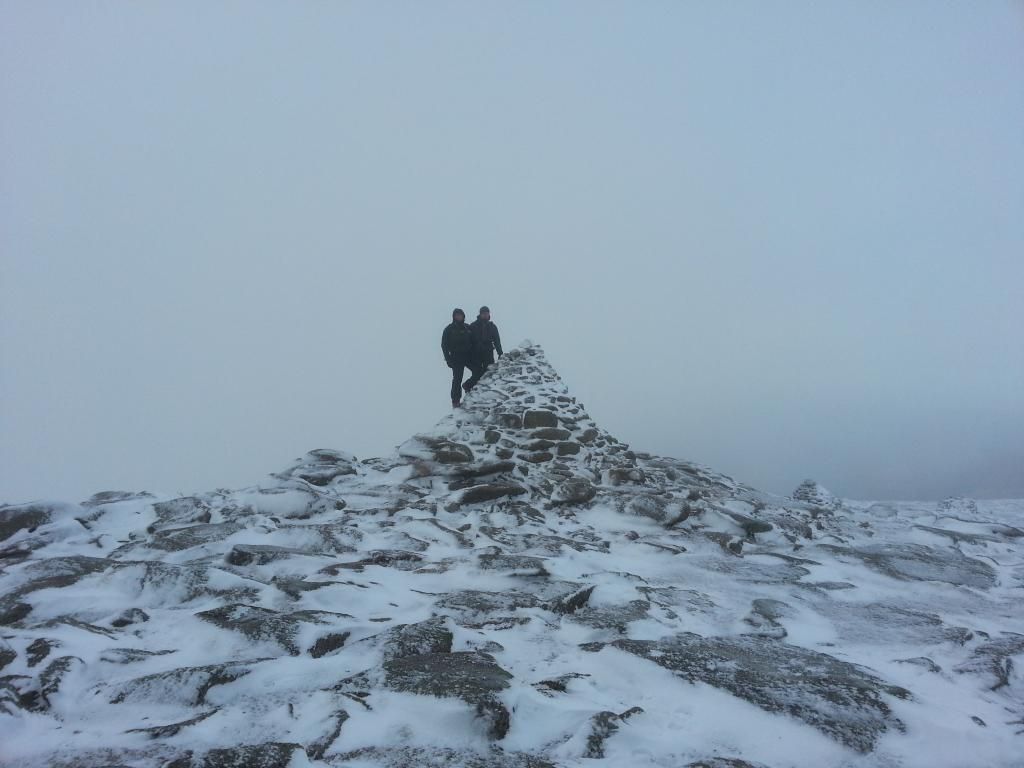 As we walked back down I couldn't help but feel a little bit of hatred and pity for all those in the train. Hatred because in a small way I wished I was onboard (hate downhill on hard terrain), and pity because they can't have the same sense of achievement that you get when you beat the elements and do a Munro the correct way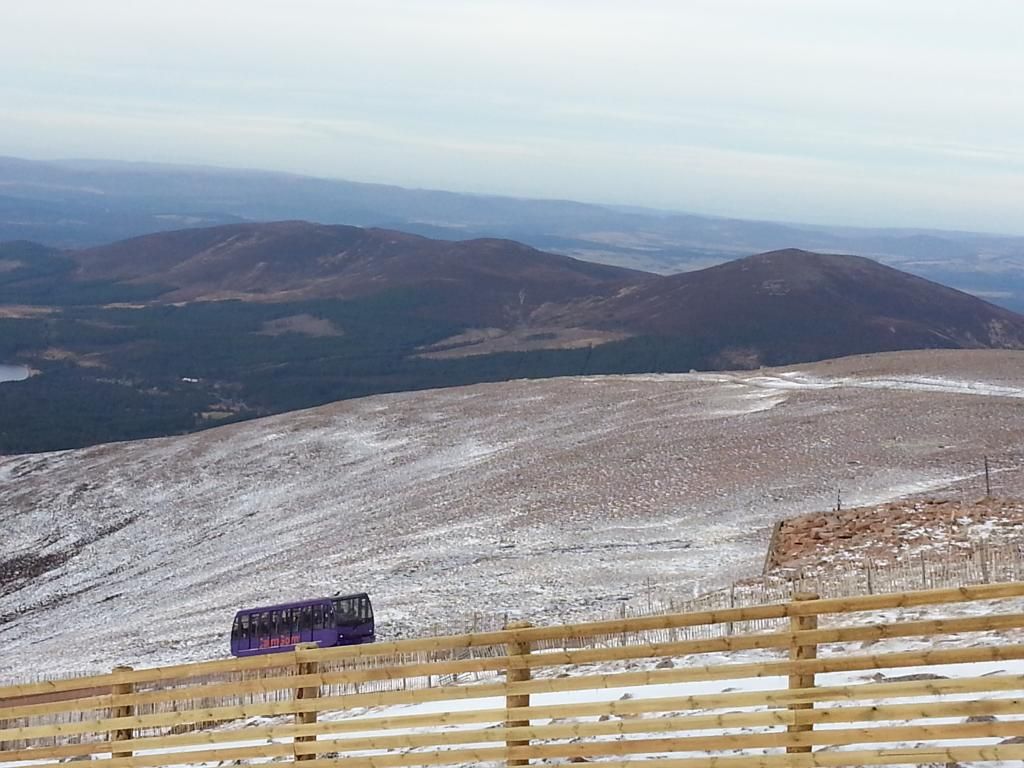 Click to mark this as a great report. Register or Login
free to be able to rate and comment on reports (as well as access 1:25000 mapping).
---
Date walked: 15/09/2012
Distance: 36.7km
Comments: 2
Views: 1721
---
Munros:
Mount Keen
Date walked: 02/06/2012
Distance: 51.6km
Views: 2239
---
Munros:
Broad Cairn
,
Cairn Bannoch
,
Carn a'Choire Bhoidheach
,
Carn an t-Sagairt Mor
,
Lochnagar
Date walked: 26/05/2012
Distance: 28.5km
Ascent: 1474m
Comments: 5
Views: 4493
---
Activity: Mountaineer
Pub: Athenauem
Mountain: Ben Nevis
Place: Shetland
Gear: Snickers
Ideal day out: Cycle approx 20 miles and then hike up a mountain. Couple of pints when I get back down and then the bus home.


Munros: 96
Corbetts: 5
Sub 2000: 8
Long Distance routes: West Highland Way Great Glen Way











Statistics

Trips: 4
Distance: 134.8 km
Ascent: 2521m
Munros: 8



Joined: May 18, 2012
Last visited: Jul 11, 2020
Total posts: 5 | Search posts