Date walked: 24/06/2011
Ascent: 992m
This Friday was to be our last full day on Skye. The weather looked promising in Sleat: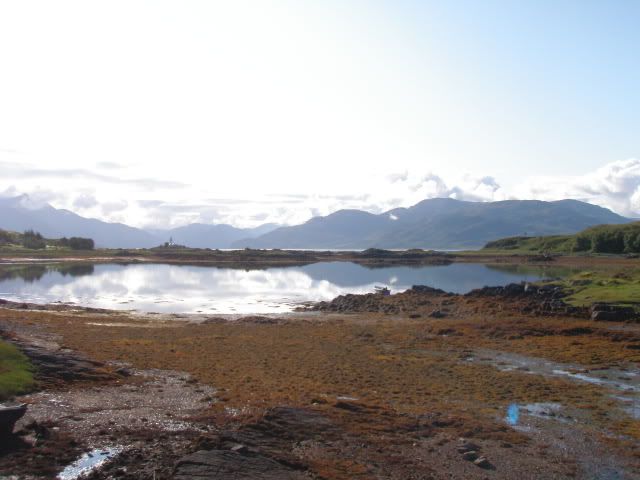 A walk in the Cuillins was decided upon, and Coire Lagan was the chosen place. I was going to push on to Sgurr Alasdair, and my friends were going to decide when they go there if they would join me. The weather still looked good when we arrived in Glenbrittle: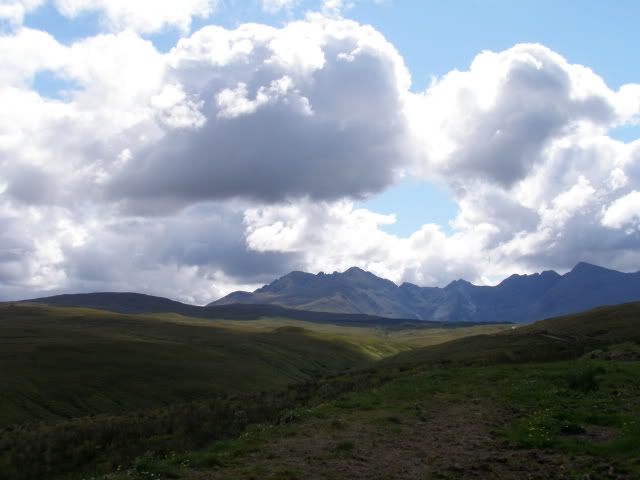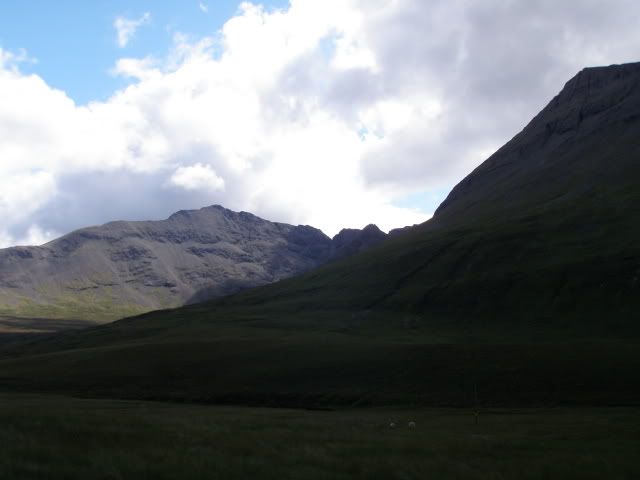 Headed up the trail to Coire Lagan: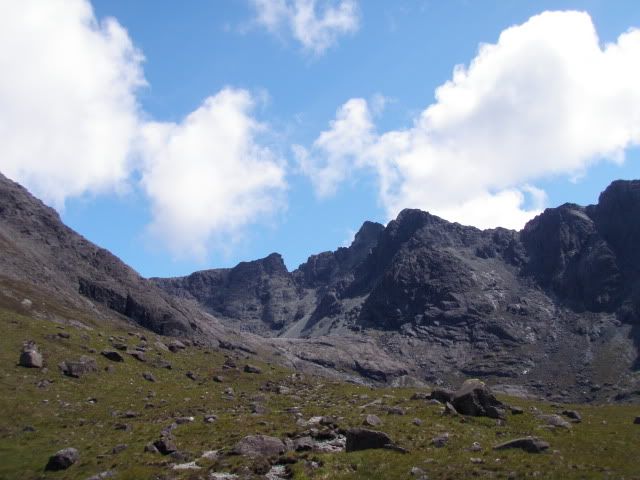 Looking back over Coire Lagan: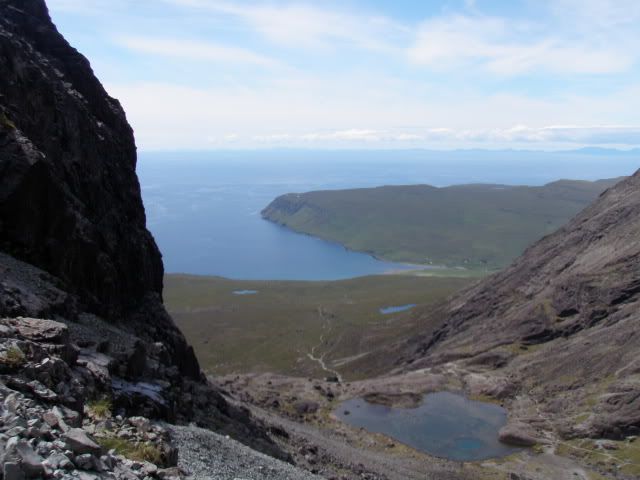 Down the Great Stone Chute: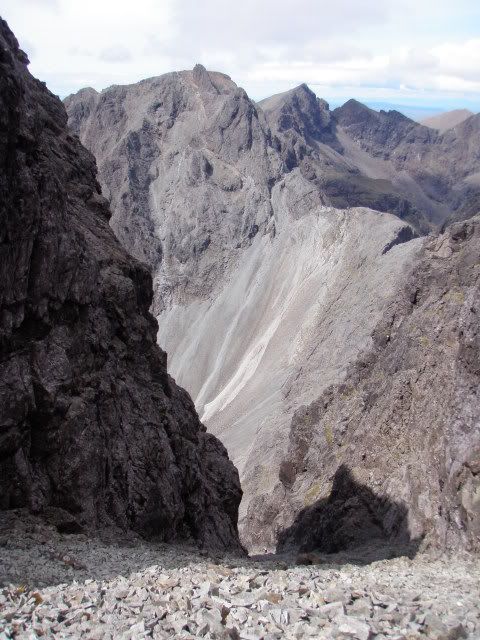 Coire Ghrunnda:
Looking back over the Cuillin Ridge with some walkers for scale:
Out to Rum and Eigg:
Pano of the Isles:
The Red Hills: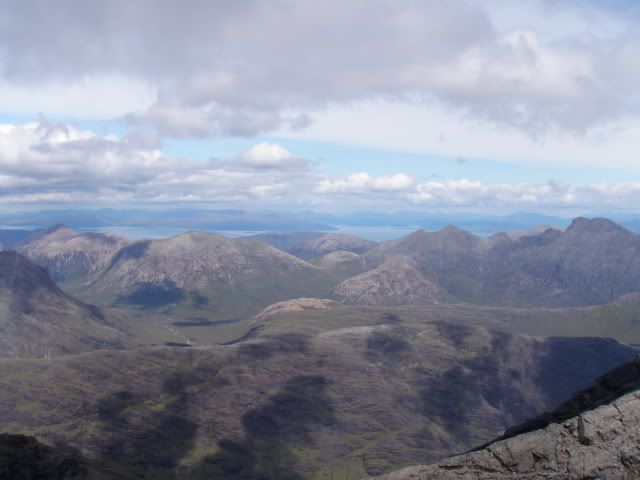 Looking over Sleat, Loch Hourn and Beinn Sgritheall in the center, where I had been the day before: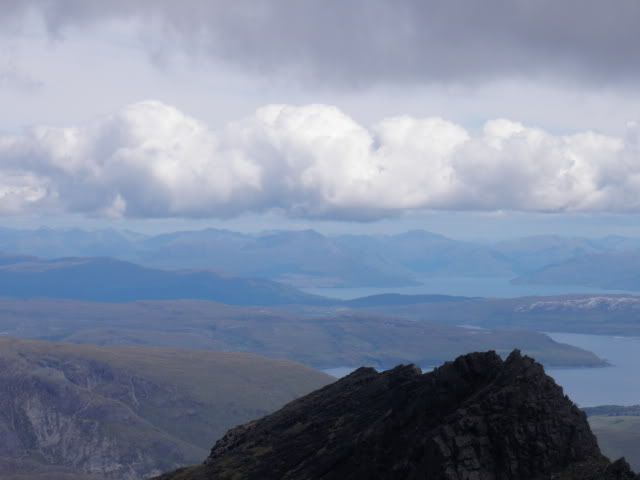 Ben Nevis, way in the distance in the center of the photo: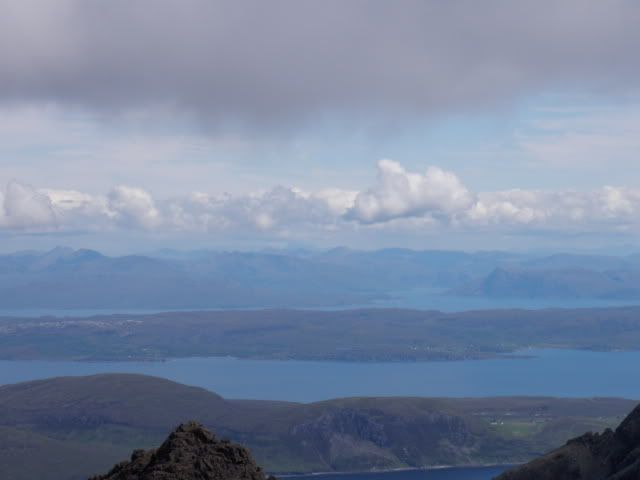 Me on the summit:
Looking over Coire Lagan and Glenbrittle Campground:
For my ninth and final Munro of the trip, things worked out perfectly. The weather was really good, and visibility was excellent. I could see many walkers on the Cuillin summits, and two of my friends made the summit with me. I was 5 of 9 for Munros with summit views! This was a day I won't soon forget. With great reluctance, I began to climb down off the peak and back to the car. In the morning we would leave Skye and begin the journey to Glasgow, and ultimately home in the US. This was a most fitting conclusion to yet another epic week on the Isle of Skye.
Looking back up at Sgurr Alasdair: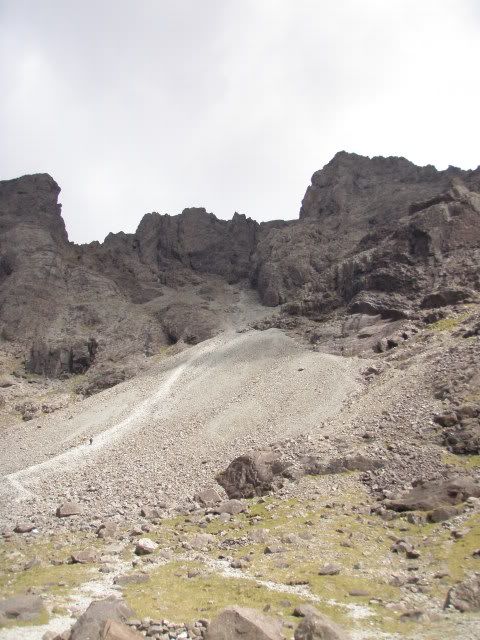 Click to mark this as a great report. Register or Login
free to be able to rate and comment on reports (as well as access 1:25000 mapping).
---
Munros:
Beinn Sgritheall
Date walked: 23/06/2011
Comments: 5
Views: 3308
---
Date walked: 23/06/2011
Comments: 6
Views: 2289
---
Munros:
Bla Bheinn
Date walked: 21/06/2011
Views: 2501
---
Munros:
Ben Nevis
,
Carn Mor Dearg
Date walked: 17/06/2011
Comments: 5
Views: 4487
---
Munros:
Beinn Mheadhoin
,
Ben Macdui
,
Cairn Gorm
,
Derry Cairngorm
Date walked: 16/06/2011
Comments: 9
Views: 5307
---
Date walked: 10/06/2011
Comments: 5
Views: 3802
---
Date walked: 06/05/2011
Comments: 4
Views: 1703
---
Date walked: 03/09/2010
Distance: 20km
Ascent: 1200m
Comments: 2
Views: 1452
---
Date walked: 18/07/2010
Distance: 15km
Ascent: 420m
Views: 1093
---
Pub: The Lucky Pub-Marion, USA
Mountain: Mollys Knob VA USA
Place: Skye
Gear: wicking undergarments
Member: American Canoe Association, American Whitewater, Professional Ski Instructors of America
Ideal day out: Skinning into the backcountry for some fresh powder turns/Paddling on a new stream


Munros: 9
Grahams: 2
Sub 2000: 2











Statistics

Trips: 8
Ascent: 992m
Munros: 9
Trips: 2
Distance: 35 km
Ascent: 1620m
Trips: 6
Sub2000s: 1



Joined: Jul 05, 2009
Last visited: Nov 21, 2018
Total posts: 53 | Search posts