Date walked: 22/09/2013
Time taken: 8 hours
Distance: 20.75km
Ascent: 1135m
Originally planned this walk for April. but a few tonnes of snow caused a postponement, and now having done the route, I reckon we made the right call as there are plenty of places where avalanches could occur.
Decided to do this walk in the reverse direction that WH recommends, so instead of a 200m lung bursting climb near the end, we had a pleasant stroll out instead....
A strong SW wind was another reason, but that would be in our faces for the first hour or so. And this route did leave Monamench Hill at the start and by gum that was a tough start, straight into a 780m ascent. Legs were pumping hard by the time I reached the top, and needed a couple of stops on the way. But a lucky bonus was we spotted a huge herd of deer in the bealach between Monamench and Black Hill. Must have been at least 200 deer in the group, hopefully someone with a decent zoom lens will have got a good photo of them.
Lunch was taken in the shadow of Craig Leacach which looked magnificent now that the early clag had been blown away, leaving us blue skies and sunshine all day.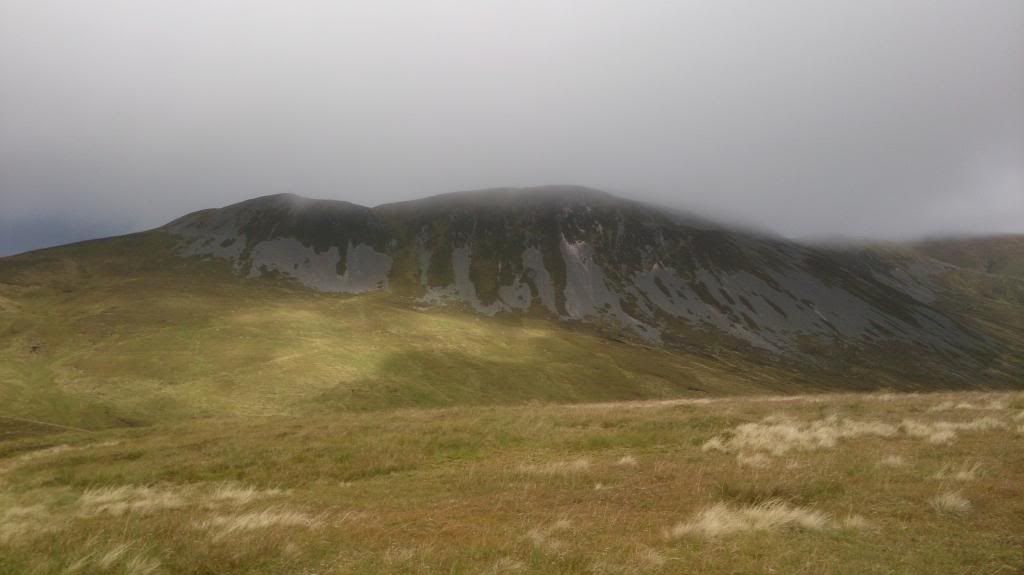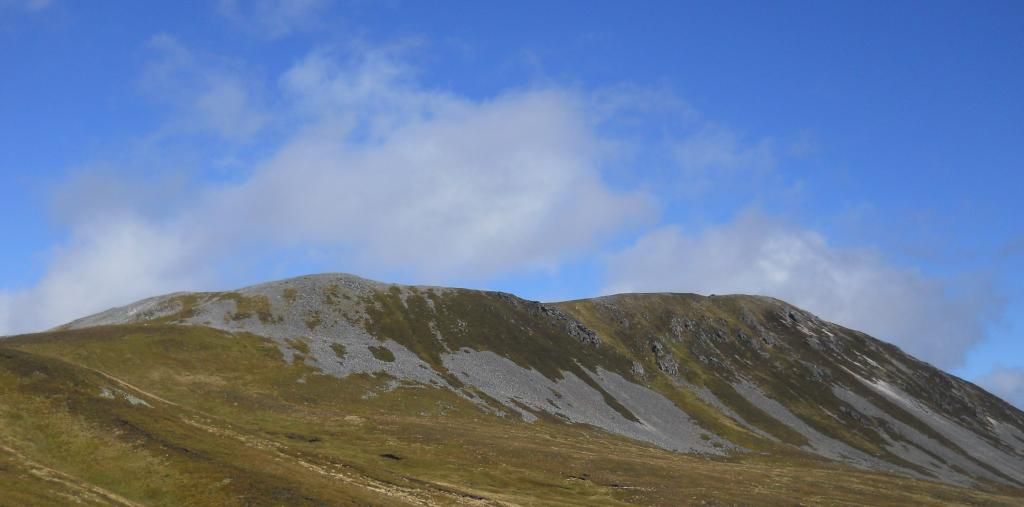 It was still a tough pull up the side of Leacach and once there we had the full force of the wind pushing us sideways at times. But it was mainly on our backs. Plenty of other folks out on these hills but we were the only party doing the route from Auchaven Farm. Much prefer doing a circular route where possible, especially on these hills where the conventional route might leave a 3 or 4 mile hike up a potentially busy road.
Finally reached the summit cairn of Leacach after 4 hrs but didn't hang around much as it was still a full on wind at this point. It's not much of a summit anyways as it's part of a wall, so we continued on towards Glas Maol. Much easier going here as it was mainly grass to walk on and the wind on our backs helped with the uphill trek.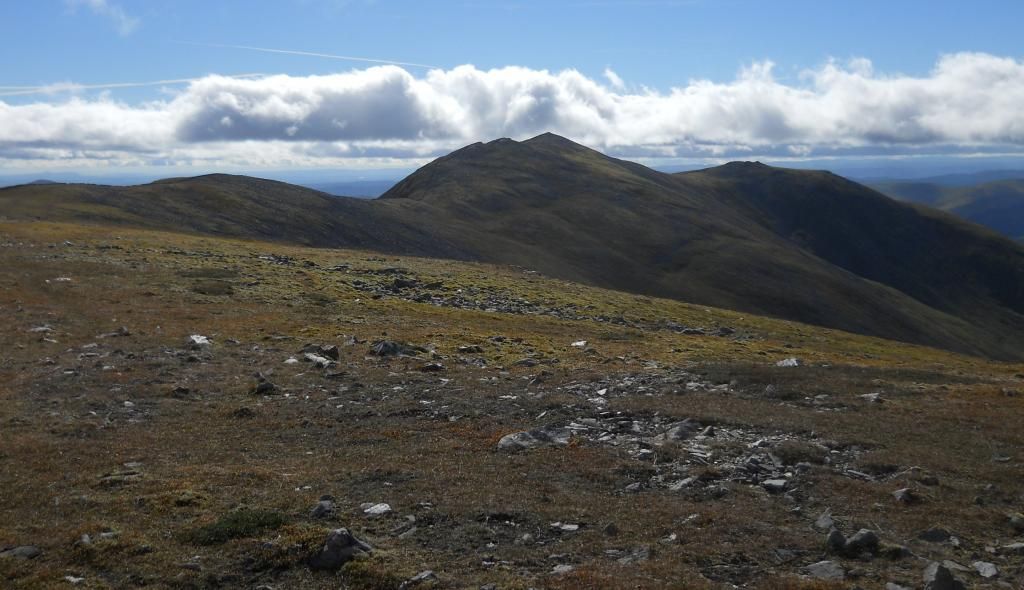 Took us about another hour to get to the shelter cairn on Glass Maol and it was a nice spot for lunch part 2. And despite the wind. I had an attempt at star-fishing (copyright RR) but in all honesty it was a lame attempt. I was more concerned about the wind blowing me off. There is a pic taken by someone else but so far it's not been uploaded yet.
After a nice break, it was onwards and downwards to Little Glas Maol. Such a lovely spot and as we were quite sheltered a group decision was made to have a wee lie down in the warm sunshine before heading back down back to the car park. Such a pleasant day with good company and loads of photo's taken by others. I only had my phone camera with me but they turned out alright despite the camera shake caused by the wind.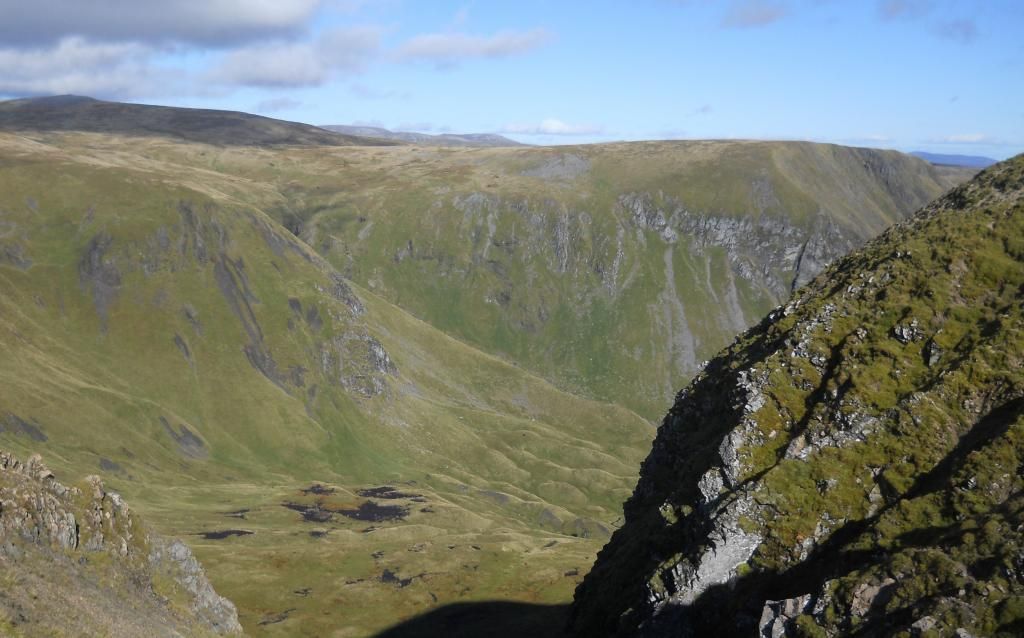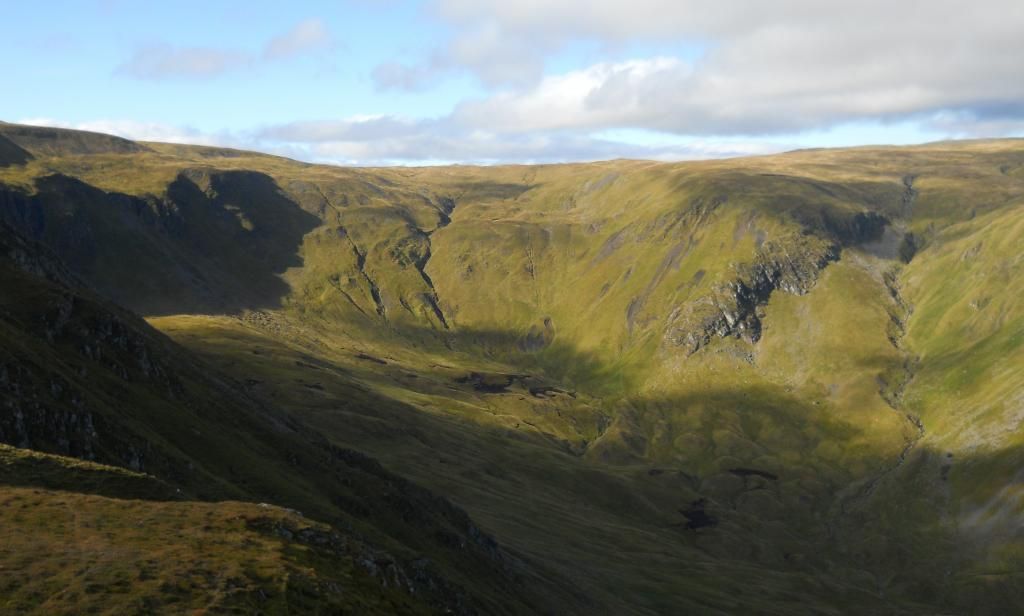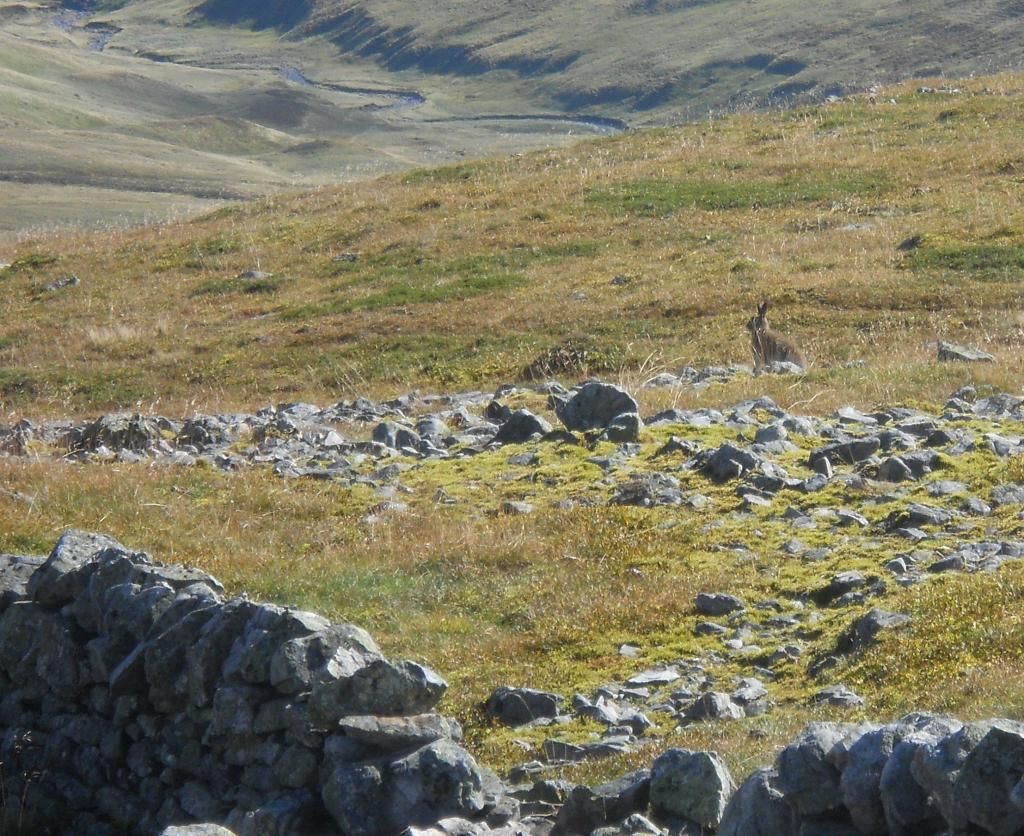 8 hrs to complete wasn't too bad since the first 2 were pretty much head on into the wind. It was only when crossing the final burn that I remembered my hipflask. So a wee toot was partaken. Better late than never....
Click to mark this as a great report. Register or Login
free to be able to rate and comment on reports (as well as access 1:25000 mapping).
---
1
,
2
Munros:
Mullach Clach a' Bhlàir
,
Sgòr Gaoith
Date walked: 05/01/2013
Distance: 25.5km
Ascent: 1170m
Comments: 15
Views: 7027
---
Munros:
Meall a' Bhùiridh
Date walked: 04/11/2012
Distance: 8km
Ascent: 1110m
Comments: 2
Views: 2490
---
Munros:
Stob a' Choire Odhair
Date walked: 20/09/2012
Distance: 12km
Ascent: 945m
Comments: 7
Views: 3329
---
Munros:
Ben Vane
Date walked: 20/05/2012
Distance: 11km
Ascent: 930m
Comments: 3
Views: 4452
---
Munros:
Ben Cruachan
,
Stob Daimh
Date walked: 14/04/2012
Distance: 14km
Ascent: 1376m
Comments: 3
Views: 5921
---
Munros:
Beinn a' Chreachain
Date walked: 06/04/2012
Distance: 16km
Ascent: 1100m
Comments: 7
Views: 4049
---
Munros:
Càrn a' Ghèoidh
,
Càrn Aosda
,
The Cairnwell
Date walked: 21/03/2012
Distance: 11.5km
Ascent: 595m
Comments: 3
Views: 2840
---
Munros:
Schiehallion
Date walked: 08/02/2012
Distance: 10km
Ascent: 731m
Comments: 6
Views: 3962
---
Munros:
Ben Vorlich (Loch Lomond)
Date walked: 09/11/2011
Comments: 6
Views: 3726
---
Location: Bo'ness
Occupation: ATM Field Engineer
Activity: Munro compleatist
Mountain: Ben Lui
Gear: Leki poles
Ideal day out: A good long walk / climb that can challenge me without pushing me too far........


Munros: 115
Corbetts: 8
Grahams: 1
Donalds: 4
Sub 2000: 8











Statistics

Trips: 2
Distance: 46.25 km
Ascent: 2305m
Munros: 4
Corbetts: 1
Trips: 7
Distance: 82.5 km
Ascent: 6787m
Munros: 10
Trips: 6
Distance: 48.5 km
Ascent: 3219m
Munros: 11
Trips: 4
Distance: 36.5 km
Ascent: 2160m
Munros: 5



Joined: Nov 19, 2009
Last visited: Nov 23, 2021
Total posts: 141 | Search posts